A typical Irish wedding singalong has gone viral. The video of Clodagh McCarthy singing the standard "Ho, Ro, the Rattlin' Bog' first appeared at the beginning of December 2017 though the video was recorded in October. Though on New Year's Eve, the video was ranked number 20 in YouTube's world trending. 
Here's the amazing clip:
Rattling Bog wedding singsong

What better way to end a wedding than a 5am singsong! Check out more great IrishCentral music news here: http://irsh.us/2AkyAi8 Video via Clodagh McCarthy

Posted by IrishCentral.com on Monday, December 11, 2017
Read More: Think you know what a real Irish wedding is? Think again.
McCarthy told the Irish Independent in December that the video was taken at her sister, Patrice's, wedding in Kilshane House, County Tipperary.  McCarthy explained, "No wedding is complete without a singing so this was about 5am in the morning. My sister Patrice is sitting on my brothers lap doing the harmony and I'm singing the verses it has about 2.3m views already which is crazy." It's not immediately clear what caused the video to surge in popularity again on December 31. Whatever it is, I'm sure Clodagh, a native of Killarney, County Kerry, won't mind.
The Irish Examiner caught up with the bride, Patrice, who said about the video, "We had a fantastic day and to think that our family sing-song at 5am has now gone viral is amazing. I was out in company over Christmas where people recognized me as the bride in the rattlin bog video which was hilarious. Many have also commented on the connection between myself, my sister Clodagh and my brother Ronán in the video and how we combine to create this piece. We have been singing together since we were very young, so I guess it's just second nature to us."
The song itself traces its roots to the Collon Monastery in Collon, County Louth, specifically to the camping grounds on the site. This led to the song becoming a standard of Irish scouts and can regularly be heard around camp fires in Ireland. 
Read More: Five ancient Irish wedding traditions you may not know about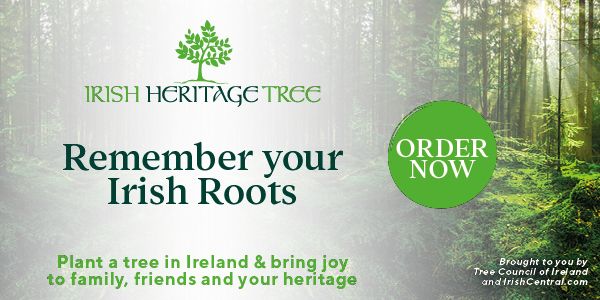 This article was submitted to the IrishCentral contributors network by a member of the global Irish community. To become an IrishCentral contributor click here.