The story of how a brave cave diver based in County Clare hopped onto an airplane to take part in the most harrowing rescue of the year halfway across the world is set to be turned into a feature film this coming November.
Jim Warny is now considered a national hero in Thailand. He joined in the sensational evacuation of the Wild Boars soccer team at the end of June after watching initial images from the flooded cave on his television back home in Ireland.
"I texted them to say that I was available," he told IrishCentral this week.
"I got an immediate reply to ask how quickly I could be there. Before I knew it, I was on my way to Thailand!"
The Ennis-based diving enthusiast admits it has been hard to adjust to normal life after a whirlwind few weeks of TV appearances and media interviews, although he says that his workmates at the Lufthansa factory in Co Clare have helped to keep him grounded.
Read more: Limerick equipment used in miraculous rescue of Thai soccer team and coach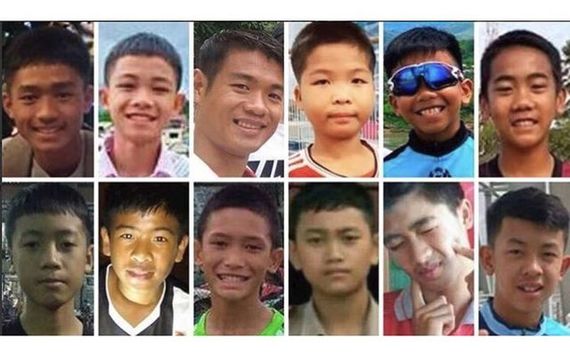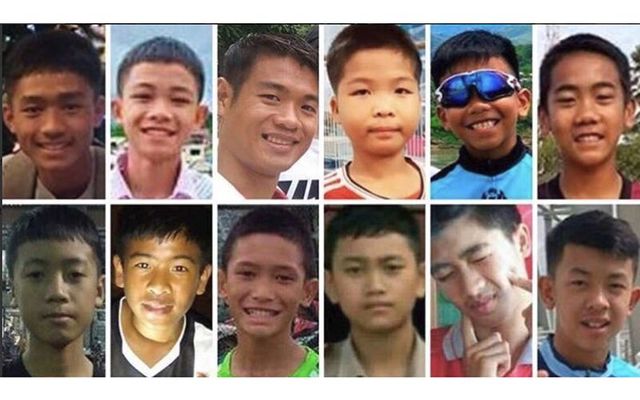 2
"When the rescue was over we met some of the parents. It was all quite quick. I'd love to see the boys someday. But I was back in Clare before I knew it!  Everyone was in awe of what I had done. I needed to get back down to earth, so I went back to fixing machines!"
He is set to team up with half-Thai, half-Irish film producer Tom Waller for a feature called "The Cave," with filming set to begin on location in Thailand in November.
Jim is delighted that the story of the Thai cave rescue will be immortalized on film, with expertise provided from the elite divers who undertook the daring mission.
Waller's film will dramatize how Warny joined a team of seven British cave divers to take part in the harrowing underground rescue which gripped television viewers across the globe, after the twelve boys and their soccer coach became trapped in the Tham Luang Cave on June 23.
Jim, who has joined the British diving enthusiasts on many missions around Europe, answered their call to join the dramatic rescue attempt via text message and found himself on a plane to Bangkok within 48 hours.
He had no idea of what lay ahead of him, as he and the other cavers were hurled into the global media spotlight. Within 24 hours of arriving in northern Thailand, he found himself inside the cave. Amazingly, he had never even been to Asia before.
When he saw the images of Rick Stanton and John Volanthen talking to the young boys trapped in the cave, his first instinct was to help. Like viewers all across the globe, he was gripped by the TV images.
"The cave diving community is quite small, especially when you move into the exploration side of things," Warny told IrishCentral. "I have been on a number of international expeditions and I would have known those lads personally.
Read more: Heroes! Meet the men from Ireland who helped make the Thai cave rescue possible
"Exploring and mapping caves has been my passion for the past 15 years. When they were looking for support divers for the extraction, they wanted people that they were used to working with and people like them to come over. They wanted people they could trust."
After obtaining permission to travel from his boss and his fiancée, he was on his way to Bangkok with all of his diving equipment within 48 hours.
"I only found out they were going to sedate the boys when I got there because it was a sensitive subject. I brought two 20 kilo bags with me. The first call I made was to the boss and then the boss at home as well of course! They were very accommodating. They were happy they could play a small part in a small miracle," he told IrishCentral.
"I am not an attention-seeker, but I was very happy to do it. People have only seen a fraction of what happened down there, so it really needs to be told and I'm delighted the story is being turned into a film. There was no expense spared to get us over there. I took a business class flight from Heathrow and we skipped all the queues at Bangkok."
The Thai authorities whisked Jim through security and he was escorted to the perimeter of the Tham Luang Cave, where a tent village had been set up to accommodate approximately 1,000 people, including rescuers, family members, and the media.
After meeting up with his cave diving colleagues, Jim helped to formulate plans to rescue the 12 boys, aged 11 to 16, and their 25-year old coach.
"This scenario couldn't have been dreamt of. That's why we had to operate outside procedures, but that's kind of what we do every time because our aim is to explore the unknown," he said.
"We have to be prepared to operate in environments that are somewhat unpredictable or to be able to manage stress in unpredictable environments."
The 18-day saga captured the attention of people all over the world and Jim admits he was not prepared for the media attention after he and the other elite divers emerged from the cave with the coach and the young boys.
Part of his role was to carry the sedated coach to safety.
Read more: Heroic Irish cave diver slams Elon Musk for bizarre twitter rant about mini-submarine
The boys had been reported missing when they took shelter in the cave during heavy rains. The alarm was raised after their bicycles and football boots were found near the cave entrance.
Even when Rick and John managed to locate the boys, there were huge fears that divers would be unable to bring them to safety.
Jim told last week's 'Late Late Show' on RTÉ television that diving in the cave was like "swimming in a pint of Guinness" and said it's funny when people recognize him on the street.
Given that he had never even been to Asia before, it's also strange to find that he is now a national hero in Thailand. He's looking forward to returning to help with the film and to meet the families of the boys after the media hype has died down.
There was no time to meet the young footballers after the rescue, as they spent a week in the hospital in Chiang Rai before undergoing six months of psychological monitoring. By the time they got out of the hospital, Warny was back at work in Co Clare.
"Some of the divers have already received one of the highest medals you can get from the King of Thailand. Once I started meeting Thai people, they were so friendly and grateful. I look forward to holidaying there again in the future," he told IrishCentral.
He's also delighted that the publicity surrounding the rescue – and Waller's forthcoming film – is giving people a greater understanding of underground caving, the hobby he loves.
"It's not very well understood. We are very calculated and meticulous. We eliminate all the risks. If there was a danger to my life I wouldn't have been there, I would not have gone over there," he said.
"It's such an amazing feeling to explore a new cave. It makes you feel like you are contributing to humanity, like Christopher Columbus or an astronaut. Discovering something new is very special and I'm delighted now to be able to tell our story through the film."
Ciaran Tierney is a journalist, blogger, and digital storyteller, based in Galway, Ireland. Find him on Facebook at http://facebook.com/ciarantierneymedia
This article was submitted to the IrishCentral contributors network by a member of the global Irish community. To become an IrishCentral contributor click here.