Buried for 99 years in the grounds of the Cork Barracks, the tale of how Irish nationalist hero Thomas Kent was honored with a state funeral after incredible DNA detective work. 
A call came from the Cork Coroner in the southwest of Ireland in 2015 to John Byrne, chief of the Garda National Forensic Coordination, Ireland's FBI, in Dublin. Could Byrne as Ireland's chief expert in crime scene analysis, solve a 99-year-old mystery of national importance? Could he and his DNA team unravel the true identity of Thomas Kent, an Irish rebel and leader, from recently unearthed remains found in the grounds of the Cork Barracks and assumed to belong to Kent?
Read more: Easter Rising leader executed in 1916 - Thomas Kent
Kent was killed by firing squad, without a trial, in the Cork Barracks in 1916 by the British during the Easter Rising battle for Irish independence. The gray, dreary, former British barracks in Cork where the blood of Irish patriots spilled would soon be demolished. Once razed the last hope of identifying Kent's remains would topple, too.
If Byrne, called "JB" by all who know him, could determine that the bits of bones discovered by a forensic anthropologist truly belonged to Kent, then "there would be, immediately, preparations for a state funeral," explained JB. Cork and the Irish nation would give their revered, home-grown patriot a proper farewell.
3
Old bones don't keep their DNA intact, explained JB, who told the Kent tale with an air of quiet dignity. He spoke in a self-effacing and modest manner, yet exuded confidence and a no-nonsense quality. Passing years, weather, acidity, humidity, and invading microbes degrade and damage DNA, explained JB.
State-of-the-art DNA crime scene detection methods in Ireland in 2015 could not determine if the unearthed bones belonged to Kent. Two surviving nieces, the daughters of one of Kent's brothers, eagerly offered to be DNA-tested as possible matches. Thomas Kent had no offspring of his own. The 99-year-old weakened DNA from what were presumed to be Kent's bones would not suffice for a proper match using 2015 crime scene conventional analyses.
One of JB's associates suggested sending the bones to Scotland Yard for testing; thinking that the British might have newer techniques at their disposal. But that didn't sit right with JB.
"I am not, in any way, politically minded," he said. "But I remember thinking that it was slightly bad for that man [Kent], no matter whose side he was on, to be sent back to those who were responsible for his death."
In any case, Britain's national crime lab did not have the right technology to solve the identity mystery, nor did any other country's national crime lab at that time.
JB then thought of Professor Jens Carlsson, Ph.D. who studies conservation, ecological and population genetics, and had developed advanced DNA techniques in his lab at University College Dublin (UCD).
Read more: I took a DNA test and was shocked at what I discovered
Carlsson analyzes ancient DNA (aDNA) and environmental DNA (eDNA) samples. Crime labs in 2015 had not yet incorporated these advanced techniques. If these techniques were to be applied to forensic work, thought JB, then degraded DNA or micro-samples from ancient or deteriorated bodies that had previously eluded DNA analysis could now be identified.
Several years earlier, JB and Carlsson had collaborated on projects in Africa to track endangered species by relying on these advanced DNA techniques and applying them to small and mostly fecal samples.
I was lucky," said JB referring to his earlier work with Carlsson, that "our bashing around in Kenya after striped hyena, elephants, and wading in waterholes pursuing environmental DNA analysis techniques, gave me an option that probably, only through that huge coincidence, friendship, and the genuine desire to chase new science, only existed in that space and in that time."
This past summer, July 2018, Dr. Jens Carlsson lectured a group of students about his new DNA techniques in his marine biology and environmental DNA (eDNA) lab. JB was present for that talk. Taciturn in demeanor, slight in frame, and simply dressed, he sat off to the side of the brightly lit lecture room. JB barely nodded in recognition, and displayed not a scintilla of justifiable pride, when commended by Carlsson for his groundbreaking work on the Thomas Kent mystery, in detecting and protecting endangered species in Africa, and for creating student exchanges between UCD and Pwani University in Kenya.
Ancient DNA fragments are typically extracted from preserved tissue (in most cases bones and teeth) that are recovered from ancient or semi-ancient (e.g. in many forensic cases) human remains. "These fragments are short in length...and make traditional methods of relatedness estimation unusable," according to an article co-authored by Carlsson, JB, and others, in Scientific Reports, 2017. A new approach takes these damaged and shortened aDNA fragments and subjects them to a new wave analysis called Next Generation Sequencing (NGS), which extracts "large amount of genetic information from samples with poor molecular preservation."
In 2015 JB asked Carlsson if his advanced DNA sequencing techniques could be used to determine Kent's identity: "Jens," queried JB, "here's the problem. I have this investigation. We have these bones and two living nieces, is it possible to reverse engineer DNA back to the remains?" "Yeah, yeah, it could be possible," said Carlsson, who like his fly-fishing buddy, JB, readily and casually agreed to partake in this nationally significant investigation as if he were deciding between a Guinness or a Kilkenny on tap at his local pub.
JB and Carlsson started an investigation with the blessing, permission, and push of the Irish Prime Minister, Enda Kenny, who was fully invested in this endeavor. In fact, Kenny's office kept in regular contact with JB. "I kept a brave face and assured the government, and my Commissioner that an answer would come." But, inwardly JB thought and feared, "Imagine an inconclusive result?"
"It was a huge thing. If the remains of Thomas Kent could be identified with certainty, a state funeral, a rare event in Ireland, for one of our fallen, one of our independence heroes would take place."
Read more: Irish American shocked as DNA shows she's 50 percent Jewish - century-old secret revealed
The external pressure on Carlsson and JB was intense. JB felt pressured personally, too, "There was something quite lonely about Kent's remains being unidentified whilst his remaining family had waited for news for almost a century."
JB was no stranger to pressure. Queen Elizabeth II made a state visit to the Republic of Ireland in May 2011. She was the first reigning British monarch to be invited to the Republic of Ireland since Ireland's independence from Britain in 1922. The Irish had no love in their hearts for the Brits who'd ruled over them, often cruelly, for 800 years. Tensions ran high in advance of the Queen's visit. A threat of violent protest lingered in the air. JB led the national police operation. He was tasked with ensuring that the Queen would be safe and secure.
"The Queen coming was a historical event, a major coming of age for both nations," said JB. He lived in secrecy in the days leading up to her visit in order to coordinate the security details nation-wide. JB had led security teams in advance of many visiting VIPs. Queen Elizabeth II was different. When asked what this pressure felt like for him, he replied, "should something have happened to her, on your watch, in your town, in your country, that would never be forgotten. It would be a Kennedy moment." The visit went off seamlessly.
Under pressure from the top leaders of Ireland to quickly solve the Kent mystery, and eager to do so, JB and Carlsson persevered. JB coordinated three teams: JB's crime lab; Carlsson's population genetics lab; and UCD's Archeology lab led by Kendra Sirak, Ph.D., to unlock the mystery hidden in the 99-year-old bones. Traditional analyses of the femur and teeth had not yielded any results.
Sirak and her group had been focusing on the petrous bone, part of the temporal bone near the ear, for their analyses. She had discovered that petrous bones preserve DNA at a remarkably high rate.
"It's the part of the skeleton from which you get the highest yield of DNA," she explained.
Still, the sample she had to work with had been buried for almost a century in a shallow grave in the Cork prison yard. Extracting enough DNA to hand over to Carlsson so that he could compare it with Kent's nieces' DNA was far from certain.
Despite the national pressure but recognizing the fragility of the samples she was entrusted with, Sirak took every precaution to protect them. Her team wore protective gear, hairnets, face masks, gloves - changed often, and scrubbed every surface with bleach. She worked tirelessly while JB, Carlsson, and the Prime Minister waited and waited and waited.
Sirak did successfully extract enough DNA from the petrous bone to hand over to Carlsson. Next came the task of comparing that ancient sample with those of the two nieces.
With bated breath, Carlsson made three comparisons, in three steps: the two nieces with each other; one niece with the sample; and then the other niece with the sample. Finally, Carlsson performed a statistical analysis to determine relatedness amongst the three Kent family members. Matched!
In Carlsson's words, "Finally the comparisons were consistent with being an Uncle and not consistent with being unrelated. We felt very happy with these results."
On September 18, 2015, Kathleen Kent, 86, and Prudence Riordan, 81, Kent's nieces, stood tall and proud in the courtyard of the Cork Military Detention Barracks on the 99-year anniversary of the Easter Rising as their late uncle, Thomas Kent, was commemorated in a state funeral and a parade attended by dignitaries including Prime Minister Enda Kenny, Irish President Michael Higgins, the Lord Mayor of Cork Chris O'Leary, County Mayor John Paul O'Shea, and Sinn Féin President, Gerry Adams. Across the land, this national event was broadcast on radio and television from start to finish.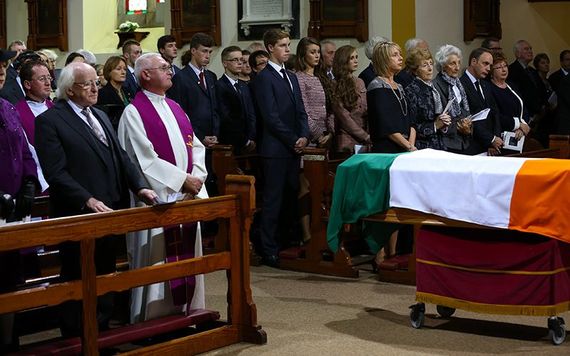 3
"It means a lot to have this ceremony here today and to have our uncle's sacrifice recognized," said Kathleen Kent.
"So, it ended up with Jens and me sitting side-by-side." said JB, "We met the family and they were very happy. For Jens and me, it was just the right thing to do."
Read more: Storm dramatically reveals skeleton of 900-year-old murdered man in Ireland