The life of Luke Curry, from County Galway, ended in a night on the beat in Great Falls when sadly he became a headline, he was "shot to death".
The Montana evening newspaper, The Great Falls Daily Leader, of November 20, 1898, ran the main front-page headline "Luke Curry is shot to Death".  The newspaper reported:
"At 2.50 am on Sunday, November 20, 1898, police officers, Luke Curry and Thomas Sheehy, began their twice nightly routine of checking the security of business premises' doors as they patrolled the streets of Great Falls.   Curry, finding one such door unlocked, called his colleague and then opening the door, shone his bullseye lantern into the premises, calling out 'is there anybody there'.   A shot rang out and Curry received a fatal injury to the left side of his head".
This is the story of Luke Corry, my great/great uncle, who left a small rural west of Ireland village to better his life and his American dream ended that night on the beat in Great Falls, Montana. The story of Luke Curry and his death in Montana was often told at the firesides of his home village and my research was greatly aided by records held by the Cascade County Historical Society, Great Falls, Montana.
The owner of the premises that night, William Shaefer, had recently arrived in Great Falls from New York and had opened his store one week earlier at Central Avenue. He was unaware of the police routine of checking business premises and being fearful of the much reported 'Wild West' lawlessness, he slept inside the door of his store, armed with a 38-calibre revolver.  He mistook the policemen for burglars and when he became aware, "crazed, shrieking and hollering"; he gave himself up to the police. Curry's body was taken to his nearby family home, which he had shared with his wife, Mary and five children, aged between 1 and 8 years.
County Kerry born Officer Thomas P. Sheehy gave evidence on the shooting at a coroner's inquest at 2.30 pm on Sunday, November 20 and a preliminary examination of the event took place later in the evening.  Police Chief, John Guerin, also from Co. Kerry, charged Shaefer with involuntary manslaughter against the advice of the Cascade County Attorney.  A large gathering, including grieving Irish born cousins, friends, Montana politicians, and dignitaries, attended Luke Curry's funeral mass at St. Anne's Catholic Church, on Monday, November 21, 1898, followed by interment Great Falls Old Highland Cemetery.  The Great Falls Daily Leader newspaper reported that Luke was "a temperate and a faithful man as ever lived, a prudent man, he had insurance for $3000 in Equitable, $2500 in Woodmen, a healthy sum in bank, owned his own home and had other realty". Cascade County District Court had granted US citizenship to Luke on April 1, 1898, seven months before his death.  As a memento, Mary Curry sent her husband's waistcoat to his brother in Ireland and it was safely kept for decades.
Some few days after the interment, the newspaper reported that Judge Burleigh acquitted Shaefer who, "crying and sobbing took the early train to an unknown destination".
Luke Curry was born in 1852/53 at Burrish, Kilvine, Co. Mayo, the second youngest of at least 8 children, some of whom died in infancy.  His father, Lucas Mor Curry, who was born in 1804 to a family which had been dispossessed from their land in Ulster, roaming to Tullinadaly, Tuam, Co. Galway before settling on a small farm of marginal land near the border of counties of Mayo and Galway.  Many other Ulster families settled close by. After his death on December 29, 1867, and the family were surviving in impoverished conditions. The elder son soon took over the running of the family holding. Without prospects of local employment, family lore suggests that Luke and his brother Tom, born 1851/52, went to a hiring fair in Yorkshire, England, in the summer of 1869, where they got seasonal work at haymaking and afterward traveled to Lincolnshire where they undertook potato picking. They planned to earn enough funds to purchase passage to America and in 1870 Luke and Tom Curry sailed from Liverpool. Their destination was Elk Point, Dakota Territory (later South Dakota) where their uncles, Pat, and Tom Curry had established a farming enterprise. As of 2015, this enterprise continues as Curry Seeds Inc. Luke and Tom worked as farm laborers, sometimes engaged in seasonal levee construction near Sioux City, Iowa and possibly other laboring work.
In 1880 Luke and Tom Curry migrated to Fort Benton, Montana, presumably by Missouri River steamboat, the then last navigable point on the Missouri River. They obtained work with I.G. Baker & Co which controlled numerous businesses, such as retail stores, ranching, etc., in Montana and in the neighboring Canadian state of Alberta.
The River Press, Fort Benton, of April 25, 1888, reported that Luke Curry had married Mary Slattery, at San Francisco on April 1, 1888. Mary was born on February 17, 1861, at Cloonkeen, near Ballindine, Co. Mayo, three miles distance from her husband's birthplace. Luke and Mary resided at Fort Benton and their first child, Mamie, was born on January 30, 1890. The family moved to Great Falls in 1891, where four more children were born, Thomas Patrick in 1892, Margaret in 1895 and twins, Luke and Sarah in 1897.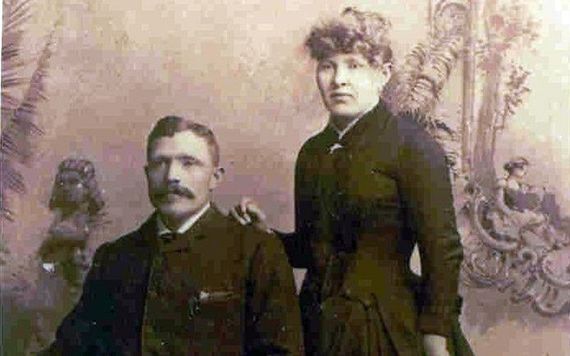 2
Luke's sons, Thomas and Luke, served in the US Navy during World War 1 and made a few transatlantic crossings.  Mary Curry had further heartbreak when her youngest son, Luke, aged 22 years, died on October 17, 1920, having suffered pneumonia.  Mary went on to open a small store in Great Falls and suffering cancer she died on March 20, 1936.  She is interred with her late husband in Old Highland Cemetery, Great Falls.
Luke exchanged occasional letters with his family in Ireland. While he did not have formal schooling, except possibly some tuition from a traveling schoolmaster, his handwriting was described as excellent.  He wrote a particularly mournful letter to his brother, John, after the death of their mother, Mary, in 1894.  He was proud that the first public meeting of the newly founded Land League had taken place in his native village, Burrish, near Irishtown, Co. Mayo in 1879, earning the area the title "The Cradle of the Land League" and that his brothers, John and Pat were members of the organizing committee for the event.  The Benton Weekly Record newspaper of March 23, 1882, reported that Luke's brother, Tom and thirty other men had established a branch of the "Irish Land League" at Fort Benton, Montana in 1882. The Land League lobbied for the rights of Ireland's tenant farmers.
Luke's brother, Tom Curry continued in the employment of the I.G. Baker company, becoming their area manager in the "northwest" in 1887 when he moved, with his wife, to Lethbridge, Alberta. He was elected to the first town council of the newly incorporated town of Lethbridge in 1891. Tom was a successful businessman and had an interest in politics.  Moving to Great Falls in 1899, he became president of Great Falls Lumber company, the Pondera Canal company, had an interest in Conrad Bank and other businesses and became a Cascade County Commissioner. Suffering from TB he moved, with his wife, Mary Ann, to Monrovia, California, in 1917, where he died in 1922. He and his wife did not have children.
In the years following Luke's death, several of his Irish born nieces, nephews and cousins emigrated to and settled in Great Falls, Montana. Descendants of this Curry are scattered through several US States.   In the 1850's the printed version of a British land survey of Ireland misspelled the Curry name as "Corr" and such spelling has largely superseded the "Curry" version in Ireland.  The related families in the US continue to use the "Curry" spelling.
Police Officer Luke Curry is remembered in a wall plaque at Great Falls Police building and, in the Officer Down Memorial website, www.odmp.org.
This article was submitted to the IrishCentral contributors network by a member of the global Irish community. To become an IrishCentral contributor click here.