They're frequently languishing near the bottom of the pile of public surveys of the most respected and trusted professions.
Now the reputation of Ireland's bankers has hit a new low after the under-fire sector was named-and-shamed for its festive frolics.
Middle-aged male bankers top a new table of love rat Irish professionals who are most likely to get caught having a fling at the office Christmas party.
And estate agents are only marginally less sleazy, according to Sian Devine, who runs Dublin-based Lie Detector Ltd, Ireland's best-known polygraph testing service.
"This is our seventh year in business and like previous years, we're now entering our busiest period of the year, with nearly all the bookings from females who suspect their partner has been having an affair," Devine said.
"We've had a pretty broad spectrum of people who have taken the lie detector set, but I would think bankers probably top the list in terms of numbers, followed by estate agents and businessmen.  And generally they'd be married, from Dublin and in their late 30s to early 40s.
Rea more: Maureen O'Hara went public on her Hollywood sex harassment back in 1945 
"It's maybe not a great surprise that we've seen so many men in these types of professions, because they're in the kind of jobs where they spend a lot of time out of the office, go on corporate nights out and arrive home late a lot.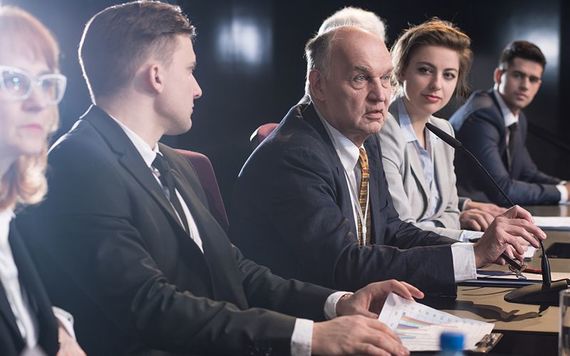 2
"But although they have plenty of opportunity to cover their tracks, it's clear that a lot of them arouse suspicion from their partners."
Devine said she expects to be kept busy from the fallout from illicit affairs and drunken flings at the office Christmas party well into the New Year, before business slackens off and then picks up again in the weeks before Valentine's Day.
And she said the vast bulk of bookings for her polygraph probes between now and Christmas have been from females who suspect their partner has been having an affair.But she said she expects just one in 20 cheating husbands who've been booked in to actually undergo the test, as those who are guilty of festive frolics are likely to come clean to their partner at the last minute.
Although relationship problems make up the vast majority of her business, polygraph tests are also regularly booked by suspicious employers and households who want to resolve other family issues, like finding out if their son or daughter has a secret alcohol or drug habit."
Devine said that most people who under the polygraph probe -- which she claims is 98 per cent accurate -- pass the test, as they willingly undergo it to prove they are telling the truth.
"As a rule, if someone calls me to book another person in for the test, it's unlikely that the test will go ahead.  We always take a part-payment once the booking is made, but if, for example, a partner who is suspected of having an affair refuses to come in to us,then the person who made the booking knows he or she has been cheating," Devine said.
As her polygraph machine is portable, Devine said she is often on the road depending on demand, with regular visits to Limerick, Sligo, Athlone and Belfast.
Read more: The women John F. Kennedy is rumored to have had affairs with