Kerry mother-of-five Emma Mhic Mhathúna is one of 20 Irish women to lose her life due to incorrect smear test results handed down by the Irish government.
Emma Mhic Mhathúna's death caused wide spread sadness across the country. The 37-year-old woman had been once of the most vocal and ardent campaigners since the CervicalCheck scandal came to light earlier this year.
In May, while the infuriating scandal was still coming to public attention, the HSE confirmed that 17 women had died after being wrongly given the all-clear. Just two were informed of the mistake before their death. It is believed that the figure has now tragically risen to 20 women. 
The death toll from the #CervicalCheckScandal has now reached 20, that's 20 women that should still have their lives and be with their families! Heartbreaking, scary and gut wrenching 😢

— Lorraine Walsh (@LorcallWalsh) October 7, 2018

Mhic Mhathúna is one of the 221 women in Ireland over the past decade whose smear test readings missed abnormalities leaving them to develop (often terminal) cervical cancer.
The Irish Independent noted that "as many as 162 of these women" were not told about the audits and revelations that results were incorrect.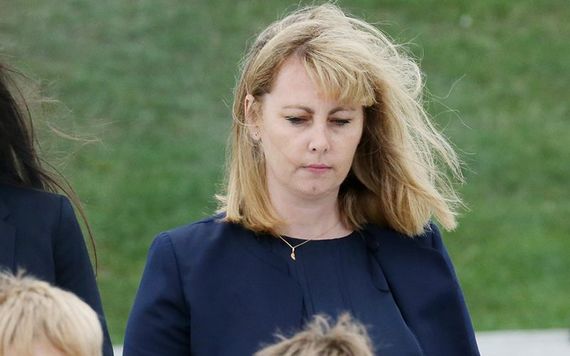 3
Health Minister Simon Harris said on Twitter that he is "very sad" to hear of Ms Mhic Mhathúna's passing, as he commended her "unbelievable" bravery.
"Sadness has come across the entire country. We are so devastated to hear about her passing. My thoughts are with her children."
"She was campaigning only last week for a better screening service and promoting the HPV vaccine.
"We must beat this cancer with vaccination and screening. We are determined to build a programme worthy of women like Emma. Something good will come out of the horrific situation that Emma and others have been through."
I don't believe there's a single woman in Ireland that won't stop to reflect for a moment today on how we came to know Emma Mhic Mhathúna, the strength she displayed in her fight for us all & her family or how she came to pass.

Rest In Peace.

— Ciara Ahern (@Ciara_Ahern) October 7, 2018

Taoiseach Leo Varadkar also extended his condolences to her five children, aged between 2 and 16. He praised Mhic Mhathúna's advocacy for the HPV vaccine.
"Despite her own tragic experience, she consistently supported the screening programme and encouraged women to continue engaging with the service," he said.
Mhic Mhathúna's fellow campaigner, the equally fearless Vicky Phelan whose landmark court case brought the scandal to light, said the late mother had a "huge impact" and was a "formidable woman" as she thanked her for her bravery.
Emma's family have issued a statement to @Independent_ie, saying:

"We will miss Emma beyond words, her intellect, her love, her quick wit and infectious smile are irreplaceable to those closest to her in these difficult days."https://t.co/UOe5kTFnpx


— Kevin Doyle (@KevDoyle_Indo) October 7, 2018

In the wake of Mhic Mhathúna's passing, it is important to note the recommendations put forward by The Scally Report.
Dr. Gabriel Scally's investigation into the Cervical Check scandal cited 50 issues that Minister Harris has since committed to implementing.
Last month an investigation into the Cervical Check scandal by Dr Gabriel Scally found that screening services in Ireland were "doomed to fail at some point".
He said problems uncovered in the wake of the controversy over Vicky Phelan's court case "are redolent of a whole-system failure".
Read more: Ireland's bravest woman stops cervical cancer campaigning due disturbing lack of empathy for women
3
The Scally Report included 50 recommendations that Health Minister Simon Harris has committed to implementing.
Among the recommendations are:
1) The Department of Health should examine the current arrangements for patients to have access to their hospital medical records.
2) The Minister for Health should consider seriously the appointment of two patient advocates to the proposed new Board for the HSE.
3) A National Screening Committee should be constituted to advise the Department of Health and the Minister on all new proposals for screening and revisions to current programs.
4) CervicalCheck should collate and publish annual data on reporting rates for all categories broken down by provider.
5) CervicalCheck should ensure that its procurement approach maintains a balanced focus on qualitative factors, supplier experience, and innovation, alongside cost considerations.
6) The HSE's open disclosure policy and HSE/SCA guidelines should be revised as a matter of urgency. The revised policies must reflect the primacy of the right of patients to have full knowledge about their healthcare as and when they so wish and, in particular, their right to be informed about any failings in that care process, however and whenever they may arise.
7) The option of a decision not to disclose an error or mishap to a patient must only be available in a very limited number of well-defined and explicit circumstances, such as incapacity. Each and every proposed decision not to disclose must be subject to external scrutiny and this scrutiny process must involve a minimum of two independent patient advocates.
8) The Department of Health should consult with interested parties as to how women and families who wish to, can be facilitated in meeting with the clinician who was involved with their care and/or disclosure.
What should be done about the CervicalCheck scandal? Is it time for criminal charges? Let us know in the comments section below.