Shopping for quality Irish products this autumn at Irish and Celtic stores across the US? Here are six of the top Irish vendors who make it possible.
Fall is a wonderful time for shopping! It's back-to-school season, the weather is growing cool and crisp, and special holidays and moments abound with Halloween, Thanksgiving, and Christmas just around the corner.
The  North American Celtic Trade Association helps to bring the best range of Irish products, gifts, and collections right to your doorsteps to the Irish and Celtic shops across USA and Canada.
Here are six top suppliers of quality Irish products available this autumn throughout the US in Irish and Celtic stores (NACTA retailers), from unique Irish shirts, to stunning jewelry, to Celtic crosses, to soft woven hats and scarves from some of the best Irish weavers and textile manufacturers from Ireland.
Get to know them below, and locate your nearest store here. 
The James Trading Group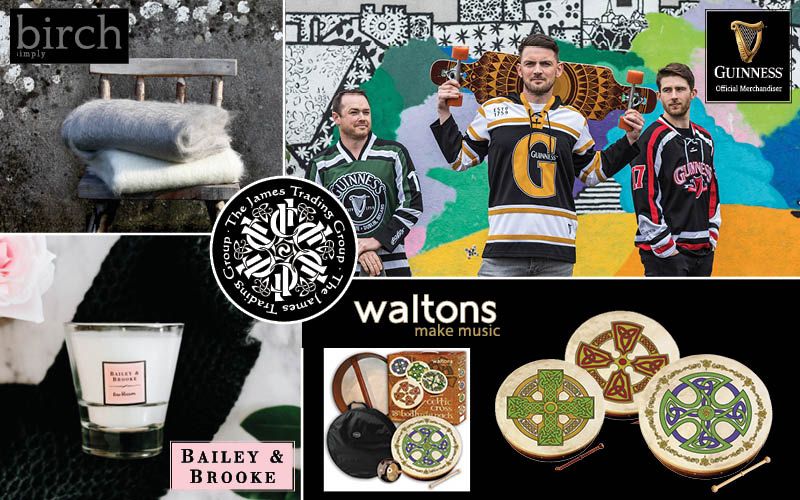 7
America can thank the James Trading Group for bringing a range of top-notch Irish brands and products across the Atlantic. 
The James Trading Group has been serving the United States and Canada since 1989. James Trading Group is a manufacturer and distributor of Irish clothing and goods, with exclusive rights to a wide variety of high quality specialty goods such as:
Guinness Official Licensed Merchandise. Guinness is a worldwide brand synonymous with Ireland. With recognition throughout every part of the world, it truly is a global brand. The Guinness name is always associated with quality, style, and heritage, which makes it a perfect brand for clothing and merchandise.
Unique Irish Jewelry
Croker authentic Irish clothing apparel
Waltons Irish Music instruments and music publications
The luxurious Simply Birch range of throws, drawing on inspiration from the beautiful surroundings of Ireland
Bailey & Brooke, a market leader in high-end design and excellent quality, creating contemporary and classical collections within the giftware, jewelry and homeware sectors of the US Market.
 For any NACTA store  looking to add the latest range, contact their Sales Team on (914) 345-1550 or sales@thejtg.com
To find the newest range of these products across USA and Canada, locate your nearest Irish Store (NACTA) here.
Lee Valley Ireland
7
Lee Valley Ireland has designed and made high-quality clothing in the village of Inchigeela in West Cork since 1986. Denis Hurley saw a market for a traditional Irish grandfather shirt and began drafting patterns and cutting fabric at home, before calling on the sewing skills of local women who worked from their own homes.
Denis had fond memories of his own grandfather wearing this type of collarless shirt in days gone by, and quickly set about re-kindling this traditional garment. In 1986, Denis renovated the old creamery in Inchigeela. Denis started to design and cut his flannel grandfather shirts and with the help of the local outworkers and from this old creamery Lee Valley Ireland was born.
As demand grew, Lee Valley carefully expanded their range to include several styles of grandfather shirts including, linen grandfather shirts for Spring/Summer, the ever-popular vintage grandfather shirt and the comfort cotton grandfather shirt. They also moved to introduce a ladies range of grandfather shirts which mirrored the traditional men's version but with a feminine flair.
In addition to shirts and nightwear, they have an array of coats, jackets, tweeds, and hats. All of Lee Valley's designs draw inspiration from the local landscape from fabrics to colors.
Today, Lee Valley Ireland continues to operate from the village of Inchigeela and have added on to their facilities, the office and an outlet store which attracts a large number of tourists and visitors alike.
To find the newest range of these products across USA and Canada, locate your nearest Irish Store (NACTA) here.
Solvar
7
Solvar is an award-winning jewelry manufacturer crafting Irish jewelry since 1941. They are a third-generation family run Irish business combining a passion for Ireland with a love of jewelry.
Each piece of Solvar jewelry is individually designed, drawing inspiration from Ireland's rich heritage and unique icons to provide a cherished memory of Ireland. Solvar's master designers craft each piece in the finest detail to the highest standard, using centuries old craftsmanship skills.
Among the Celtic Knot and the Shamrock symbols, the Claddagh is one of Ireland's most treasured symbols, celebrating love, loyalty and friendship. Solvar have been handcrafting Claddagh rings since the very beginning. A gift of love, crafted in Ireland by their skilled goldsmiths, it echoes a tale of devotion retold over centuries.
Once upon a time, so the story goes, a young Irish sailor was captured and sold into slavery. Far from his native land, he held the memory of his sweetheart deep in his heart. He never forgot her. Years later, on his safe return to Galway, his gift to her was a Claddagh ring. Forged with the skills he had learned during his imprisonment, it was a token of his enduring love. "With these hands, I give you my heart, and I crown it with my love".
To find the newest pieces of Solvar handcrafted jewelry across USA and Canada locate your nearest Irish Store (NACTA) here.
Hanna Hats of Donegal Ltd
7
In 1924, David Hanna Sr. started a small tailoring firm in Donegal, Ireland. By early 1960, the demand for tailored suits was declining and the business began to specialize in the design and production of hand-crafted hats and caps.
In 1974, David's son John took over the management of Hanna Hats, ensuring the tradition and quality of his father's work was retained. Today, the business is run by a third generation of Hanna's as John's daughters Amanda Jane and Eleanor Hanna have the passion, drive, and commitment to ensure Hanna Hats has a bright future ahead.
What has never changed is the company's great respect for the age-old tradition of bespoke tailoring. Holding any Hanna Hat or Cap you can clearly see that the quality tailoring of past craftsmen has been retained completely.
Hanna Hats are unique in every way. All of their hats and caps are their own unique designs. They use the finest Donegal tweed (pure new wool) woven exclusively for the company, and beautiful linens. These designs are 100% Made in Ireland and are assembled by the dedicated team at their factory in Donegal, Ireland.  Each hat or cap is a little piece of Donegal brought to life.
To find the newest range of these products across USA and Canada, locate your nearest Irish Store (NACTA) here.
Mucros Weavers
7
Based in Muckross House, Killarney National Park, Killarney, Ireland, Mucross Weavers design and produce incredibly soft and stylish ranges for both ladies and gents.
They are easily inspired to create and produce beautiful products that reflect contemporary Irish styling, being surrounded by inspiration provided by the magnificent scenery and nature of Killarney National Park.
Their home is Muckross House, which is the focal point for visitors to Killarney National Park. There, their team of craftspeople, led by Master Weaver John Cahill, design and produce knitwear coveted around the world.
Incredibly soft scarves are individually woven on 200-year-old Hattersly looms! Stylish and functional headwear from tweed cloth that can be worn alone or with our ponchos and capes.
Get the look from most Irish Shops.
To find Mucros Weavers products near you, locate your nearest Irish Store (NACTA) here.
McHarp
7
McHarp: Crosses with Meaning offers a variety of beautiful expressions of faith, heritage and family from around the globe, across cultures and throughout time. With a vision to create expressions honoring a heritage of faith, McHarp replicates the beauty and reverence of ancient and historic memorials from around the world as well as original designs.
From Celtic crosses and historic missions to Christmas ornaments and nativity scenes, manuscript letters, intricate tiles, and haikus, each McHarp creation offers an enduring glimpse of the past while bestowing future memories to come.
Today, the hand-cast crosses, tiles, and other original items are created with the same care and attention to detail as when mother and daughter Ruth McNay and Linda Harp began McHarp in 2000. The traditions of this family-owned business were embraced by the Keeter family when they purchased McHarp in 2014. Jim and Kim Keeter include their children, Mackenzie, Ashley and Tres, in the business to the extent of their abilities and inclinations.
With the passion for culture, history, and art, McHarp captures the different heritages and faiths from all around the world in their creations.
To find McHarp products near you:  locate your nearest Irish Store (NACTA) here.