McHarp: Crosses with Meaning began designing crosses inspired by Celtic Christian historical memorials more than 20 years ago
The Celtic Cross is perhaps one of the most powerful symbols of Celtic heritage recognized throughout the world. By crafting accurate sculptural representations of the beautiful Celtic monuments and artifacts, McHarp crosses honor the Celtic love of faith, spirituality, and harmony. The designs celebrate Celtic heritage and the ancient beauty of the art which transcends time, steeped in symbolism and created for enjoyment now and a legacy for generations to come.
Most McHarp designs come from the Celtic Nations: Ireland, Scotland, Isle of Man and Wales; however, inspirations of faith and beauty come from other countries including England, France, Germany, United States, and even Japan. In addition to the faithfully reproduced crosses, McHarp also offers intricate décor items such as manuscript letters, plaques depicting the historical missions of San Antonio, Texas, saints, haiku, and other expressions of faith and heritage.
4
Crosses popular during the spring are the Downpatrick Cross with the Lamb and the three crosses that have the double rings, Kilmallock Cross, Ballinrobe Cross, and the Lisdoonvarna Cross.
Jim and Kim Keeter and their children continue McHarp's legacy in their creations today.  The studio is located on their family farm in Fredericksburg, Texas. Production is limited, and all of their work is handmade using a limestone casting material and proprietary process.
McHarp creations are available online and at select Celtic stores, art galleries and gift shops in the U.S. and Canada.
This summer, be sure to check out the Wedding and Anniversary Collection, and Graduation Gifts for those finishing exams this summer.
Find the nearest Irish Store (NACTA) here, including these great stores from Syracuse and  Saratoga Springs NY to Berkley MI, from Bethlehem PA to Annapolis MD
CASHEL HOUSE

224 Tompkins St
Syracuse, NY 13204

CELTIC TREASURES

456 BROADWAY
SARATOGA SPRINGS, NY 12866

DONEGAL SQUARE

534 MAIN STREET
BETHLEHEM, PA 18018

IRISH TRADITIONS

141-143 MAIN ST
ANNAPOLIS, MD 21401

TWISTED SHAMROCK

3074 12 MILE ROAD
BERKLEY, MI 48072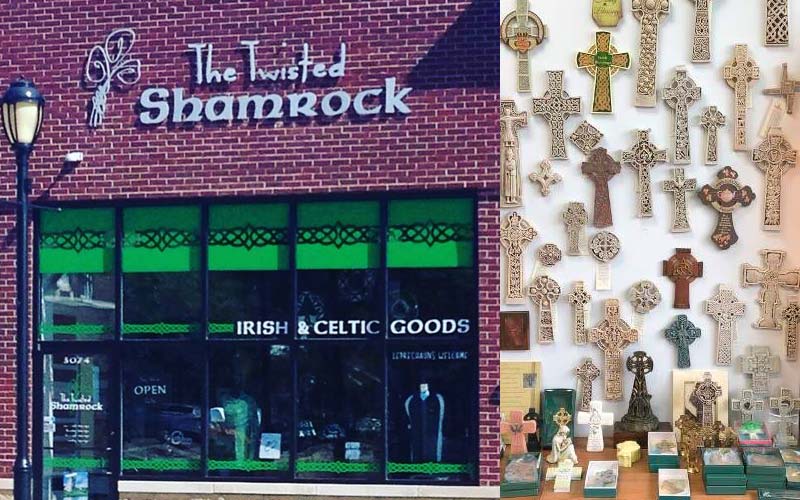 4
If you have a Retail Store or are a Stockist and wish to place a new order  - you are invited to get in contact via the McHarp website, here.