Give the gift of feeling connected to Irish heritage with jewelry, leather goods, greeting cards, and travel adventures.
Unique collections of handcrafted jewelry that capture the beauty and history of Ireland; genuine Irish leather belts, bags and moccasins crafted on the banks of the River Lee in Cork, Ireland; over 50 all-inclusive travel itineraries for Ireland; passion for photography of Ireland in the form of Ireland-inspired colourful greeting cards; the first manufacturer to use the Claddagh symbol on a wedding ring; original Celtic designed jewellery intricately interlacing patterns of the Celtic lands: Ireland, Scotland, Wales, and Brittany.
You can find all this and more from the following Irish vendors. They're all part of NACTA, the North American Celtic Trade Association, which helps to bring the best range of Irish products, gifts, and collections right to your doorsteps to the Irish and Celtic shops across USA and Canada.
Locate your nearest Irish store here.
Galánta Handmade Jewelry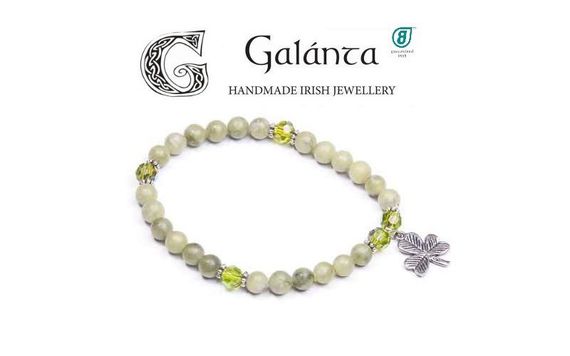 9
Located in the shadow of Bunratty Castle, Galánta is a family-run business with a long craft tradition. They believe in creating truly unique handcrafted jewelry that combines quality with excellent value. Their wide range captures the beauty and history of Ireland and its landscape.
Ancient Celtic symbols hewn on custom-made antique silver beads complement the national gem, Connemara marble as well as other gemstones, including amethyst and rose quartz. They can be contacted through their website www.galantajewellery.com. For wholesale inquiries please contact niall@galantajewellery.com
Niall says "We are proud to be currently stocked in the following shops affiliated with NACTA":
Cashel House, 224 Tompkins St, Syracuse, NY 13204      315-472-4438
A Lit'le Irish Too, 9 Chambersburg Street, Gettysburg, PA 17325 717-334-6609
Irish Traditions, 141-143 Main Street, Annapolis, MD 21401 410-990-4747
Kerreen O'Connor's Irish Shop, 2595 West Alamo Avenue, Littleton, CO 80120 303-794-6388
Tara Gift Shoppe 250 Abbott Rd, Buffalo, NY 14220
Galánta is currently looking to grow its US network of stockists so please give them a call or an email for great wholesale prices for a quality product with a difference that is hand-made and designed in Ireland.
Lee River Leather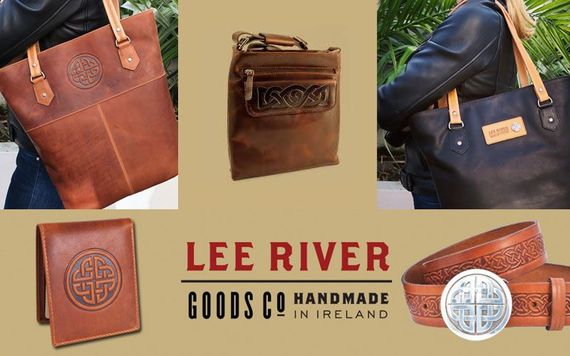 9
Lee River Leather Goods was founded in 1985, but as far back as 1969, they were crafting belts, bags, and moccasins in London's Kensington Market.
These days they're based in their hometown of Cork, with their factory located in Donnybrook in a mill dating back to 1874, when it originally produces ropes and sails for the tall ships traversing the Atlantic Ocean.
Browse their collection across USA and Canada, locate your nearest Irish Store (NACTA) here.
NACTA Travel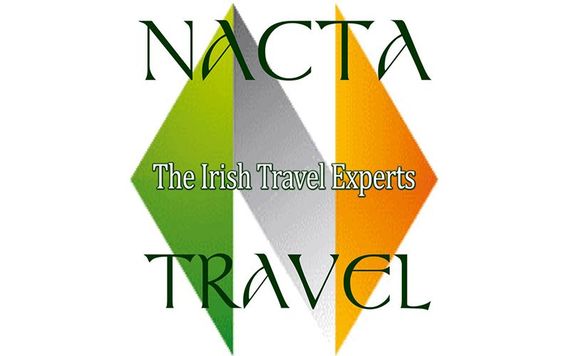 9
Outstanding service – outstanding value. Don't take chances with your travel plans to Ireland.
NACTA Travel is an Irish only travel agent. You'll have your own dedicated, experienced Irish travel consultant to help you plan and book the Irish vacation you always dreamed of. Their decades-long association with CIE Tours, the leader in Irish Guided Vacations for over 85 years, gives them insight and offerings the internet and most other travel agents just don't have.
Call (866)-622-2244 today and choose from over 50 all-inclusive itineraries. Variety of travel options with daily departures available, whether its five-star castles, famous Irish pub tours
To find the newest travel Advice from NACTA Travel, visit your local store across USA and Canada, locate your nearest Irish Store (NACTA) here.
Mundo Images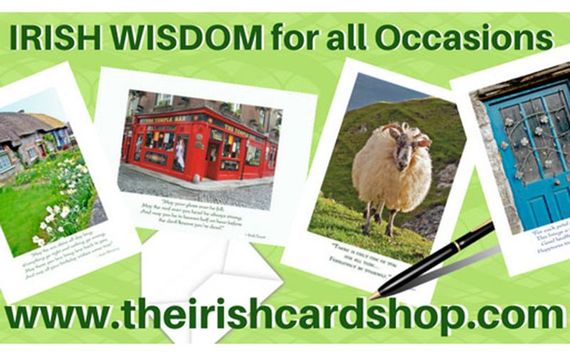 9
Ann Peterson, owner of Mundo Images and theirishcardshop.com was destined to create Irish greeting cards and gifts. When she was a child, her family lived in Ireland, and at the age of seven she began capturing bits of the colorful country with her first camera. Later, she also developed a love of languages and started a collection of quotations that were meaningful to her.
Ann began her professional life as a teacher; however, she maintained her passion for photography.  She won several awards at juried art shows and began to realize that her passion could become her profession.  Her photography and her love of words found a natural expression in the form of greeting cards. The focus on Ireland was inspired by a return trip with her mother, who encouraged her to rediscover her Irish heritage.
Ann launched Mundo Images in 2007 at the National Stationery show with 8 lines of greeting cards; The Irish Wisdom line was the star. Her cards are now carried by fine, independent shops throughout the United States and Canada. Mundo Images has been an exhibitor at The Celtic Marketplace and The Ireland Show since 2008.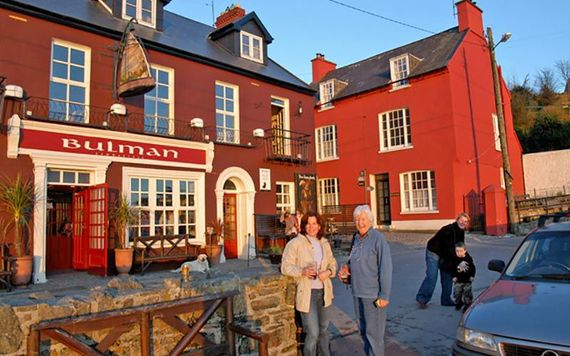 9
Ann's personal pride and devotion to her customers go into the creation of a Mundo Images card or gift, resulting in high quality.  All Mundo Images products reflect a commitment to the environment and renewable resources. Visit theirishcardshop.com for more information.
To find the newest range of Irish Quality Cards across USA and Canada, locate your nearest Irish Store (NACTA) here.
Boru Jewellry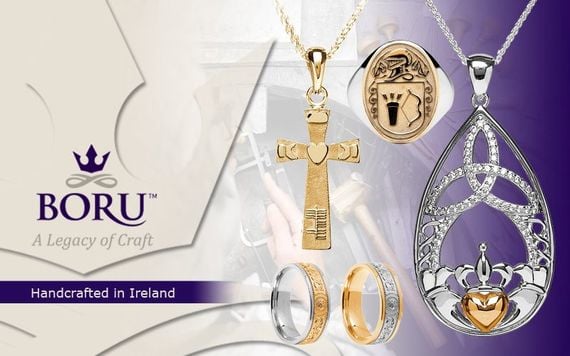 9
Boru's history can be traced back to the mid-1980s. Originally called Celtic & Heraldic, the company initially produced family coat of arms jewelry, showcasing the proud heritage of people all over the world. This was the 'first' of many: the first company to use family coat of arms jewelry on a piece of jewelry, the original designer of the infamous 'Mo Anam Cara,' ring and also the first manufacturer to use the Claddagh symbol on a wedding band.
Inspired by our last great king, Brian Boru, and with a desire to replicate the values, heritage, skills, and craftsmanship that go into making exquisite handmade jewelry, Boru was born. Boru's vast range of products includes wedding bands, Celtic style pendants, earrings, bracelets, bangles, rings, wedding tokens and so much more.
To view their many collections come to see their infamous Celtic Warrior Collection, Signature Collection, Bridal Collection, Claddagh Collection and Damhsa Collection at the following retailers:
A Lit'le Irish, Too Gettysburg, PA 17325
Basic Irish Luxury (Tipperary at Tara) Brunswick, NY 12180
Casey's Irish Imports Rocky River, OH 44116
Cashel House Syracuse, NY 13204
Celtic Gifts & Treasures Maspeth, NY 11378
(The) Celtic Ranch Weston, MO 64098
Celtic Treasures Saratoga Springs, NY 12866
(The) Danu Gallery Pearl River, NY 10965
Donegal Square Bethlehem, PA 18018
Faith & Begorra Denville, NJ 07834
Irish Centre NJ Spring Lake, NJ 07762
Irish Traditions Annapolis, MD 21401
Kerreen O'Connor's Irish Shop Littleton, CO 80120
Mully's Touch of Ireland Scottsdale, AZ 85251
O'Meara's Irish House Fish Creek, WI 54212
Tara Gift Shoppe Buffalo, NY 14220
Tipperary Irish Importer - Celtic Jeweler Brunswick, NY 12180
(The) Twisted Shamrock Berkley, MI 48072
More information here: www.borujewelry.com. Find these products at the stores here. 
Keith Jack
9
Keith Jack is an exciting line of Celtic inspired jewelry, designed by Keith to stimulate your Celtic pride and infused with sentiments that amplify the awe of their beauty.  Sterling silver has been a classic measure of fineness for coins and jewelry for over 1,000 years in Europe.  Keith designs almost exclusively in sterling silver, and to some designs, he adds accents of solid 10kt or 18kt yellow or rose gold. All designs can be special ordered in gold if you prefer.
His designs follow traditional themes of Claddagh, Runes and Brave Heart through to more contemporary motifs including Window to the Soul, Tree of Life and Guardian Angels. The all-new Flora and Fauna collection sets dragonflies, hummingbirds and butterflies amid floral patterned Celtic weaves. Whether you're celebrating one of life's most precious milestones or looking for a stunning piece of Celtic pride to accent an outfit, you'll find what you're looking for in Keith Jack's design collections.
Keith moved from Scotland to Vancouver, Canada in 2007 and began designing and selling his Celtic inspired silver jewelry out of one drawer of his (now) wife's Celtic store. While his growing business is situated in North Vancouver, he and his bride make their home in a seaside community on British Columbia's amazing Sunshine Coast where the flora, fauna, sunsets and landscapes continue to both refresh and inspire him. Today, assortments of Keith's nearly 3,000 designs are being sold in over 300 retail outlets across Canada and the United States. He has been honored with numerous awards for his stunning jewelry and for his keen business sense. Recently, Keith was awarded both "Best Jewelry Design" and "Best New Product" by the North American Celtic Trade Association.
Begin your very own Keith Jack collection, www.keithjack.com Find a dealer near you, your local Irish/Celtic store here. 
Celtic Knot Works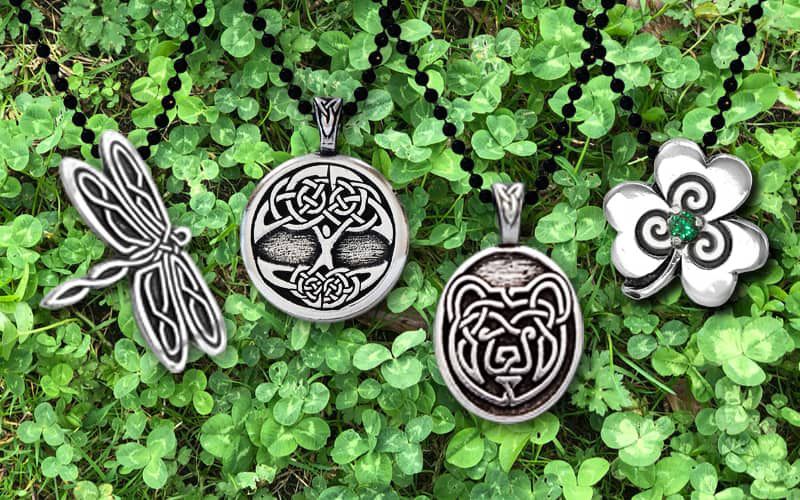 9
Be your own kind of awesome, with jewelry and gifts by Celtic Knot Works. Bob Heiney, the lead artist at Celtic Knot Works, creates award-winning, high-quality original designs inspired by traditional Celtic styles. Find the piece that's perfect for you: pendants, pewter pins, match box covers, keychains, pendulums, money clips, and more. All items are proudly handcrafted in the USA.
Bob Heiney's original designs are his innovative takes on the intricate interlacing patterns of the Celtic lands: Ireland, Scotland, Wales, and Brittany. 
"I love to create jewelry and accessories that I would enjoy owning, and that would appeal to other people like me," explains Bob. "I hope you enjoy my work as much as I enjoy making it."
The Celtic Pendants are Celtic Knot Work's most popular offering, found at the best gift shops and Celtic stores. The styles include traditional symbols (including Trinity Knot, Triple Spiral, and Shamrock), as well as Animals, including favorites like Wolf, Bear, Raven, Dragonfly, and many more. They're priced perfectly for gift-giving, either for a loved one, or as a treat for yourself.
For Celtic Knot Works' full line of jewelry and gifts, check your favorite local store. NACTA Retailers may visit www.celticwholesale.com for purchasing details.