In association to the North American Celtic Trade Association, IrishCentral has become a portal to connect the Irish diaspora to their local Irish stores to purchase all their favorite Irish and Celtic gifts and must-have products.
The North American Celtic Trade Association (NACTA) is involved in the sale and promotion of Irish and Celtic products in North America. Its membership represents retailers, vendors, manufacturers, distributors, and designers from the United States, Canada, Ireland, and the United Kingdom in this niche market.
Now you can search through IrishCentral's store locator to discover where your closest NACTA store is located how and you can start shopping! Just click here to find out.
Here are a list of retailers, both Irish and Celtic shops across USA and Canada. On IrishCentral you'll find the top locations to buy Irish gifts and products nearby.
Arizona
Mully's
Celtic Cottage
130 W. Gurley Street, Prescott, AZ 86301
https://www.mullyscelticcottage.com/
Mully's Celtic Cottage brings Celtic charm to the mountains and desert of Arizona.
Their original shop was located in Scottsdale on popular 5th Avenue in Old Town, right in front of the famous Bob Parks Horse Fountain, while their newest location is set in the historic, mountain town of Prescott overlooking the courthouse square. 
They carry a selection of clothing (including kilts), jewelry, gifts for everyone on your list, as well as pre-packaged and frozen food.
Colorado
Kerreen O'Connor's Irish Shop
2595 West Alamo Avenue, Littleton, CO 80120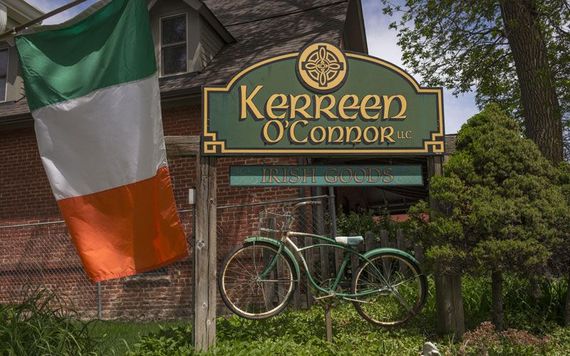 4
Kerreen O'Connor Irish Boutique is a quaint cottage in Littleton, Colorado specializing in thoughtfully Irish made gifts.
Many gorgeous sweaters, yummy foods, hats, and scarves, as well as beautiful jewelry fill the shelves.
Alongside the wonderful collection, their boutique offers kilt rentals for special events such as weddings, proms, and galas. And if you are looking for a permanent kilt for your personal use, their dedicated kilt staff will help you find the perfect quality garment.
Kerreen O'Connor Irish Boutique celebrates many aspects of the Celtic culture and is very thankful to do so for over 17 years in Colorado.
Find your local Irish store in North America here!
Florida
The Irish Gift Shop
26 Cuna Street, St. Augustine, FL 32084
www.facebook.com/TheIrishGiftShop
The Irish Gift Shop has been a Saint Augustine tradition for 35 years. It is located in the oldest city in the United States.
Some have called it the oldest Celtic city as it was founded by Spaniards from Galicia, an ancient Celtic site. The first priest in 1595 was Irish and in 1784 an entire Hibernian Regiment was assigned through the Spanish Crown.
Nowadays, it's primarily tourists who walk the streets, and Irish heritage being as widespread as it is, many people come in to see a little glimpse of their Irish culture.
They say they have gifts for the Irish in you. Doesn't everyone have some?
Kentucky
Failte Imports
113 South Upper Street, Lexington, KY 40507
For over 15 years Fáilte has provided a diverse selection of fine goods from Ireland and Scotland to the Central Kentucky area and beyond.
Whatever your heritage, there is something for everyone to enjoy in their large selection of caps, jewelry, clothing, music, food, pottery, and much more. Their mission is to bring the best of the Emerald Isle to your home for you and your family to cherish.
Maryland
Irish Traditions
141-143 Main Street, Annapolis, MD 21401
Irish Traditions is Maryland's premier importer of fine jewelry, clothing, home accessories, food and gifts from Ireland and Scotland. Their products are of the highest quality and reflect the rich heritage of the Celts.
Besides offering an endless variety of jewelry, knitwear, Highland apparel and gifts, Irish Traditions provides guidance on incorporating your Irish or Scottish heritage into life's celebrations including baptisms, graduations, weddings and holidays.
Kilts and other tartan wear are available for purchase or for rental. For those who want to experience Ireland or Scotland first hand, they offer travel arrangements for independent or escorted trips.
Michigan
Sullivan's Irish Alley
104 East Main Street, Flushing, MI 48433
Welcome to Sullivan's Irish Alley...and Travel too!
At SullivansIrishAlley.com they pride themselves in offering their customers a variety of high quality Irish and Celtic jewelry. They have a few of their other high-quality products from their bricks and mortar shop on this website as well.
They are world travel experts! With a love of everything Celtic, they have traveled to Ireland and Britain on countless occasions, so they are here to help you find that perfect Celtic gift for your family and friends. They invite you to visit their shop or take a tour of their website which is updated regularly.
The Twisted Shamrock
3074 12 Mile Road Berkley, MI 48072
The Twisted Shamrock is an Irish/Celtic shop located just outside Detroit, Michigan in the charming community of Berkley.
They carry a wide array of Irish goods, specializing in Irish-made jewelry, sweaters, and capes.
Visit them on Facebook @TheTwistedShamrock, or on Instagram @TheTwistedShamrock.
Missouri
The Celtic Ranch
404 Main Street, Weston, MO 64098
The Celtic Ranch is not your typical Irish store. Located in historic Weston Missouri, only 35 minutes from downtown Kansas City, the Celtic Ranch helps people celebrate their Celtic heritage with imported and signature clothing, jewelry, and gifts.
In the tradition of Irish hospitality, they offer complimentary tea seven days a week but also with the Midwest largest selection of Irish whiskeys, single malt scotch and small batch bourbon and ryes we sell "liquid sunshine" by the sample shot or the bottle.
Slainte!
New Jersey
Irish Center
1120 Third Ave, Spring Lake, NJ 07762
At Irish Center, run by Aidan and Moya Rush, you'll receive a warm Galway welcome! The Irish Center is a cozy boutique in quaint Spring Lake, New Jersey.
Whether you choose to stop in and visit with them while strolling down the picturesque main street of their lovely seaside town or order online from across the miles, they will consistently provide you with personalized and customized service.
Find your local Irish store in North America here!
Faith & Begorra
40 Broadway, Denville, NJ 07834
Faith & Begorra is a family run business that first opened its doors in June 1992. The owners, Dennis and Susan Banks, along with their five children and extended family have been running the store since its start.
They opened the store when their youngest daughter Kristin was making her First Communion. The Banks parents had a hard time finding a complete selection of religious goods and gifts for their family - Catholic religious goods such as rosary beads, children's bibles, and statues. Prior to the opening of Faith & Begorra, this luxury was not available in Morris County.
Additionally, Dennis and Susan wanted to make Irish gifts available to the many proud Irish men and women of the community. Both factors together provided the spark to encourage Dennis and Susan to embark on the journey that is Faith & Begorra.
New York
Mary Annes Celtic Gift Shop
5694 Riverdale Avenue, Bronx, NY 10471
Mary-Anne's Irish Gift Shop has been at the forefront of importing the finest Irish craft and design into NYC for over 25 years. They pride themselves on stocking a large collection of contemporary and traditional knitwear, accessories, tweed caps, handmade jewelry, crystal, art, hand-thrown pottery, home goods, Irish linen christening gowns and a wide range of gifts.
There is something for everyone here. They also provide gift wrapping and personalizing.
"Customer experience is incredibly important to me, I always try to connect with my customer, making sure they learn the story behind each of the artisans I feature."
 Celtic Gifts & Treasures
72-17 Grand Avenue, Maspeth, NY 11378
The story of Celtic Irish Gifts & Treasures...
Established in 2014, this treasure trove of quintessential Irish gifts includes a selection of exquisite artifacts.
In Celtic Irish Gifts & Treasures, customers will find they curate the most authentic cultural designs throughout history. If you don't find exactly what you are seeking in the shop, they will help you locate your ideal preference. When thinking presents or gifts look no further!! They have an eclectic collection to choose from listed on their site
The Danu Gallery
39 E. Central Avenue , Pearl River, NY 10965
For unique Irish gifts and Celtic-themed gifts, shop The Danu Gallery in downtown Pearl River, NY!
Irresistible Celtic jewelry and knitwear, imported Irish crafts, books and artwork. And they have the perfect gift for that someone special. Browse their website! or, if you are in New York, New Jersey or Connecticut, come to visit their gift shop in Pearl River.
Tipperary Irish Importer - Celtic Jeweler
3956 State Hwy 2, Brunswick, NY 12180
Tipperary at Tara Ltd. is a Celtic jeweler and Irish importer located in Brunswick, New York. They are among the oldest Irish shops in North America.
Their current retail location has been operated in the same location since 1979 although their families operations date back 1839, in Cohoes, NY, and The O'Day Brothers Livery and Store. As you can tell from their history their tradition of service is unmatched.
They stock a wide variety of famous Irish brands like Shanore (premier stockist), Waterford Cyrstal, Hanna Hats, Branigan Weavers, Belleek China, Colm Di Ris, and Wild Goose
Basic Irish Luxury
3956 State Hwy 2, Brunswick, NY 12180
Basic Irish Luxury was founded 40 years ago on a very simple premise - whether luxury in your mind is simply a great cup of tea, maybe a cozy handmade throw or cape or a slightly extravagant piece of jewelry they would bring it to you at the highest available quality and always at the best possible price.
Whether shopping in their stores or at BasicIrishLuxury.com you can be assured you will receive the very finest customer service. The knowledge and expertise that four decades in the BasicIrishLuxury business affords us come free with every purchase.
Find your local Irish store in North America here!
Celtic Treasures
456 Broadway, Saratoga Springs, NY 12866
Celtic Treasures offers you one of the largest selections of Irish Gifts and imported goods this side of the Atlantic. At Celtic Treasures, you will find that you have to look no further when it comes to Irish gifts. One of the largest importers of Irish gifts in upstate New York, owners Paul & Antoinette O'Donnell work directly with Irish gift distributors to bring the largest selection of unique and hard-to-find Irish gifts to their store
Cashel House
224 Tompkins St, Syracuse, NY 13204
www.facebook.com/CashelHouseGifts
Cashel House has been an integral part of the rich Irish / Celtic Syracuse tradition for over 30 years. They are located in the heart of the historic Tipperary Hill area.
Their comprehensive range of Irish-made sweaters,  gold and silver jewelry, Waterford Crystal and Belleek Pottery make them a one-stop shop for any gift.
Tara Gift Shoppe
250 Abbott Rd, Buffalo, NY 14220
The Tara Gift Shoppe is located in the Irish Heritage District of South Buffalo. Owned by Mary Heneghan, whose father was from Kilmihil, Co. Clare, and her husband Tom, of Kilmaine, Co. Mayo, the Tara Gift Shoppe was founded in 1980, and named after the Hill of Tara.
Their inventory includes the finest Ireland offers from Shanore and Solvar jewelry, Belleek, Carraig Donn knitwear, Hanna hats, Mucros weavers, Wild Goose and more!
Ohio
Casey's Irish Imports
19626 Center Ridge Rd, Rocky River, OH 44116
Casey's Irish Imports, Inc is a second-generation family-owned Irish gift store located in Rocky River, Ohio, eight miles west of downtown Cleveland.
For almost 30 years Casey's has been supplying the greater Cleveland area with the treasures of Ireland. Casey's stocks a large selection of Irish handcrafted goods and Irish themed merchandise.
They carry Claddagh/Celtic jewelry, Irish crystal, china, pewter and brass, traditional Aran sweaters, caps, and woolens, Inis cologne, home and garden décor, assorted Irish foods, and much more. Check them out on Facebook and Instagram.
Pennsylvania
A Lit'le Irish, Too
9 Chambersburg Street, Gettysburg, PA 17325
For the past 15 years A Lit'le Irish, Too has become the Irish heartbeat of Gettysburg. They draw in patrons from near and far. Carrying everything from beautiful Irish jewelry and traditional sweaters to delicious Irish foods, A Lit'le Irish, Too has something for everybody.
To see all they have to offer shop with them online, visit their storefront or stop by their booth at one of the many festivals they set up at, as well. Stay up to date on A Lit'le Irish, Too news, promotions and events on any one of their social media sites. Sláinte! (Cheers!)
Oxford Hall Celtic Shop
233 Bridge Street, New Cumberland, PA 17070
Since 1985, Oxford Hall has been offering Harrisburg, PA, area lovers of Celtic wares a unique opportunity to find authentic Irish, Celtic and British apparel, jewelry, wedding and engagement rings, food, religious items, art, music and more.
They are also the central PA's largest resource for First Communion dresses, suits, and accessories.
Located in a historic Civil War building in downtown New Cumberland, PA. They are near many of the tourist destinations in Central PA. Five minutes off exits 39A on I83 and Exit 242 West Shore off the PA Turnpike. They also have a British/Irish tea cafe where guests can try meat pies, pasties, scotch eggs and enjoy a proper pot of tea.
Donegal Square
534 Main Street, Bethlehem, PA 18018
Donegal Square is in the heart of Historic Bethlehem, Pennsylvania. For more than 30 years, they have welcomed customers to their unique Celtic gift shop.
Together with McCarthy's Red Stag Pub and Whiskey Bar, they are your Celtic destination (no passport required!).
Customer favorites include beautiful sweaters and woolens, Nicholas Mosse pottery, Shanore and Keith Jack jewelry, Ogham wishes, and much more. Visit their Pantry to stock up on your favorite treats from "across the pond"!
Donegal Square brings you the best of Ireland and the British Isles. Visit, have a wee chat, and become part of the Donegal Square family!
McCarthy's Bread Mixes
534 Main Street, Bethlehem, PA 18018
Redstagpub.com/mccarthys-irish-bakery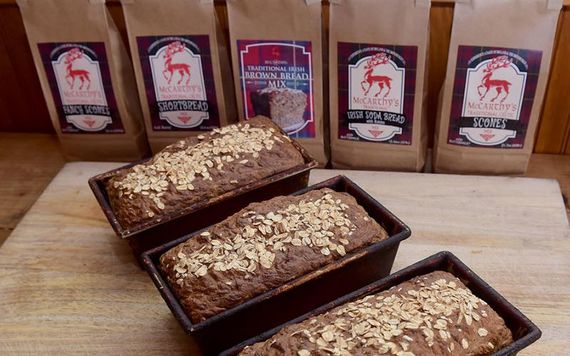 4
Growing up in County Antrim, Neville Gardner learned hospitality at an early age - any visitor to his childhood home was served tea and a home-baked treat.
In 1997, Granny McCarthy's Bakery and Tea Room opened. Neville's goal was to make the best Brown Bread (outside of Ireland). McCarthy's closely replicated their favorite authentic Irish recipe using organic grains grown here in Pennsylvania.
McCarthy's developed a fool-proof Irish Brown Bread mix; just add buttermilk! They now offer five varieties: Brown Bread, Irish Soda Bread, Scones, Fancy Scones, and Shortbread. So easy to get a taste of Ireland and the British Isles!
4
Wisconsin
O'Meara's Irish House
3970 Highway 42, Fish Creek, WI 54212
O'Meara's Irish House brings the best that Ireland has to offer to their customers. They feature traditional Aran sweaters with a modern twist from Aran Woollen Mills and Rita Condron, gorgeous capes from Branigan Weavers and Jimmy Hourihan, and a stunning collection of jewelry from ShanOre, Solvar, Fado, Boru, and Facet.
They also offer tours of Ireland every year.
For 45 years, their location in beautiful Door County, WI, has been delighting visitors and Irish enthusiasts with timeless, high-quality goods.