Meet and shop these incredible Irish makers with Kilkenny Design.
Kilkenny Design was originally set up as Kilkenny Design Workshops in the heart of Kilkenny City in 1963. Under a new scheme by the Irish government to encourage local crafts people to the area, the goal was to develop novice designers by supporting entrepreneurship and sustainability.
The original workshops included training in candle making, weaving, linen knitting, and textiles with an additional focus on bog oak, clays, and pottery to name a few. After much success, the workshops were renamed Kilkenny Design Centre and in 1976 the flagship store opened in Nassau St in Dublin. 
Today, Kilkenny Design has 16 stores across Ireland plus two Christy's Gift Store locations in Killarney, Co Kerry and Cobh, Co Cork with Chairperson, Marian O'Gorman, having mentored and nurtured local makers and designers. As Kilkenny Design celebrates 60 years, they're shining a light on a selection of their much-loved designers to mark this next chapter and lead the way for the next generation of Irish design. 
Enibas – Sabine Lenz 
Enibas is beautiful Gaelic inscribed jewelry that is designed and handcrafted by Sabine Lenz at her studio in the sleepy fishing village of Schull, West Cork. Originally from Germany, Sabine studied fashion design in college and fell in love with the creative process of jewelry making. While traveling Europe, she fell in love with the rugged landscape of Ireland and the charm of its people, feeling an instant strong connection to the country and nature.
She quotes Ireland as "a very special place" and settled with her family along The Wild Atlantic Way. Bringing the Irish language into her designs was very important to Sabine. People draw strength from jewelry on their life journey and each piece has a special meaning.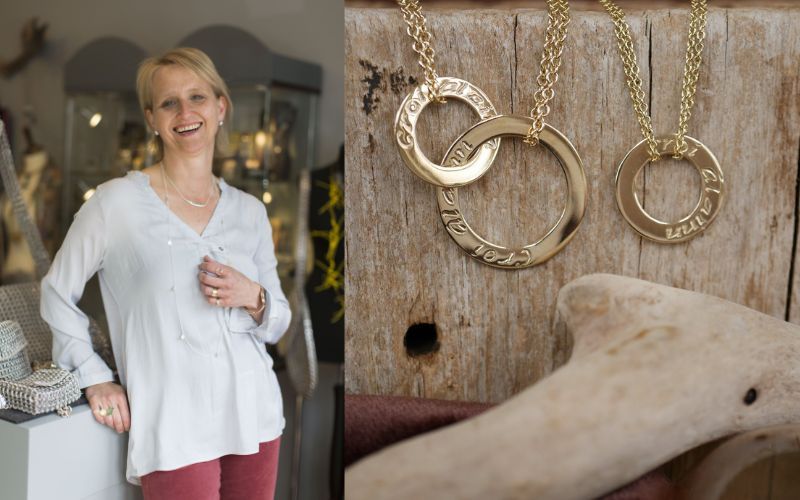 5
The best-selling Croí Álainn, meaning 'Beautiful Heart' in Irish, is a stunning gift for someone special. The Anam Collection features charms where you can build your own pendant with initial stamps, making it the perfect milestone or occasion gift. A unique piece from Enibas is a lifetime treasure and a piece of Ireland that you can wear close to your heart. Shop the collection here. 
Waterford Crystal
For over 200 years, Waterford has harnessed Ireland's powerful elements to produce hand-crafted luxury crystal. Established in 1783 on land adjacent to Merchants' Quay in the heart of the Irish harbor town of Waterford, just minutes from the present-day House of Waterford Crystal.
Its founders were brothers George and William Penrose, important developers, and principal exporters in the city. Their vision was to "create the finest quality Irish crystal for drinking vessels and objects of beauty for the home." More than two hundred years later, the reputation they established for creating luxury crystal of unsurpassed beauty and quality has transcended the intervening centuries.
Today, Waterford is renowned for contemporary pieces of inspiration and unrivaled craftsmanship with excellence and sophistication at the core. Discover show-stopping glassware and homeware at Kilkenny Design including The Aran Collection, The Irish Lace Collection, The Lismore Collection, and more. Click here to find out more.
Orla Kiely
Famous around the world for her statement floral prints, Irish designer Orla Kiely has a long-standing relationship with Kilkenny Design spanning almost 30 years. Chairperson of Kilkenny Design, Marian O'Gorman, and Orla Kiely worked closely together to bring the iconic brand exclusively to Kilkenny Design customers in Ireland and Orla Kiely fans around the world. The cult classic stem print is a bestseller with more playful, modern, and sustainable trends that have come to the fore with each new season. Orla Kiely fans will find handbags, homeware, bed linen, and interiors available at Kilkenny Design here. 
Jim Scully
Irish artist Jim Scully is renowned for meticulous sketches and paintings of iconic historical landmarks in Ireland, paintings of the ethereal coastline, and modern streetscapes of towns and cities around the Emerald Isle. With over 25 years honing his individual style of work, pen, and watercolor technique, the result is in-depth, rich, and detailed prints showcasing the best of Ireland. 
From Jim Scully's collection at Kilkenny Design, discover prints portraying the iconic Georgian doors of Dublin, streets of Galway, the infamous Blarney Castle, the many pub faces of Temple Bar, and much more. Feature a piece of Ireland in your home with these timeless and inspiring prints, find out more information here.
Shop Kilkenny Design on their website and follow them on Facebook, Instagram, and Twitter. 
*Terms & Conditions apply: Applies to full price items only. Excludes Sale, Special Offers, Enibas, Alan Ardiff, Newbridge Silverware, Gift Cards, Shipping & Insurance.