Premium Irish whiskey, Writers' Tears to provide financial and other support to Dublin city center pharmacy featured in James Joyce's' Ulysses which is under threat of closure from rising rent
As the annual Bloomsday, June 16, celebrations in Dublin, Irish whiskey entrepreneur Bernard Walsh has come to the aid of Sweny's Pharmacy - one of the most celebrated venues featured in James Joyce's epic novel, Ulysses. Writers' Tears premium Irish whiskey will provide financial and other support to Sweny's which is under threat of closure from rising rent.
Located on Dublin City's Lincoln Place, Sweny's features in chapter five of Ulysses when the lead character, Leopold Bloom, pays a visit. Sweny's officially ceased operating as a pharmacy in 2009 but since then, thanks to a dedicated team of volunteers, it has become a shrine to Joyce and Ulysses preserved just as it was when the author himself visited it in 1904 - as did his literary peers Oscar Wilde and Samuel Beckett in their time.
People come from all over the world to experience living history, to listen to Joycean readings (in five languages) and to buy the same lemony soap that Mr Bloom notionally bought on the 16th June 1904, and which itself becomes a talisman to the story told in the famous novel.
Bernard Walsh, Managing Director of Walsh Whiskey and creator of Writers' Tears, premium Irish whiskey, said: "The role played by the volunteers who have kept Sweny's open for the last ten years has been immense in preserving Irish literary heritage for Dubliners and people the world over to experience. They both need and deserve our support if they are to carry on. All of us at Writers' Tears are proud to play our part.
"I created Writers' Tears as a homage to Ireland's literary and creative greats and thankfully, a bit like Ulysses, it has come to be enjoyed by people in countries the world over. Writers' Tears is a rare blend of two premium whiskeys (Single Pot Still & Single Malt). This style of whiskey was extremely popular in Joyce's time and we designed the bottle to reflect that same Victorian era. So Sweny's and Writers' Tears are a good fit for each other on several levels."
In addition to contributing to the rent, Writers' Tears will promote Sweny's need for support in the 50 countries it is sold in worldwide and to its customers through dedicated content on online channels. Writers' Tears has also committed to buying hundreds of bars of the famous lemony soap to help promote interest in the unique venue.
P.J. Murphy, a volunteer and Board member of the F.W. Sweny and Co Trust (which has charitable status), said: "Bernard's support through Writers' Tears is much appreciated. It will take our story, and those of Ulysses and Mr Joyce himself, to new audiences and generations both at home and abroad. We look forward to offering a free dram of Writers' Tears whiskey to all of our Bloomsday revelers this Sunday."
Sweny's….and Joyce, and Ulysses
F.W. Sweny and Co (Limited) opened its doors as a dispensing chemist in 1853 at a fortuitous location on Lincoln Place, in the heart of Dublin's south inner city. It lies within 100 meters of Merrion Square (location of Oscar Wilde's birthplace and residence), Trinity College, the National Gallery and Pearse Street Station. It has altered very little since that day 172 years ago.
In 1904 the young James Joyce called to Sweny's. He consulted with the then pharmacist Frederick William Sweny in such detail that it is possible to recreate the prescription he describes in Chapter Five of Ulysses.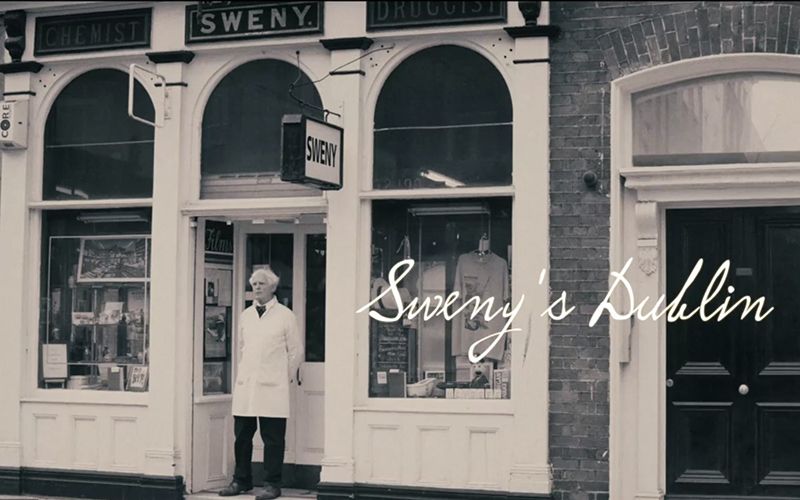 2
Sweny's also lies within 50 meters of the location where James Joyce was stood up by his future wife Nora Barnacle on 14th June 1904. Two days later she would give in to his pressing advances and that day, 16th June 1904, would go down in literary history as the day that forms the backdrop for Joyce's Ulysses, arguably the greatest novel ever written.
Sweny's has the great honor of being described in sumptuous detail within the novel. The hero, Leopold Bloom, comes into the shop, admires its bottles of potions and compounds and ponders the alchemy that the place possesses.
While waiting for the pharmacist Bloom smells the lemony soap on the counter and takes a bar with him. The soap becomes the talisman for his journey which is re-created every year on 16 June, Bloomsday.
Joyce's works are cherished here and read aloud daily by the volunteers and visitors who take pleasure in the clarity of Joyce's memories.
The sweet scent of lemon soap remains in the air; potions lie unopened and forever mystical.
In 2009 Sweny's ceased trading as a pharmacy and the doors closed. Some months later, while photographs were being taken of the interior of the shop, people began wandering inside in search of the famous lemon-scented soap. Sweny's had no plan to trade, it just evolved, and the doors are still open today.
The interior of this historical hub is small and quaint, approximately 11ft wide by 14ft long with beautiful high ceilings.
Today the shop is maintained by volunteers, in the same condition as it was when the young James Joyce first visited. It has been here for Oscar Wilde, Samuel Beckett and the residents of Fenian Street and Westland Row for well over 150 years.
Sweny's operates as a second-hand bookstore, also selling new and second-hand editions of Joyce's works. And, of course, our famous lemon-scented soap!
Proceeds from the sale of its famous soap, books, postcards etc. go towards the upkeep and preservation of this important literary landmark.
Sweny's also holds a number of readings of Ulysses and other works by Joyce throughout the week. Please see www.sweny.ie for more information.
 Writers' Tears Irish Whiskey
Bernard Walsh first created Writers' Tears in 2008 as a homage to the many literary greats that have come from Ireland. There are four main expressions in its portfolio.
Writers' Tears - Copper Pot is the signature expression. It is a rare blend of two premium Irish whiskeys (Single Pot Still & Single Malt). This style of whiskey was very popular in the 1800s when it became known as 'The Champagne of Irish Whiskey'.
Writers' Tears - Copper Pot is one of the highest rated Irish Whiskeys in Jim Murray's iconic "Whiskey Bible" and is also included in Ian Buxton's publication "101 World Whiskeys to Try Before You Die".
There are three other Writers' Tears expressions – Red Head a Single Malt (matured in Olorosso Sherry Casks); Double Oak (Writers' Tears Copper Pot matured in American Bourbon & French Cognac casks) and annual Writers' Tears Cask Strength vintages.
For more visit walshwhiskey.com/our-whiskeys.