Sean is the most mispronounced name in the world, and the most mispronounced Irish name in the world, according to a new study.
It's not unusual to run into a name you're not sure how to pronounce, and it gets even more challenging when coming across people from different countries and cultures.
Irish names in particular can be tricky for people outside of Ireland and are notoriously difficult to pronounce among the non-Irish. The error most people make is trying to sound out an Irish name according to English pronunciation conventions.
According to research from WordFinderX, the most mispronounced Irish name, as well as the most mispronounced name in the world overall, is Sean. This Irish male name has had over one million listens on Forvo, the online pronunciation dictionary.
The study states: "Sean, with one million pronunciation checks, is the most mispronounced name in the world.
"The correct pronunciation stretches the vowels and involves the common Irish palatalization of the 's' so that it sounds a little like the French (Jean) and English (John) names from where it originates.
"The high search rate for this name may partly relate to confusion over one of the most famous Seans: actor Sean Bean, whose name does not rhyme despite its appearance. Just to confuse matters further, Bean's real first name is actually Shaun, a re-anglicized version of the name he now goes by. He took his stage name out of the belief it would be 'catchier,' and… here we are."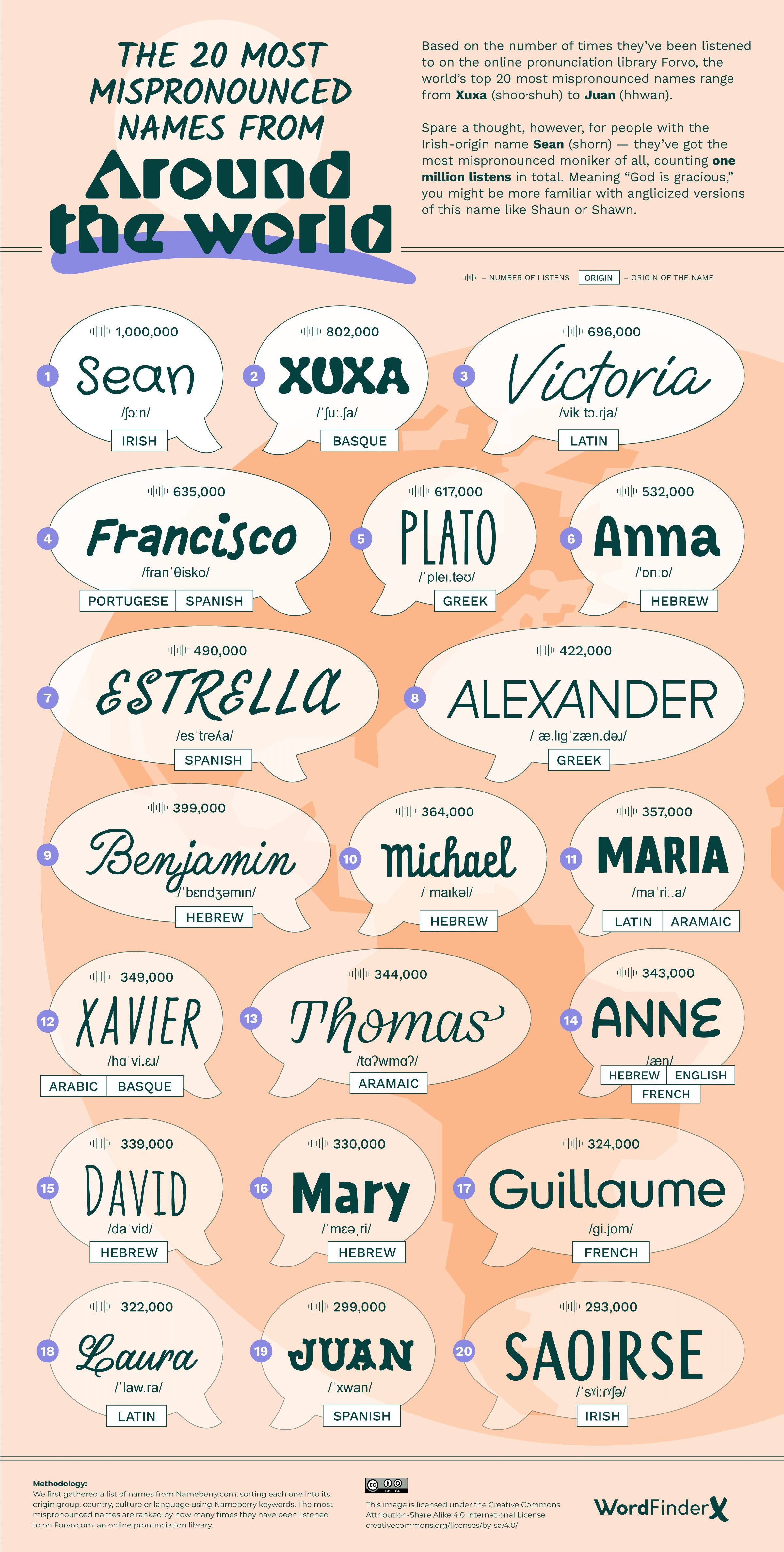 3
Sean also tops the list of the most mispronounced Irish names in the world. It's followed by fellow "S" names Saoirse and Siobhan.
The second most difficult Irish name to pronounce, and the 20th most mispronounced name on the global ranking, is the female name Saoirse (sur-shuh or seeuh-shuh) with 293k listens. 
According to popular Irish actress Saoirse Ronan, her name is pronounced "Saoirse-like inertia."
Siobhan, Ryan, and Liam round out the top five of the most mispronounced Irish names.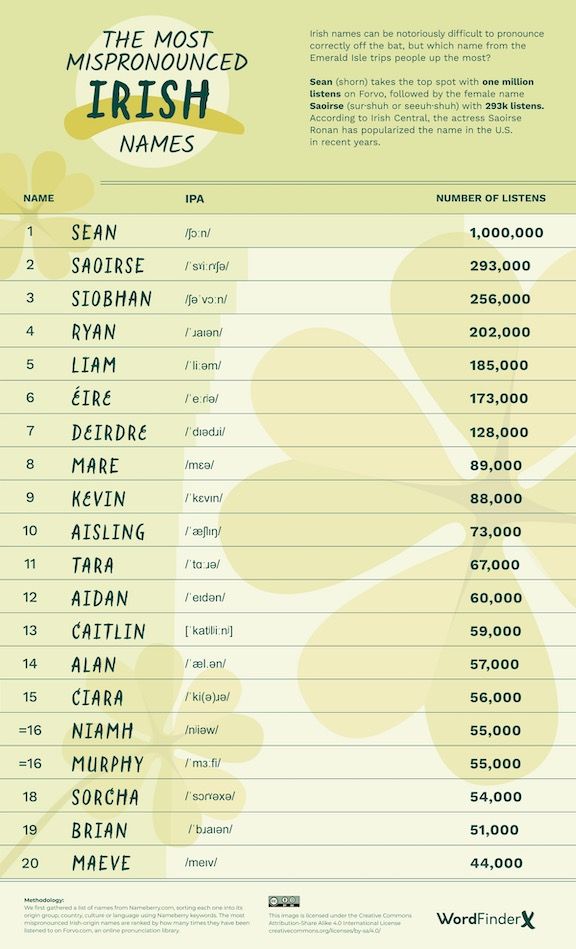 3
To come up with the rankings for the study, WordFinderX first gathered a list of 12,768 names and their origins from Nameberry. The researchers then searched each name on Forvo, to find out how many times the pronunciation of the name has been listened to by its users. Names were then ranked globally and per origin on how many listens their pronunciations have received in total. 
For more information on the study and the most mispronounced names from around the world, click here.