Liam Neeson said he was moved to tears when he first read the script for his upcoming movie, Normal People.
The Irish actor said he knew Normal People, which is based on a play by Irish playwright Owen McCafferty, was special as soon as he read it.
"The subject matter is heavy but it's a beautiful love story. It's invested with Irish humor and it made me cry a little. I knew I had to do it." Neeson told Deadline.
Neeson and actress Lesley Manville will portray a happily married couple, Tom and Joan, who have to cope when Joan is diagnosed with breast cancer.
We have some exciting news! Liam Neeson & Lesley Manville are set to star in new feature film, Normal People, which will begin Principal Photography in Belfast this July.

Further information can be found here: https://t.co/9U1aP4usUm #MadeInNI pic.twitter.com/QQqaGjPteS

— NI Screen (@NIScreen) April 11, 2018
"I've had four relatives who have died of cancer, three of them of breast cancer over the last few years," said Neeson. "I'm very aware of it. People still whisper about cancer. But why do we speak in hushed tones about a disease which is so prevalent and attacks so many we know? We're all one degree of separation away from this experience.
"Millions of women go through this particular cancer, it's so important they are regularly tested for it. We're representing the story of what they go through. It can be ugly and brutal but there's an extraordinary love and humor channeling through their experience."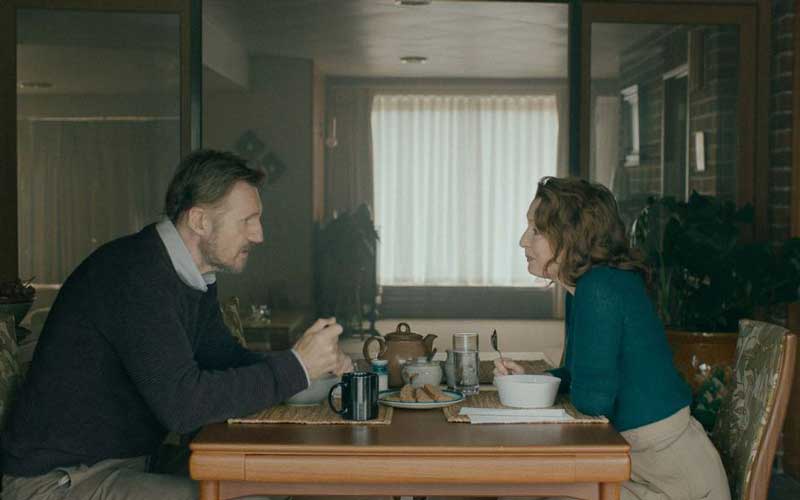 2
When his friend Bono sent him the script, Neeson hadn't made a film in Northern Ireland for more than a decade. He said making the film, which was shot in five weeks this summer, helped him to reconnect with his homeland.
"I've been offered a hundred things over the years to do with the IRA and the Troubles and I wanted to avoid it. Now that there is a real peace there and a new generation in Ireland it feels like there is a youthful energy about Belfast. It's great."
The film, which is directed by Lisa Barros D'Sa and Glenn Leyburn, does not yet have a release date.
Read More: The next "Quiet Man"? Liam Neeson to star in Ireland-set love story