Slane Family land and 147-year whiskey-making mastery of Kentucky's Family Brown brings exceptional whiskey back to the Boyne Valley, in County Meath.
At one time, several distilleries found the fertile soil and pure water of the Boyne Valley perfect for making whiskey. But over time, the distilleries shut down and the proud whiskey tradition of the Boyne Valley was all but lost.
With the vision and historic, untamed lands of Slane's Family Conyngham and the 147-year-old whiskey-making mastery of Kentucky's Family Brown, we've brought exceptional whiskey back to the Boyne Valley for generations to come.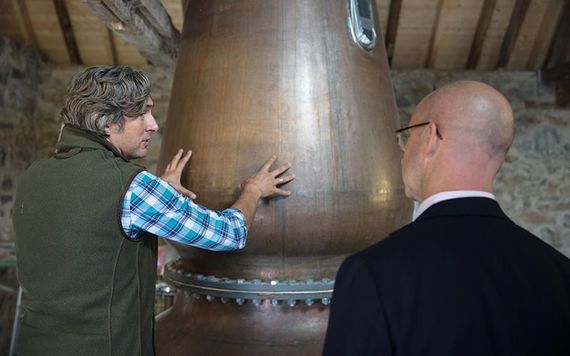 2
About Slane Irish Whiskey
Slane Irish Whiskey marries traditional Irish craftsmanship with innovations like its signature Triple Casked maturation process. Using virgin, seasoned and sherry casks, the resulting spirit is bold, yet smooth and more robust and complex than a traditional blended Irish whiskey. Its striking black bottle calls out its distinctive flavor and unconventional approach that embodies the pride of Slane.
The nature of kinship
Made by the barrel-raising art of the Brown Family and born on the historic lands of the family Conyngham, our whiskey brings two historic families together for generations to come.
A tale of two families:
1045 - Malcolm, son of Friskin, defies Macbeth by sheltering Malcolm III under the hay in his family's barn.
1058 - Malcolm III becomes King of Scots and rewards Malcolm, son of Friskin, with the Thanedom of Cunninghame. The Conyngham Coat of Arms, featuring a three-pronged hayfork, is born.
1690 - Albert Conyngham and his son Major General Henry Conyngham fight in the Battle of the Boyne.
1703 - Major General Henry Conyngham purchases the land that Slane Castle — and Slane Distillery — now rest on.
1781 - William Burton Conyngham plans out and improves the Village of Slane.
1796 - Henry Conyngham improves and expands the stables at Slane Castle in which Slane Distillery now resides, using Capability Brown as the architect.
1820 - Lady Elizabeth Conyngham becomes the last mistress of King George IV, who straightens the road from Dublin to Slane for speedier visits.
1837 - Francis Nathaniel Conyngham informs Princess Victoria that she will be queen.
1854 - The Conyngham Cup horse-race at Punchestown is founded by the family – now one of the longest running and most prestigious races on the Irish racing calendar
1870 - George Garvin Brown begins selling whiskey in sealed glass bottles to assure its quality. Old Forester Kentucky Straight Bourbon Whisky is the flagship brand. Brown eventually enters into a partnership with George Forman, his accountant and friend, and Brown-Forman is created.
1923 - Owsley Brown buys the entire stock of Early Times to ensure Brown-Forman's whiskey supply through the lean years of U.S. Prohibition.
1945 - Brown-Forman founds the Blue Grass Cooperage to maintain the highest degree of craftsmanship and control over the barrel raising process.
1952 - Conservationist and sportsman "Mount" Conyngham creates the Conyngham Fly.
1953 - Early Times becomes the number one bourbon in the United States.
1956 - Brown-Forman purchases the Jack Daniel Distillery in Lynchburg, Tennessee.
1981 - During a politically tense time in Ireland, Lord Henry invites bands to play a show in Slane Castle's natural amphitheatre. Slane Concerts are born and the location becomes famous with music fans and artists around the world.
1996 - Brown-Forman introduces Woodford Reserve Bourbon.
2015 - Brown-Forman acquires Slane Castle Irish Whiskey, beginning an enduring, progressive partnership between the two historic families. The former stables of Slane Castle are converted into Slane Distillery.
For more information about Slane Irish Whiskey, please visit slaneirishwhiskey.com, like us on Facebook at facebook.com/slanewhiskey, on Twitter at @SlaneWhiskey and on Instagram at @SlaneWhiskey.