The expert bar staff and tour guides of Dublin city's Irish Whiskey Museum dish the dirt on their favorite tipples, tips for whiskey lovers in Ireland and what Irish whiskey history tales get them every time.
It's a global phenomenon, Irish whiskey is booming and right in the city center of Dublin, across from Trinity College, the Irish Whiskey Museum is celebrating the history and current renaissance of "uisce beatha", aka the water of life. 
The Irish Whiskey Museum opened its doors in, November 2014 and, since opening, the growth of the whiskey industry in Ireland continues apace.  In 2013, there were only four distilleries in operation and five visitor centers on the island. Now there are 24 working distilleries, with another 29 in planning. The Irish Whiskey Museum being independent of all distilleries offers visitors the opportunity to taste and experience some of the many varieties of whiskey on offer.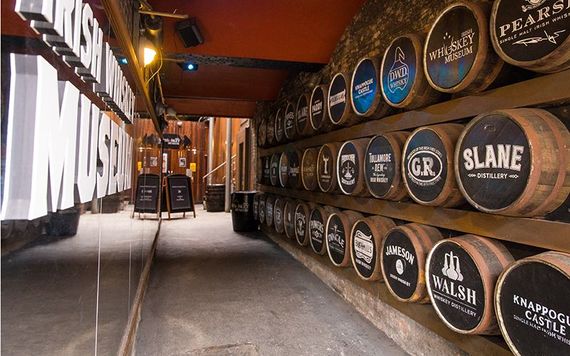 8
The only museum dedicated to the story of Irish whiskey, a guided tour of the museum includes five rooms, four of which are themed to represent a particular period in Irish history. The fifth and final room of the tour, the tasting room, is where visitors get to taste and compare three or four very different Irish whiskeys under the excellent guidance of a tasting expert.
A fun and educational visit there's a huge amount to learn and take in. IrishCentral figured who better to tell our readers about the Irish Whiskey Museum and their love of Irish whiskey than the staff at the Grafton Street museum.
Below barmen, tour guides and a tour desk operator talk us through their roles, their favorite bit of Irish whiskey history, their favorite Irish whiskeys and advice to whiskey lovers visiting Ireland. 
Stephen Carvill – Bar
My job behind the bar in the Whiskey Museum mainly revolves around trying to find a style of whiskey that suits each individual customer. I will ask customers questions about what drink they would usually have, what flavor palate they would usually go for and if they want a smooth or sharp whiskey.
As well as this, I also prepare cocktails and help people with tasting trays.
I first fell in love with whiskey because of the history behind it. I was impressed by how much Irish culture has been influenced by whiskey. Once I got a taste for whiskey I knew this would be the perfect job for me.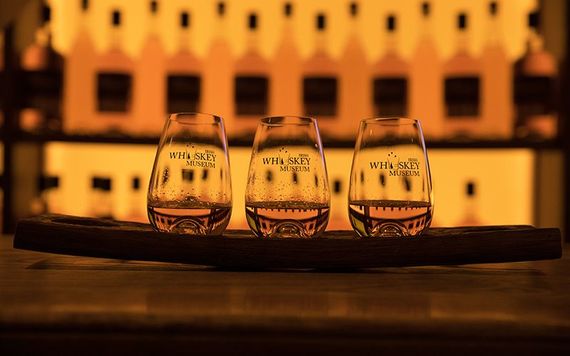 8
My Irish whiskey tipple would be Method and Madness pot still, that is finished in French chestnut. The wood used gives the spicy whiskey an earthy undertone. It's incredibly smooth.
My top tip for an Irish whiskey lover visiting Ireland would be to try a pot still whiskey that you may not be able to get at home. I would recommend Powers Johns Lane.
Hannah Osborne – Bar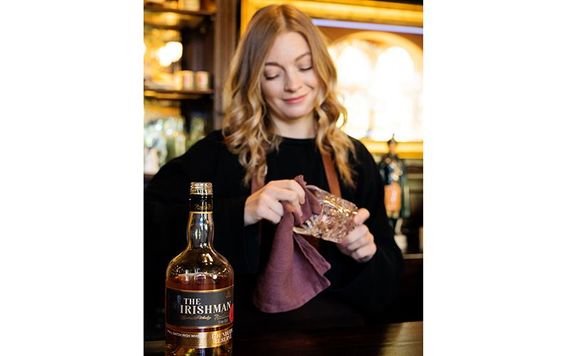 8
I love the creative aspect of my job, building the bar menu from scratch was a huge undertaking but so exciting.
We wanted to focus on making the bar accessible to people who are a little nervous around whiskey but also a place real whiskey lovers could feel at home.
My favorite part of working at the Irish Whiskey Museum is the team. I have the best colleagues a gal could ask for we are like a giant dysfunctional family but I wouldn't have it any other way.
The bar team, in particular, are incredible - the focus, passion, and attention to detail every single one of them gives daily is second to none.
There are so many ridiculous stories about Irish whiskey that I love but one of my favorites is the creation of the Irish coffee. We make a lot of them and it always a fun story to tell.
There was a plane that had to have an emergency landing in Shannon airport, a small plane with a lot of wealthy Americans. They were all shuffled into a tiny bar where the barman, Joe Sheridan, took pity on his freezing weary customers and he decided to spice up there coffees a bit.
According to legend, the name came about with the following exchange:
"Hey Buddy," said a surprised American passenger, "is this Brazilian coffee?"
"No," said Joe, "that's Irish Coffee."
Irish coffee became a huge success and an airport specialty. The drink traveled back to America with Stanton Delaplane who presented the concept to the Buena Vista Hotel, in San Francisco. The couldn't get it quite right and had to return to Ireland to get the recipe from Sheridan and apparently he told them:
Cream - rich as an Irish brogue
Coffee - strong as a friendly hand
Sugar - sweet as the tongue of a rogue
Whiskey - smooth as the wit of the land
Which I'm sure they found extremely helpful!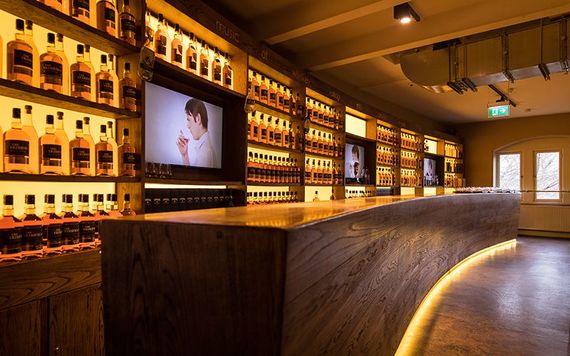 8
If I was to choose one of the tours on offer at the Irish Whiskey Museum it would have to be the premium tour. All the guides are hilarious, and the extra whiskey is always a treat.
My favorite Irish whiskey tipple? I chop and change a lot, but at the moment it has to be the Green Spot Chateau Montelena. It tastes like summer holidays.
Lastly, my advice for any  Irish whiskey lover visiting Ireland would be to go sit at the bar, talk to the bartender and ask them what they drink and try it!
Eoin Clarke – Tour Guide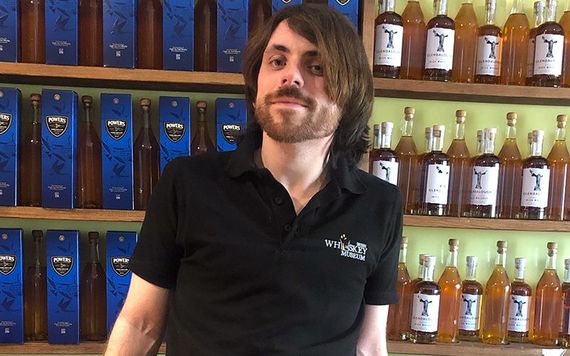 8
I'd say my favorite Irish whiskey history aspect would be the effects of taxes on whiskey itself and how people went around it is really interesting, whether it's poorer people innovating with poitín and discovering aging, or how pot still whiskey itself was born.
For anyone visiting the Irish Whiskey Museum I'd suggest they take the blending tour because it's longer and more in-depth than the others - also the fact that there's more whiskey consumed also doesn't hurt. 
Personally, my favorite Irish whiskey has got to be Powers. A toss-up between Three Swallows or John's Lane, I can never decide.
What would be your top tip to an Irish whiskey lover visiting Ireland? Well, I would say, don't buy into the big names and the age statements and the single-whatevers. There's as much great unknown cheap whiskey as there is overpriced mediocre stuff, so explore and keep an open mind!
Mark O'Reilly – Tour Guide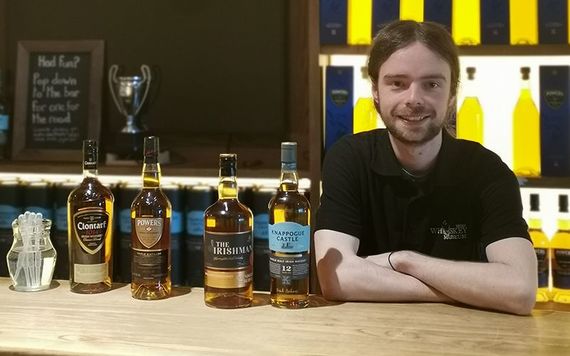 8
My role at the Irish Whiskey Museum involves guided tours, both small and large groups, on the history of strong alcohols in Ireland, followed by the obligatory tasting. 
The best part of my job is getting people up to the tasting bar to finally see what I'd been making such a big fuss about for the last 40 minutes.
I love the freedom we have, at the Irish Whiskey Museum, to express our own opinions about whiskey without endorsing any one brand.  It's a good feeling being able to recommend whiskey to our guests that will actually suit their pallet rather than pushing a particular brand.  
My own favorite tipple would be Bushmills 16 (on payday, of course!)
I would tell whiskey lovers visiting Ireland to break any habits you previously had and only try whiskeys you haven't tried before in the pubs, no one has tried everything and it's often a risk that pays off.
Tanya Gilheaney – Tour Desk Operator
8
The best part of my job is meeting all the whiskey lovers who visit the Irish Whiskey Museum and hearing their stories, but it's the whiskey knowledge that I'm learning on a daily basis that I'm finding the most rewarding.
My favorite part of the museum is the bar on the top floor, where one can sit sipping over a whiskey flight or a cocktail, overlooking Trinity College.
If I was to choose one of the tours on offer it would have to be the Whiskey Blending Experience. Along the tour, you get to take whiskeys and find out exactly what you like, what style and so one and then you get to blend your very own bottle and bring it home with you. 
As for what Irish whiskey I personally enjoy? I'm very traditional and love an Irish coffee or a hot whiskey. Powers and Jameson is what I grew up on.  Then my favorite whiskey neat would have to be anything pot still. 
Learn more about the Irish Whiskey Museum here:
For more information or to book a tour visit www.irishwhiskeymuseum.ie, follow them on Facebook, Instagram or Twitter or read all about the Irish Whiskey Museum on TripAdvisor.