Welcome to The K Club,  a glamorous and historic hotel getaway in the heart of Co Kildare.
Paul Heery, General Manager at the K Club, shares with us how the hotel has grown over the years and why dining at the K Club is different from the rest.
9
Can you tell us about yourself and your role in The K Club?
I have been fortunate enough to travel the world working in amazing hotels, a far cry from collecting glasses in my Dad's pub over 30 years ago. I grew up on a farm and, although I loved the life and upbringing, my career has taken me to the opposite end of the food chain.
I took up my role here in The K Club in December 2020 and what a roller coaster it has been. I'm very fortunate to have a wonderful team and supportive owner, and collectively we are driving the success of The K Club.
Our food & beverage offering has gone from strength to strength with a key focus on supporting Irish produce across all our menus. The developments will continue this year as we plan to introduce produce from our kitchen garden that is currently being developed here on the resort. This is a great first step of another food journey here at The K Club.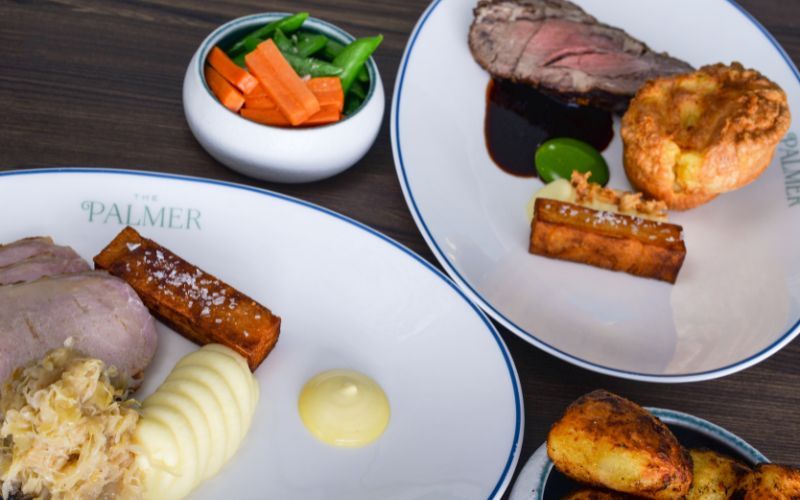 9
Can you share a little bit about the history of The K Club as a hotel and how it has evolved over the years?
The history of The K Club dates back to 1725 when Irishman Thomas Barton moved to Bordeaux and started his winemaking company. Hugh Barton, the grandson of Thomas, took over the business until his fortune took a dramatic turn via the French Revolution in 1793 when he was forced to flee to Ireland with his wife Anna.
Hugh's business partner in Bordeaux, Daniel Guestier, continued to grow the business which eventually allowed Hugh to purchase Straffan Estate where he built Straffan House, now known as The K Club.
Straffan House remained in the Barton family until 1949 when it was eventually sold and passed between a multitude of owners, one of which being Dublin-born Kevin McClory. A film producer, whose most famous and lucrative production was "Thunderball", the fourth, and arguably most successful film, of Ian Fleming's James Bond series. During McClory's time, Straffan House played host to many glitzy parties and events that welcomed guests such as Sean Connery, Shirley MacLaine and Eric Clapton.
It wasn't until 1991, under the ownership of Dr Michael Smurfit, that the property opened as a hotel and golf resort and was renamed The Kildare Hotel & Golf Club, better known today as The K Club.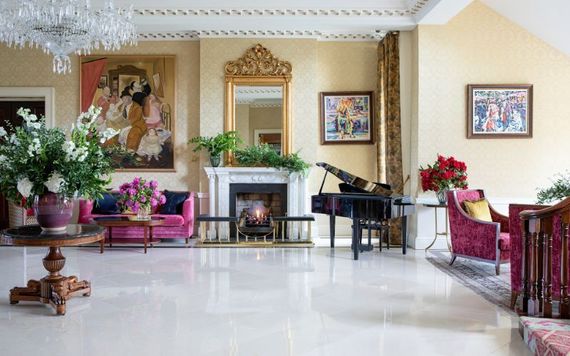 9
Dining at The K Club comes with a lot of choices with seven different food and drinks spaces to be enjoyed, can you tell us a little bit about the restaurants at The K Club?
The Barton Restaurant is The K Club's signature restaurant, where Executive Head Chef, Philip Brazil's high-end creativity and vast experience really come to the fore. The Barton features inventive dishes created using the very best of local, Irish ingredients. It's all complimented by a wine list showcasing the finest wines from around the globe, impressively curated by our world-class sommelier Lisa O'Doherty.
South Bar & Restaurant is the newest and most playful addition to the resort's selection of eateries. This big, bold space is a feast of brash flavour and vivid colour, featuring a robust menu of light bites and pizzas, bottomless brunch favourites and delicious burgers.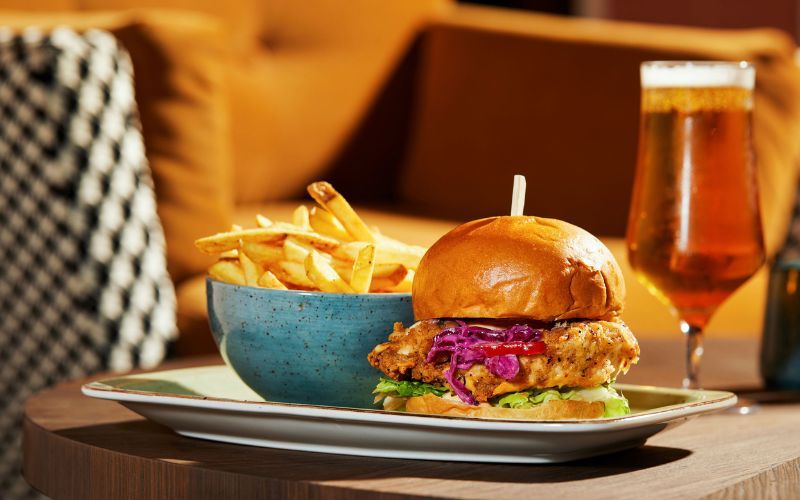 9
The Drawing Room is the home of the Afternoon Tea experience at The K Club. While the room itself provides a stunning backdrop of hand-painted wallpaper, immense picture windows and a magnificent fireplace; the stunning selection of savoury delights and sweet treats created by our Head Pastry Chef Fernando, will really blow you away. This season we have created the Curiously Curated Afternoon Tea, a collaboration with Curated by Design Centre at the famous Kildare Village in which the delicate desserts are all inspired by Irish fashion!
The Blue Martini Cocktail Bar is a glamorous, bijou and delectably intimate bar. Always ready for heady celebration or simply a well-made drink, The Blue Martini boasts an impressive collection of world-renowned whiskeys and gins, as well as a selection of fine Champagnes and wines, though the extensive list of cocktails are too tempting not to taste.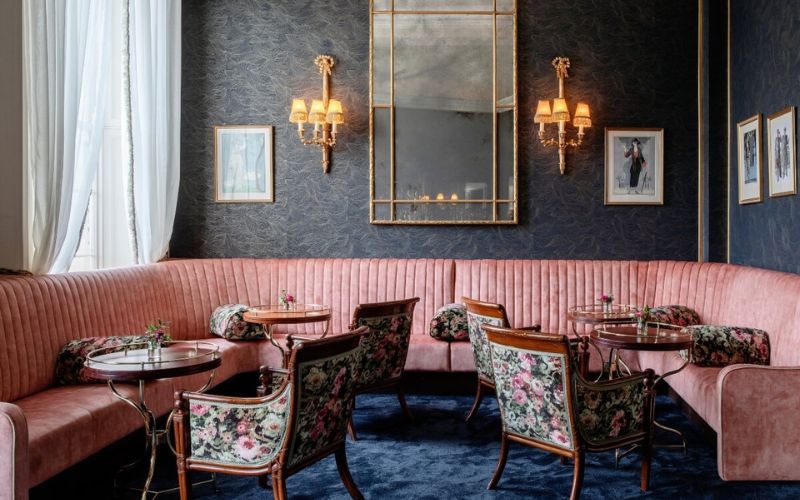 9
The Palmer is our lifestyle restaurant with all-day dining. It features a wonderfully flexible menu with all the classic favourites, from fresh seafood to juicy fillet steaks. The interior style is spangled with gold, 1930s-inspired motifs, while the adjoining terrace has a retractable roof and provides gorgeous views out over the famous Palmer North golf course.
The Henry Lounge is clubby, cosy and warmly welcoming. This is the perfect laidback bar in which to relax over a casual lunch – the crisp Caesar salad, or acclaimed club sandwich are both hugely popular – or an expertly-poured pint of creamy Irish stout. Not a bad spot for pre- or post-dinner drinks too.
Last but not least, The Straffan Inn – an authentic Irish country pub located in the local Straffan village. Featuring perfectly-pulled pints served with a welcoming smile and snuggle-worthy nooks and crannies with real fires, the Straffan Inn is a delightful, archetypal expression of the classic Irish pub.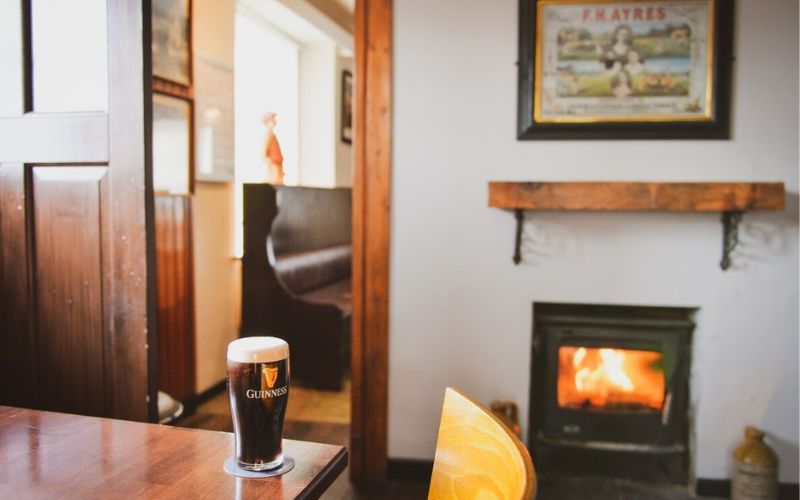 9
What makes dining and the food experience at The K Club different from the rest?
There are a lot of factors that make The K Club stand out. The sheer variety of choices we have is second to none and our guests can stay with us for multiple nights and enjoy a different restaurant each time. Yet each dining experience consistently delivers quality dishes created using locally sourced Irish produce.
Our unique wine history is something we're incredibly proud of. Through years of changes, we've never lost sight of our roots and the connection the resort has to the Barton family. Both our red and white house wines are truly unique, created especially for the resort, and lend themselves perfectly to the selection of food and beverage outlets across the estate.
9
Can you tell us about the hotel's connections with Good Food Ireland and your involvement in this year's Good Food Ireland Awards taking place on April 17th?
The K Club became a member of Good Food Ireland in late 2022 and we are very proud to be endorsed by Good Food Ireland in recognition of our commitment to prioritizing Irish ingredients, sustainably supporting Irish farmers, food producers and fishermen. Good Food Ireland connects us with great local suppliers around the country of Ireland and, as we move from season to season, our chefs will have an abundance of Irish foods to inspire their menus and signature dishes across the kitchens of the resort.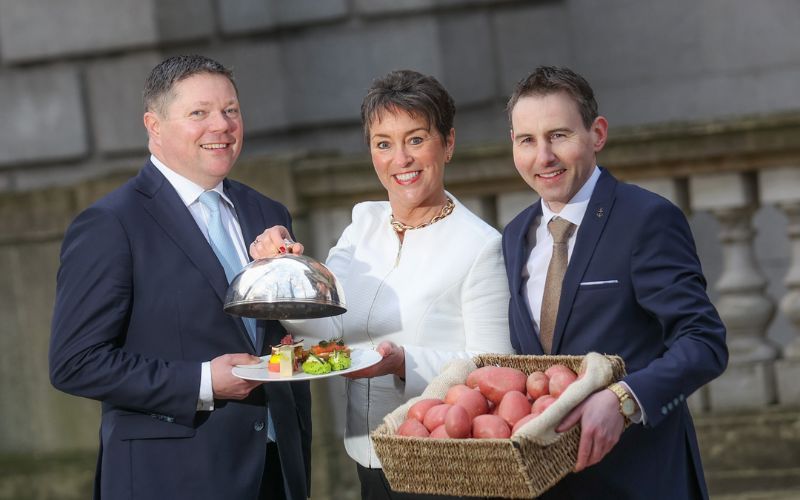 9
IrishCentral is a proud media partner with the Good Food Ireland® Awards which takes place on Monday 17th April at The K Club, County Kildare. To find out more information click here.