Have the most delicious time in Ireland with these food and drink festivals and culinary schools.
If we had a dime for every person who comes back from their first trip to Ireland saying the stand-out thing that surprised and delighted them most was how wonderful the food is, we'd treat all of you to a gourmet Irish feast.
Over the past decade or so, Ireland has transformed into a foodie's paradise where the very best long-standing traditions - Irish stew, brown bread, smoked salmon, Guinness - meet the trendiest culinary practices - farm-to-table, locally grown, craft-brewed, to name just a few.
Year-round across the island of Ireland, festivals celebrate the cream of the crop of Ireland's food and drink scene, with events dedicated to seafood, traditional and modern recipes, craft beer, gin and more.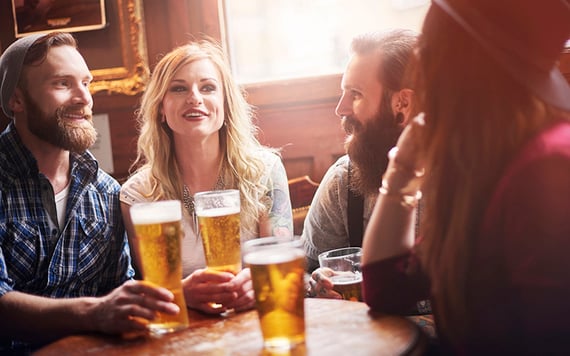 12
Meanwhile, Ireland's cookery schools run by world-famous chefs offer something for everyone. Whether you're looking to have an exceptional meal, a food-focused stay in a beautiful historic house, or take a weeks-long intensive class, you'll find it in Ireland.
Here are just a few of Ireland's best food festivals and cookery schools. For more, visit Ireland.com.
Galway International Oyster and Seafood Festival
12
Today, Ireland's high-quality seafood is renowned worldwide - something this festival in beautiful Galway City has recognized since 1954. The Galway International Oyster and Seafood Festival attracts 10,000 people to the streets of Galway, where the Atlantic Ocean meets the River Corrib. Spanning four days every September, it's prime time to feast on oysters, Guinness, seafood, and enjoy concerts from top artists.
Ballymaloe Cookery School, County Cork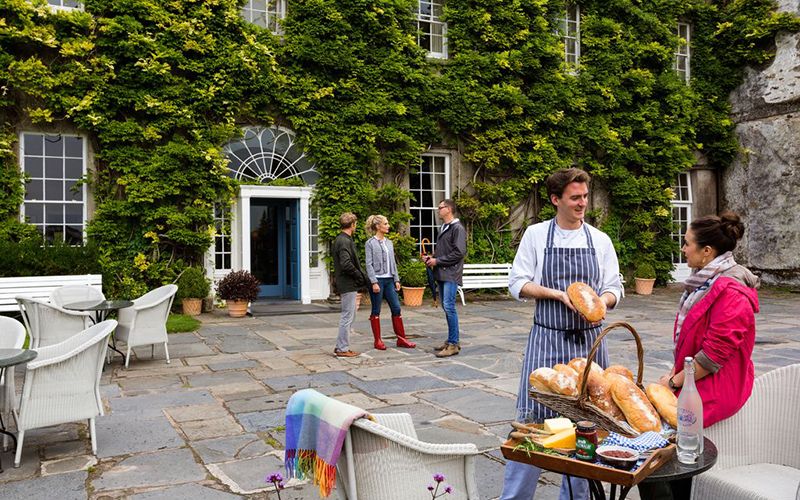 12
Ballymaloe is synonymous with Ireland's slow food movement. This world-famous culinary school and organic farm in Shanagarry, Co. Cork, has been run by three generations of the Allen family: the late Myrtle Allen, Darina Allen, and Rachel Allen. Whether you go for one of their one-time afternoon courses or immerse yourself in one of their 12-week courses, complete with accommodation, you'll come away with a deep knowledge and expertise in what makes Irish food so very good.
Northern Ireland Gin Festival
12
Gin is having a renaissance all throughout the island of Ireland, and the Northern Ireland Gin Festival gives you chances aplenty to try over 50 gins, participate in masterclasses, and enjoy live music. With afternoon and evening sessions at four events in Belfast, Newry, and Portrush from August through November, this is a great activity for late summer and fall visitors.
Waterford Harvest Festival
12
Every September, three days of foodie fun pop up in beautiful Waterford. Market stalls, cookery classes, BBQs, picnics, live demos, concerts and more fill the streets of this old Viking stronghold, with fun for the whole family. Go to celebrate the food, culture and heritage of County Waterford.
Neven Maguire Cookery School, County Cavan
12
A visit with award-winning chef Neven Maguire is a must for any food-lover or chef traveling Ireland. Diners come from far and wide to eat at his Michelin-starred MacNean House & Restaurant in Blacklion, Co. Cavan, while those looking for a more hands-on experience can register for a class at his adjacent cookery school. With themes like "Entertainment Made Easy," "Cooking for Friends and Family," "Christmas Made Easy," a two day "Home Chef" class and the popular "Parent and Child" class, these classes are as practical as they are delicious.
Belfast Craft Beer Festival
12
Welcome to Belfast's largest celebration of Ireland's craft brewing! Over this two-day festival, you can sample over 200 of the best beers, ciders, gins and more from across the island of Ireland. Food vendors, live music, and DJ sets take over Belfast's Custom House Square, making this the perfect way to spend a special day in Belfast's city center.
Dunbrody Country House and Cookery School, County Wexford
12
A unique and luxurious getaway awaits at Dunbrody House and Cookery School in Arthurstown, Co. Wexford. The cooking class calendar here is a treat, ranging from back-to-basics courses for chefs developing their skills, to masterclasses in seafood preparation, slow cooking, and themes like "Soups, Broths, and Crusty Breads." You get the full package here, with a range of accommodations from standard rooms to deluxe suites, and a spa to take a break after a rewarding day of learning and cooking.
Ballina Salmon Festival, County Mayo
12
With its strong fishing heritage and history, Ballina is known as the Salmon Capital of Ireland, and this festival proves it. Heading into its remarkable 55th year, the Ballina Salmon Festival brings 250,000 people to North Mayo for a July week unlike any other. Celebrating Mayo, the Wild Atlantic Way, and the king of all fish, the Ballina Salmon Festival offers delicious food and drink events combined with concerts and arts exhibitions. With a vow to make sure that one third of the programming is for kids, it's a great trip for the whole family.
Dingle Food Festival
12
Every Fall during the first weekend in October, people from all over Ireland and the world flock to the famous seaside town of Dingle to feast on local food and drink and celebrate County Kerry's arts, culture, and heritage. With Dingle high on the bucket list for most visitors to Ireland, this is an ideal time to go. Enjoy over 50 market stalls, whiskey tastings, wine tastings, cookery demonstrations, kids' events, concerts, and much more in this idyllic setting.
Feeling tempted to plan your own foodie trip to Ireland? Get more inspiration on Ireland.com
Proudly produced in cooperation with Tourism Ireland
12