For two years former chef of Michelin-starred Tamarind in London's Mayfair Alfred "Patrick" Prasad has been traveling to Dublin working with the group Press Up to open their first Indian Restaurant. The results are clearly the culmination of detailed planning and a great deal of passion. 
Located on South Richmond Street in Dublin 2, Doolally is Press Up's first venture into Indian food. To help them understand the popular Asian cuisine and create their menu, the group hired Alfred Prasad, former chef of Michelin-starred Tamarind in London's Mayfair. 
While this new eatery, which opened on Sept 5, has been two years in the planning, Prasad has been involved for the past six months and has completed four trips to Dublin to set up the kitchen, hire staff and create the menu.
5
"Indian cuisine is new for Press Up, and they wanted to do something that is different for the Dublin dining scene", the Prasad told Food & Wine Ireland.
"A big step was to get the skilled chefs that we need. We have quite a few skilled Indian chefs in Dublin but it's been a bit of a revolving door, chefs would come in and find it's very different to a curry house. After two days they don't turn up."
5
From the beginning, Alfred Prasad wanted to bring in chefs from India. "Firstly, you get them on work permits and they are more committed to you, and secondly they come with the skill set that we need."
At the moment, three Indian chefs have joined the team, but five more are expected in the next few days. In the meantime, head chefs from other Press Up restaurants are filling in to get the kitchen going. 
Read more: Eggs Benedict with smoked salmon and asparagus recipe
Press Up in Dublin
According to Alfred Prasad, opening an Indian restaurant reflects Press Up's understanding of Dublin's evolving culinary scene.
"It's hard to ignore one of the most popular cuisines in the world", he says.
"If you ask anybody, irrespective of where they are from, Indian food would be in their top three favorite food. Press Up made a conscious decision to go out of their comfort zone, which is European Italian brasserie-style cuisine, into the unknown. Doolally is the result of that research, and I think an important element was to find the consulting chef who would be able to work with them and could help them bring something truly unique to Dublin."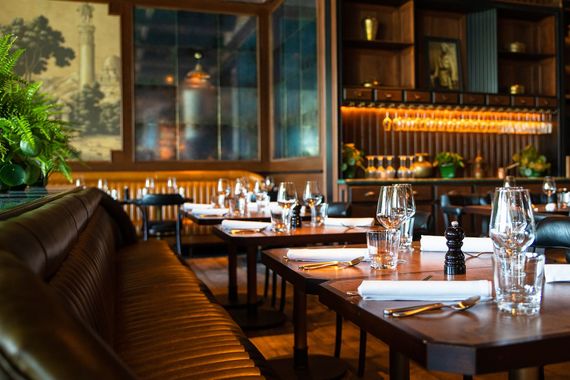 5
For this new restaurant, designed by O'Donnell O'Neill, the Indian chef was asked to create a "premium casual experience" with an all-day menu, a brunch menu, and an express lunch.
"My challenge was to bring a wide array of Indian flavors, using the best of local produce. Ireland probably has the best dairy industry in the world, and we are very careful with where we source our chicken, where we source our meats. We work with local producers to get a certain quality." 
The Ireland India connection
While it is his first professional venture in Ireland, the chef hasn't stepped into the unknown.
"I wanted to make sure I use the Ireland India connection, which I am a part of as my dad as a young doctor working in Ireland for about 16 years before I was born. I remember his fondness for Ireland and everything Irish - my middle name is Patrick!"
"To have the opportunity to have my cuisine in this city is truly special. I lost my dad two years ago and I'm sure he is happy to see what I'm doing here." 
As for the menu, authentic regional Indian flavours will take the shape of small shareable plates and hearty comfort foods. A whole section is dedicated to chaats, which are Indian street food.
"Chaats are a melody of textures, flavours, colours, spice levels, it keeps challenging different parts of your palate as you go through each mouthful."
Expect the usual culprits, such as onion bhajis or butter chicken, but also a biryani of the day, a bone marrow butter naan and a wide range of kebabs cooked in a traditional tandoor oven.
To get things started, the chef will offer a shorter menu than he had first planned but will then expand it depending on the customers' feedback. 
Signature cocktails
While Alfred Prasad recommends wine over beer to accompany Indian food, Doolally will also offer an extensive cocktail list, one of Press Up's signature elements.
"We have a big bar in the center of the dining room, we have to have a good cocktail and wine list", he says.
Indian inspired cocktails will be offered "as a mid-afternoon, early evening offering, before the meal", and the drink link will also include alcohol-free options, a homemade chai and a selection of lassis.
To make sure he pleases the Irish customer, the chef has included options for "vegans, vegetarians, and those who like mild food" but he wants to stay true to Indian flavors.
"Throughout my time in London, I have never dumbed down food. I don't want to do it here either."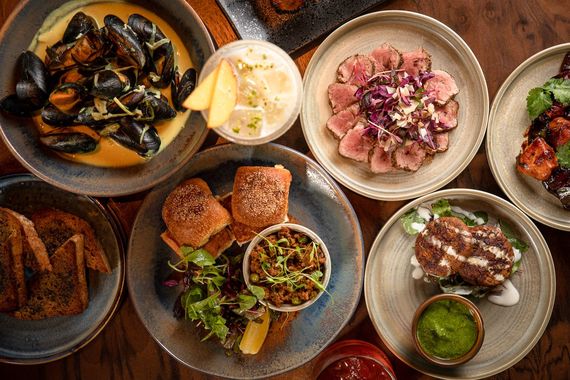 5
"People often misinterpret the meaning of the word spice", he says. Spicy is not just heat. Of the 70 or 80 spices we use in Indian cooking, only two heat: pepper and chili. The rest is aromatic, cumin, cardamom, coriander, fennel… Today, I think people are seeking authenticity. They understand the diversity of Indian food and they will know that what we serve is like what you can find in Delhi or Mumbai."  
Alfred Prasad was the youngest Indian chef to receive a Michelin star at the age of twenty-nine for Tamarind in London. But getting the golden stamp isn't a goal at Doolally, which aims at welcoming families and offering food all through the day.
"A Michelin star gives the perception that a place is expensive,'' he explains.
"It's a large restaurant, we have 220 seats, we want it to feel comfortable, regular, we want diners to visit three times a week. Fine dining Indian is what I've been doing for 20 years, I want to keep that going, but doing something more accessible like this is very exciting."
Read more: Taste Wexford celebrate world-class food and drink suppliers