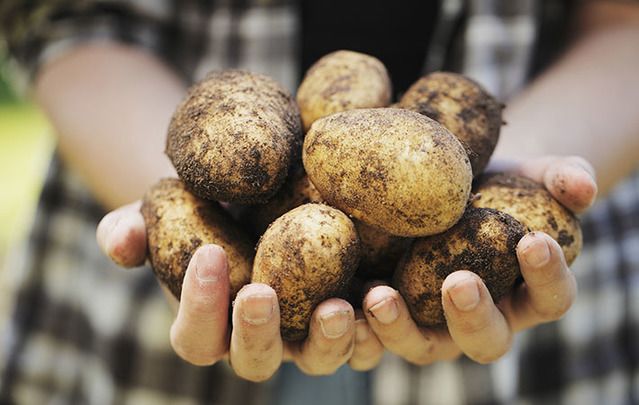 So we all know that the Irish love the humble spud! Bake it, boil it mash it – we'll eat potatoes with almost any meal so it's no surprise that this National Potato Day (that's right a whole day to celebrate the spud in Ireland; US Potato Day is August 19) we put together some old and some pretty nifty and innovative potato recipes.
For all the potato loving Irish in your life here's a list of recipes:
- Oven-baked creamy wild garlic and cheese potatoes recipe
- A traditional Ulster potato recipe – eat spuds like a champ
- The perfect traditional Irish potato salad recipe
- How to make traditional Irish potato cakes or boxty
3
Yep! The Irish love spuds. In fact, in 2012 they consumed 175,000 tons of potatoes, making them among the highest consumers in Europe. However, Ireland's food board, Bord Bia, have noted a decrease in the number of Irish, between the ages of 22 and 44 eating potatoes. Now most Irish only eat potatoes between two and three times per week.
Sometimes, in the carb-starved world potatoes get a bad rap but they never did our Grannies any harm did they! In fact, potatoes in vitamins and minerals, including vitamin C, potassium and iron.
So our advice this Potato Day is to try out a new potato recipe.
3
Here's a brand new one from Hampton Creeks, Just Recipes:
Brunch Potatoes
Ingredients:
3 pounds medium red potatoes, chopped into 1 1/4-inch pieces
1 teaspoon paprika
1 tablespoon Worcestershire
2 tablespoons + 1 teaspoon olive oil, divided
1 1/2 teaspoons coarse sea salt
Several dashes fresh black pepper
2 tablespoons fresh rosemary, chopped
2 onions, quartered and sliced ½ inch thick
Just Mayo Truffle, for serving
Directions:
• Preheat oven to 450°F and line a rimmed two rimmed baking pans (or one large) with parchment paper.
• Put the chopped potatoes in a mixing bowl along with 2 tablespoons of the olive oil, the Worcestershire sauce, paprika, salt and pepper. Toss to coat the potatoes.
• Spread out the potatoes between the two baking sheets. Keep the mixing bowl handy.
• Roast for 25 minutes.
• While the potatoes roast, toss the sliced onions in the same mixing bowl with an additional teaspoon of olive oil and the rosemary, as well as a pinch of salt and pepper.
• Remove the potatoes from oven, sprinkle with the onions and toss to coat.
• Return to oven and roast until everything is golden brown and the potatoes are fully tender, about 15-20 more minutes. Be careful not to let the onions burn.
• Serve hot, with Just Mayo Truffle for dipping and all of your other favorite brunch foods.
Servings: 4-6
* Hampton Creek is bringing healthier and more affordable food to everyone, everywhere. We believe that solving the problem means solving the problem for everybody—not just those who can afford it. Our technology, which is based upon understanding plants from every corner of the planet, enables consumers, food manufactures, and the largest retailers around the world, to offer better, healthier products, at a more affordable cost. For more info visit
www.hamptoncreek.com
or for Just visit
www.hamptoncreek.com/just-find-it
.