U2 shared the video for their new song "Atomic City" at 9 pm Las Vegas time on Thursday, September 28, less than a day before they kicked off their "U2:UV Achtung Baby Live at Sphere" residency.
The video for "Atomic City" comes after U2 was filmed performing the song during a pop-up show on Freemont Street, in Las Vegas, earlier this month. 
A press release from the Irish rockers describes "Atomic City" as a homage to "the magnetic spirit of '70s post-punk with a nod to Blondie, whose pioneering work with Giorgio Moroder inspired and influenced the band."
Bono called it "a love song to our audience."
The name of the new single "Atomic City" comes from a 1950s nickname for Las Vegas. At the time "nuclear fascination swept the nation and the city promoted itself as a center of atomic tourism due to its proximity to the Nevada Test Site."
Here is U2's latest single "Atomic City":
While U2's newest video debuted later on Thursday, Irish radio presenter Dave Fanning phoned into RTE2FM from Las Vegas to introduce the new song on Thursday morning for its "very first global play".
New @U2 track ATOMIC CITY…first ever play today 12pm on @RTE2fm pic.twitter.com/5UfXYFEFHd

— Dave Fanning (@davefanning) September 28, 2023
Fanning, who has been the first to introduce U2's new songs on the radio for a number of years, said with a laugh: "Why break the habit of a lifetime, let's do it again."
The song, Fanning said, is a "perfect for three and a half minutes of U2."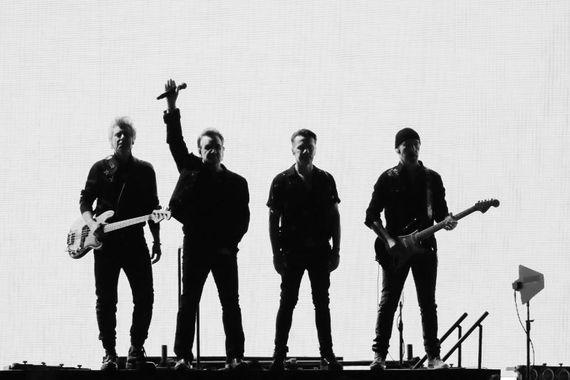 2
U2 announced their Las Vegas residency "U2:UV Achtung Baby Live At Sphere," the band's first live show in four years, with a trailer during the Super Bowl back in February.
Announcing the residency, Bono and The Edge said: "The Sphere show has been in the works for a long time.
"We don't want to let people down, least of all our audience… the truth is we miss them as much as they appear to miss us… our audience was always the fifth member of the band.
"Bottom line, U2 hasn't played live since December 2019 and we need to get back on stage and see the faces of our fans again.
"And what a unique stage they're building for us out there in the desert… We're the right band, ACHTUNG BABY the right album, and the Sphere the right venue to take the live experience of music to the next level… That's what U2's been trying to do all along with our satellite stages and video installations, most memorably on the ZOO TV Tour, which ended in Tokyo 30 years ago this Fall.
"The Sphere is more than just a venue, it's a gallery and U2's music is going to be all over the walls."
Released in 1991, "Achtung Baby" was the highly acclaimed follow-up to their 1987 album, "The Joshua Tree," selling more than 18 million copies. It featured hit songs such as "One" and "Mysterious Ways."
In May, U2 sold out their Las Vegas residency string of shows during presale, prompting Ticketmaster to scrap its general ticket sale.