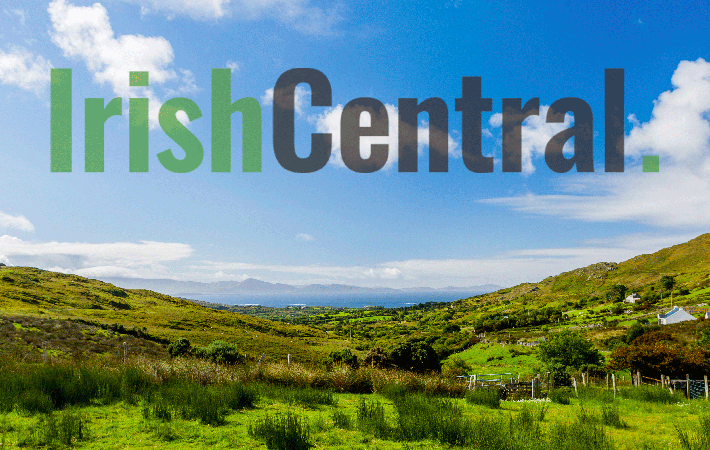 WHO, in our humble estimation, stole the show at the Oscars? Perhaps we're slightly biased, but the dynamic acting/singing/writing duo of Glen Hansard and Marketa Irglova stood head and shoulders above the rest when accepting their award for Best Original Song for "Falling Slowly," the signature theme from their smash-hit indie film Once.
The film, made "for a hundred grand" as Hansard said during his speech, went on to score in the region of $20 million worldwide for its distributors, Fox Searchlight, so Sunday night's ultimate honor was the icing on the cake for its stars, who were the toast of Hollywood even before their names were announced. The win must have been even sweeter considering there was a minor kafuffle about the song's eligibility a couple of weeks before showtime.
Was there a more humble, truly gracious speech than the one delivered by Hansard, who saluted the crowd with some Gaelic and expressed utter amazement that he and Marketa were actually accepting moviedom's ultimate accolade?
"We never thought we'd come into a room like this and be in front of you amazing people. It is amazing. Thanks for taking this film seriously. It means a lot to us," he said. Even Oscar host Jon Stewart slyly remarked afterwards, "That guy is so arrogant!"
And wasn't it sweet to see Stewart personally escort Marketa back onstage after the commercial break so she could say a few words? (She had been cut by the annoying music that plays as a cue to the winners that their time's up.)
"Hi everyone. I just want to thank you so much. This is such a big deal, not only for us, but for all other independent musicians and artists that spend most of their time struggling, and this, the fact that we're standing here tonight, the fact that we're able to hold this, it's just to prove no matter how far out your dreams are, it's possible," she said.
Hansard opted for a casual cool ensemble, while Marketa came up trumps in the fashion stakes as well, wearing her gown - designer unknown, at least to us - the way nice clothes should be worn - glamorous but comfortable. (Take note Jennifer Garner and all the others who looked ready to burst out of their too, too tight duds.)
Kildare native Hansard, 37, and Czech-born Irglova, who'll turn 20 this weekend - they're personal as well as professional partners - are naturally on cloud 9 after their big triumph and will remain there for quite some time, one imagines.
"I kind of feel a bit like a plumber at a flower show over here. I kind of feel like we're totally outside of all this but at the same time I'm kind of just trying to accept that it all happened. It's been an incredible ride this whole thing," Hansard told Ireland's RTE radio early Monday morning from one of the Oscar soirees.
"It's kind of sunk in so much that I've been walking around with this heavy thing all night. What was really amazing for me was getting texts from family and friends. It was amazing beforehand, and then I got a text from Bono and I was like, 'Ah, my God, that's just amazing.' For me it was just like getting a text off the king of the tribe."
Everyone likes to meet a winner, and the duo had their fair share of A-list opportunities after the show. Hansard was dying to meet fellow Oscar winner Daniel Day-Lewis and he did ("he was gracious enough to come up and congratulate us"), in addition to a slew of other notables including the Coens, George Clooney and Philip Seymour Hoffman.
Even before the Oscars, Glen and Marketa were top of the A-list. None other than Barbra Streisand is a huge fan, and she hosted them at her house on two occasions, the last of which featured a guru from India who blessed the couple with the hope of an Oscar win.
"It was amazing, she was a really sweet woman. She'd seen the movie and invited us to the house in Malibu, which is like this whole other world," Hansard told The Sunday Tribune.
"I thought LA was kind of glamorous and then you go out to Malibu and it's like, 'Oh my god, this is where all these people live.' It was really enjoyable. I didn't tell her I'm from Celbridge, " he added.
Ringo Starr and Meg Ryan hosted the couple for dinners, and Bill Gates also expressed his enthusiasm for their work. As did Laura Dern, Aretha Franklin, Owen Wilson . . . the list goes on and on!
There were Irish stars all over the place on Oscar day. Colin Farrell introduced Glen and Marketa before they sang their signature song. The Dubliner, currently starring in In Bruges, looked spiffy in a "Dunhill midnight blue double-breasted evening suit," according to Oscar's official website. His date was his equally elegant looking mother Rita.
Colin commented about replacing the late Heath Ledger in the movie The Imaginarium of Dr. Parnassus, which Ledger was working on prior to his awful death. Jude Law and Johnny Depp were also selected to film some of Ledger's scenes.
"I will be honored to be part of that. It makes me feel uncomfortable to think about it too much and to get into it, but it's an incredibly painful honor to have, an honor I wish wasn't bestowed."
"It's about getting Heath's work out there. He is too good for any of his work not to be seen, and I'm really keen and looking forward to doing it and just doing the best job I can do."
Then there was Saoirse Ronan, who walked the red carpet in a gorgeous green, age-appropriate Alberta Feretti gown with her folks Paul and Monica. Though the 14-year-old Best Supporting Actress nominee for Atonement lost out to Tilda Swinton (who in God's name dressed her in that cheap looking black cloth?) the up and coming Carlow native had a blast regardless.
"I never even thought I'd say an Italian name, let alone wear a dress by an Italian designer," Ronan said.
It was quite a couple of days of celebration for Saoirse, who flew to LA with her folks from New Zealand, where she's been filming The Lovely Bones with uber-director Peter Jackson. She was even featured on an Access Hollywood segment, shopping for pricey clothes in the chic LA boutique Kitson - with dad Paul on the sideline watching his girl in action.
The aforementioned Day-Lewis, an Irish citizen and full-time resident of Co. Wicklow, made it a great night for Ireland with his Best Actor win . . . though his wife Rebecca Miller was an unfortunate fashion flop with her strange gown and even stranger striped shoes.
Just before he reached the stage to accept his award, DDL planted a kiss on fellow nominee George Clooney. Why so affectionate?
"I had to kiss someone," Daniel said backstage. "I had kissed my wife, so in the interest of parity, I had to kiss George."
An Oscar and a kiss from Gorgeous George? It doesn't get much better than that!