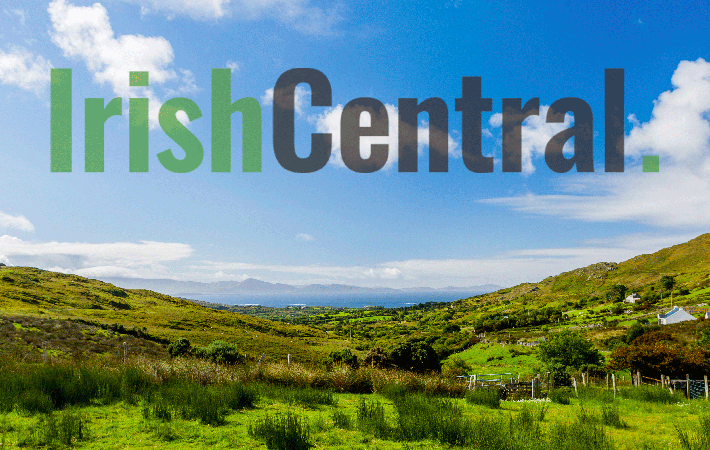 Irish photographer John Minihan's portraits of the famous, including Samuel Beckett, Edna O'Brien, and Francis Bacon, have established him as one of the finest portrait photographers of his generation. This week the Taoiseach (Irish Prime Minister) Brian Cowen will open a new exhibition of Minihan's work chronicling the golden years of America's most elderly Irish immigrants at the Irish Arts Center in Manhattan. CAHIR O'DOHERTY talks to the celebrated portrait artist about his legendary work.
IRISH photographer John Minihan, 62, has photographed many of the world's most famous faces, and his enthusiasm for his art is undimmed. After decades at the top of his game Minihan isn't fazed by the brittle glamour of the latest movie stars. It's always the person beneath the glitter that he wants to capture, and in this he always succeeds.
Known first and foremost as a portrait photographer, many of Minihan's subjects are well known figures in the artistic and literary worlds, but he's by no means confined himself to such upscale company. These days Minihan's as excited at the prospect of photographing an Irish immigrant in the Bronx as other photographers are about the chance to photograph Hollywood royalty.
Born in Athy, Co. Kildare in 1946, Minihan began his apprenticeship in his craft at The Daily Mail in London at the tender age of 15. Working in the newspaper's darkroom, he learned every part of the photographer's art in an era when media images arrived by the hour and the turnaround was swift. It was the ideal training environment for a budding photographer.
"I was one of 10 runners on the editorial floor of the evening news," he tells the Irish Voice. "Part of my job involved going up to the darkroom; I got to know the technicians there. After three months, an opening in the darkroom came up and my five-year apprenticeship began my life as a photographer."
This week Minihan's latest exhibition, To Love Two Countries: Ireland's Greatest Generation in America, celebrates and - in a very real way - memorializes, the lives of elderly Irish immigrants who traveled here in the first half of the 20th century, often never to return to their former homeland.
The exhibition is the result of an inspired idea the Irish Consul General in New York, Niall Burgess, had after attending an event with a group of centernian Irish immigrants in Yonkers. Realizing that he was looking at a unique generation of Irish immigrants, one that was passing unnoticed and unsung, he was determined to do something to record their stories.
Irish immigration to the U.S., Burgess realized, will always be with us, but not as we know it through the eyes of Joe and Rose Cunningham, a Yonkers couple he met who had immigrated
here in 1929 and 1932 respectively.
These people, he realized, stood at the end of a line. Straightaway he though of John Minihan as the ideal photographer to record their stories. A joint commission from the Irish Arts Center and the Irish Consulate flew Minihan over from his home in Ballydehob, Co. Cork.
"We had this idea that we wanted a regional focus," says Aidan Connelly, the Irish Arts Center's director. "So we worked with Irish centers in New Jersey, New York, Philadelphia and Long Island to find elderly Irish immigrants and record their stories on film."
Joe and Rose Cunningham were typical examples of the people they found, immigrant Irish who had come here decades earlier. Joe came to America in 1929 and Rose arrived from Co. Leitrim in 1932. Such epic, weeks-long journeys by foot, land and sea, are no longer possible, and of course Ellis Island and its medical wards have closed. Taken together, Joe and Rose represent a link to an earlier time, one that has helped shape the Irish story in America.
Says Connelly, "Joe and Rose will both be here on Tuesday when the taoiseach opens the exhibition. They're on the cover of the book too, and on the back there's a shot of them walking away down the street. It's really simple but heartfelt. It's great work."
Minihan's latest work shows a deep and abiding affection for the people he photographs. He'll sit down and enjoy a cup of tea with them, spending time and getting to know subjects. That's why it took him a week and a half to get all the shots done, because he really wanted to get to know the people he photographed.
To Love Two Countries focus on real people, easily recognizable elderly Irish immigrants, such as Sister Victor Waters of Tenafly, New Jersey, who turns 104 this year and who arrived in New York from her native Galway in 1925. As the poet Derek Mahon notes in his evocative introduction to the exhibition, Calvin Coolidge was in the White House when she stepped off the boat.
Another subject is Jimmy Clarke, a sprightly 102 year old from Castlenancy, Co. Galway, who arrived here in 1927, and now lives in the Bronx. Minihan captures Clarke in a dress shirt and pants, looking decades younger than his actual age, his lively engaging expression leaving us in no doubt that he's still a man to be reckoned with.
The exhibit also features Rose Cosgrave, 100, from Co. Longford, who led Longford's contingent up Fifth Avenue in last March's St. Patrick's Day parade in New York. Says Cosgrave about her experience in the U.S., "I am proud I could earn a living as an American, because I couldn't earn a living in Ireland back then."
In a statement, Cowen said, "I welcome this initiative to honor our older generation in America. Their love for Ireland and for the United States shines through in these images. They embody the relationship between Ireland and America - a relationship built not primarily on history or geography but on our people.
"The generation of Irish women and men represented in these photos are owed a debt that can never be fully repaid by the families they reared, the children they taught, the patients they cared for and the communities they protected. But we in Ireland are also indebted to them for their unfailing economic and political support through some of the toughest years of modern Irish history."
To Love Two Countries is exactly the kind of sociological essay that Minihan is both interested in and excels at. For over 34 years, for example, Minihan has photographed the traditions and scenes of his hometown of Athy, County Kildare. In the process he's created one of the most important records of Irish life seen in the 20th century.
In his latest exhibition he is working in his favorite medium, black and white ("It's imbued with passion and emotion") and capturing intimate, tender human scaled portraits of Ireland's greatest generation in the crucial years when they're passing into history.
Says Minihan, "None of the people I photographed here had any regrets about leaving Ireland. But they could not forget it either. Their homes are shrines to the era they left in. From the 1920s to the 1950s, they look the same: portraits of their children and grandchildren, holy pictures on the wall, a shrine to the Blessed Virgin. It was very much a part of their lives, but it's an Ireland that's gone now."
To Love Two Countries: Ireland's Greatest Generation in America is now on show at The Irish Arts Center, 553 West 51st Street in New York.