A Riverdanceathon (that's an Irish dance Riverdance marathon) in support of the Alzheimer Society of Ireland kicked off in Dublin on June 21 and IrishCentral was there to support.
The Riverdanceathon is back again after last year's amazing success.  This year's event runs from 10am to 10pm on Thursday, 21 June featuring the Riverdance cast and 580 Irish dancers from dance schools around Ireland.
Riverdance's chosen charity for the year is The Alzheimer Society of Ireland to support their amazing work advocating for, assisting and supporting those affected by dementia.
Here's a clip of the Danceathon on Thursday afternoon:
IrishCentral was live with Riverdance at The Gaiety Theatre, in Dublin city. The Irish dancers are undertaking a Riverdancethon in aid of The Alzheimer Society of Ireland. Read all about it here- http://bit.ly/2yx75m

Posted by IrishCentral.com on Thursday, June 21, 2018
Everybody is welcome to join in the fun so, if you have some time and happen to be in Dublin city why not head over to the Gaiety Theatre South King Street, Dublin. It is a family-friendly, free event and Riverdance would be delighted if you could be part of it.
Anyone wishing to donate to the ASI Riverdanceathon can contribute on the day in person or can donate online at www.alzheimer.ie.
Across the 12 hours of the Riverdanceathon, over 580 Irish dancers from 22 Irish dance schools, as well as members of the Riverdance cast, are performing outside the Gaiety Theatre to raise funds for The Alzheimer Society of Ireland
3
The young dancers are being joined throughout the day by members of the Riverdance cast to pass on tips and encouragement. A countdown clock will tick away the minutes as the day's activities take place and there will be special Riverdance performances at 10am, 1pm and finally at 10pm. This final appearance happens once the curtain falls in the theater and the Riverdance cast come to the front of the Gaiety to perform the finale once again bringing the Riverdanceathon to a close.
We made it..Over 12 hours of our #Riverdanceathon! Special thanks to all of the 500 Irish Dancers from all over Ireland that traveled near and far to be with us today, Alan McQuillian and all the staff The Gaiety Theatre, the hard working Cystic Fibrosis Ireland staff and volunteers and of course our Riverdance cast & crew THANK YOU all so much!!

Posted by Riverdance on Thursday, June 29, 2017
As well as fundraising on the day, the 580 young dancers are busily raising sponsorship from friends, family and their fellow dancers in between preparing for their performance in the Riverdanceathon.  The 22 participating schools are based in Dublin, Kildare, Louth, Meath, Cork, Tipperary, and Wexford and of course include dancers from many neighbouring counties also.
Riverdance Executive Producer Julian Erskine said:
"We are delighted and proud to be in partnership with The Alzheimer Society of Ireland during our summer season in The Gaiety Theatre. We hope that singing and dancing together will help raise awareness and much-needed funds to support those living with dementia. We all have been touched by or know people with dementia, including our ex-Director of Operations Ronan Smith, and so this is a cause close to our hearts.   With our Riverdanceathon featuring the Riverdance cast and the Irish Dance Schools, we look forward to helping increase understanding and empathy for everyone affected by dementia."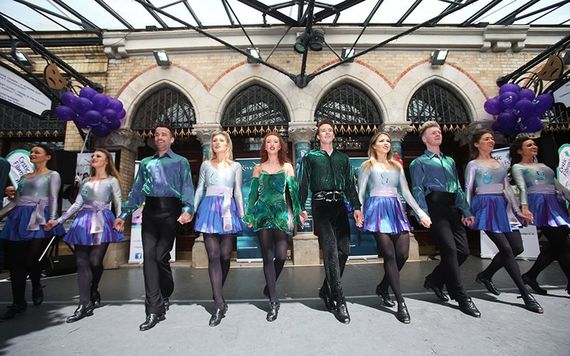 3
The Riverdance summer season at the Gaiety Theatre is Now On and runs until 9th September. Tickets are available on www.Ticketmaster.ie/Riverdance or in person at the Gaiety Theatre Box Office.
Composed by Bill Whelan, produced by Moya Doherty and directed by John McColgan, the original stage spectacular Riverdance has traveled the world for 23 years performing over 11,500 times to a live audience of over 25 million people throughout 47 countries across 6 continents.
Irish dance schools participating in the Riverdanceathon
Dunphy School of Irish Dancing   Elaine Kavanagh School of Irish Dance Feely Bates Academy Hennessy McVeigh School of Irish Dance Herlihy-Doyle School of Irish dancing Lee-Byrne Irish Dance Academy Murphy Gray Academy of Irish Dance Nina Burke School of Irish Dancing Scoil Rince Seoige Scoil Rince Órla nic Conuladh The Zara Curtis Academy of Irish Dance Natalie Mowlds Academy Bradley School of Irish Dancing Geraldine School of Dancing Kidd Irish Dancing School Mary Grimes School of Irish Dance Pamela Kiernan Academy of Irish Dance. Reel Eireann Irish Dance Company