Irish film star, Maureen O'Hara, first exposed Hollywood sex pests way back in 1945, as one old newspaper article and a 2004 interview reveal.
In the wake of the Harvey Weinstein and other sexual harassment scandals that have recently come to light, an old newspaper clipping from the Mirror, shared on Twitter by concert pianist James Rhodes, is a harsh reminder that sexual abuses in Tinsel Town are nothing new.
The article reports that O'Hara is considered "A cold potato without sex appeal" by producers and directors because she won't "let them make love to her."
Read more: What Maureen O'Hara thought about her top movies
Maureen O'Hara shared her frustration with Hollywood's "Casting Couch" mentality.
"I am so upset with it that I am ready to quit Hollywood," she said. "It's got so bad I hate to come to work in the morning.
This was reported in 1945. What a woman 🙏🏻 pic.twitter.com/6cTFGgadNf


— James Rhodes (@JRhodesPianist) November 4, 2017

"I'm a helpless victim of a Hollywood whispering campaign. Because I don't let the producer and director kiss me every morning or let them paw me they have spread word around town that I am not a woman – that I am a cold piece of marble statuary.
"I guess Hollywood won't consider me as anything except a cold hunk of marble until I divorce my husband, give my baby away and get my name and photograph in all the newspapers. If that's Hollywood's idea of being a woman I'm ready to quit now."
Read more: Irish director hopes Harvey Weinstein scandal will reveal "powerful abusers" in Ireland
The 1945 article focuses on O'Hara's displeasure and the clipping reminds us that such abuses instigated by those in power have an unfortunately long tradition. John Ford, director of "The Quiet Man," was a notorious womanizer who was utterly obsessed with O'Hara but she would not sleep with him. In 2004 she told Daily Telegraph interviewer Michael Sheldon that she was often accosted.
She "rebuffed the advances of Howard Hughes and Errol Flynn."
"I've always been a tough Irish lass.
"I proved there was a bloody good actress in me. It wasn't just my face. I gave bloody good performances."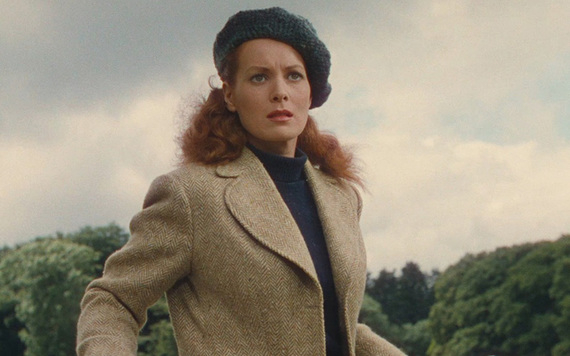 2
But she told Sheldon she "paid a price for standing up to the men who ran the studios – in particular, the producers and directors who expected to sleep with their prettiest stars."
"I wouldn't throw myself on the casting couch, and I know that cost me parts. I wasn't going to play the whore. That wasn't me."
Ford worshiped and abused her and would write incoherent love letters when drunk. Only gradually did she come to realize that he was obsessed with her and couldn't control his feelings. 
"I respected him as a director and wanted to please him. But he could be impossible sometimes, especially after he'd been drinking."
* Originally published in 2017.