From critically acclaimed films, Broadway-bound plays, to award-winning new books and TV shows, you can have yourself an Irish little Christmas this year like never before.  IrishCentral recommends what's best (and what's best avoided) this Christmas season.
Christmas is the bright beacon that brings far-flung Irish emigrants back home. Alongside the big feast on the day itself it's an opportunity to reconnect with old friends and family and that's a thing the Irish who live overseas for the rest of the year take very seriously indeed.
Stories are always the best part of Christmas. Who did what, with whom, and what happened are always the main topic of conversation over a pint in a warm fireside pub on St. Stephens Day. And luckily this Christmas there will be no shortage of new films featuring Irish actors and characters to bring a glow to all your yuletide gatherings.
10
Let's start with the sumptuous retelling of the inspirational life of Mary Queen of Scots. As played by Saoirse Ronan, 24, the title character is in an epic struggle for her life and kingdom in a film that vividly recreates the 16 century from its opening frame.
What Ronan makes you realize is just how close to our own time the events portrayed in the new film are. The modern world emerged in the late fifteenth century and that's why many of their concerns echo our own times. In particular the men of the two nations are incensed at the idea that two spirited female monarchs will dare to rule over them all, one in Scotland (Queen Mary, played by Ronan) and one in England (Queen Elizabeth, played by Margot Robbie, 28).
There's a distinctly feminist message coded into this power play between the two rival women leaders, and Ronan is especially good at showing us the steep emotional cost of being divided by her heart and by her destiny. Building on growing audience word of mouth the film is proving incredibly popular this holiday season and it's a reminder of just how iconic Ronan's screen roles are becoming.
10
Meanwhile on Netflix the Cohen brothers latest is a treat calculated to keep you hooked all Christmas. long The Ballad of Buster Scruggs features Liam Neeson, 66, Brendan Gleeson, 63, and Jonjo O'Neill, 39, in a six-part western anthology of tales from the American frontier, with each episode focusing on a new chapter.
In his own chapter Neeson plays a traveling showman who's meal ticket is a quadruple amputee whose powerful voice recites poetry and famous speeches including The Gettysburg Address.
But after the surprise of how he looks has faded away so too do the crowds, which reminds us that in America what is sensational will often draw a big crowd of gawkers, who will promptly disperse once they have gotten over whatever it was that drew them together in the first place.
Alternating between comedy, tragedy, high drama, and farce, it's a wildly entertaining and often wildly uneven series of tales that reflect on American history and in particular on how Americans have often airbrushed that history to comfort themselves.
10
Also on Netflix is Bobby Sands 66 Days by director Brendan J. Byrne, 50, a remarkably comprehensive look at the iconic hunger striker and civil rights activist. Using eye-witness testimony and previously unseen archive material, director Byrne's ambition is to provide the definitive account of the life and legacy of the self-created Irish martyr.
Most critics agree that Byrne has successfully achieved his aim. Bobby Sands 66 Days is a thoughtful, considered, and remarkably even-handed telling of how and why Sands decided to go on hunger strike and what his decision meant for the country.
10
The holidays are another opportunity to catch up on the critically acclaimed Epic show Get Shorty, starring Chris O'Dowd, 38, (season one is now available on Netflix). In 2018 O'Dowd seemed to be everywhere, popping up on TV in this acclaimed gangster drama and in the cinema in Nick Hornby's latest Juliet, Naked.
Get Shorty is especially worth your time as this excellently written and performed show has already proved it has surpassed the novel and film that had inspired it.
Ireland's produced some remarkable new screen actors in recent years and John Connors, 28, turn in Cardboard Gangsters is a powerhouse performance (currently screening on Netflix). Playing a low level drug dealer in the hardscrabble Darndale neighborhood, he puts his life and his gang in danger when he tries to move up the ranks into the big time.
10
Meanwhile, Broadway currently offers up some magic Irish talent in the cast of Harry Potter and The Cursed Child. Anthony Boyle, 24, grew up in the Poleglass neighborhood of Belfast, which is about as far from the theaters of 42 Street as its possible to get. Nevertheless, he is delivering an acclaimed turn as Scorpios Malfoy, the maybe hero maybe villain in the multi-Tony award winning show.
Boyle's joined onstage by fellow Belfast born cast member Geraldine Hughes, who plays one of the most beloved characters in the Potter-verse, Professor Minerva McGonagall. Hughes brings a deep understanding of what makes a teenager tick to her performance, something all good teachers understand, making the role her own in a show that delivers some genuine magic.
10
Another show sure to light up the award circuit in 2019 is The Ferryman, British playwright Jez Butterworth's arrestingly strange retelling of a family's rustic harvest festival held at the height of the Troubles. Critics loved its comedy and pathos, but veterans of the real-life Troubles will have a hard time identifying where this far too mythic tale is actually set.
Another about to arrive on Broadway show is The Girl From The North Country (now playing at The Public Theatre). Conor McPherson's atmospheric and grim tale of Depression-era desperation is set to the music of Bob Dylan, which is sung so perfectly by the talented cast that this thing of darkness almost works on its own terms.
10
In books the year belonged to the acerbically funny Booker Prize winner Anna Burns, for Milkman (Graywolf, $16.00) the fictional telling of her real-life experiences in Belfast's hard-hit Ardoyne suburb during the worst years of the Troubles.
Burns masterfully creates atmosphere, incident and character so well you will quickly feel that you are trapped in this paranoid alternate reality with her, and subject to its insuperable rules. In a book as terrifying as it is funny, she knows how to make people who have never experienced that level of imminent danger understand exactly what it means.
Another equally unmissable new book this year is Renaissance Nation, How The Pope's Children Rewrote The Rules For Ireland by David McWilliams.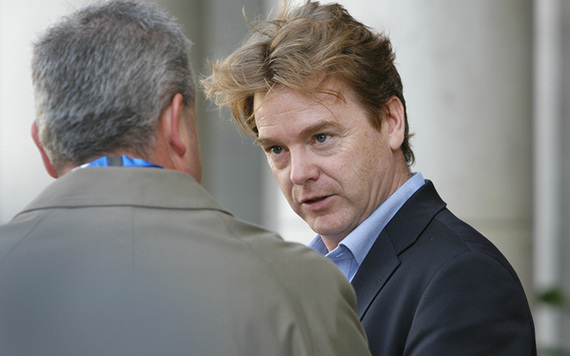 10
(Nook, $18.99). Part economic study, part study of the Irish psyche, his gift for free associating and discerning what makes us really tick is remarkable and this is already his best book.
Ireland reelected one of its beloved elders Michael D. Higgins to the office of the Irish presidency this year, and another alumni of the office Mary Robinson released her book Climate Justice (Bloomsbury, $26.00).
10
After decades of work on human rights, gender equality and social justice Robinson has realized how central climate justice is to her life's work, so protecting the environment that people live and work in is her message, one that has only achieved greater urgency in this era.