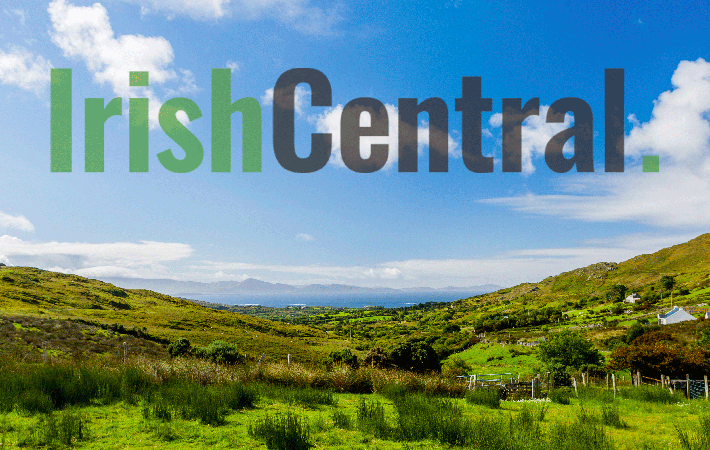 On the Green Glassy Slopes
HISTORY is being made so often in Ireland these days that it seemed quite a mundane matter when the Reverend Ian Paisley rolled up at the Battle of the Boyne site outside Drogheda to meet Taoiseach (Prime Minister) Bertie Ahern last Friday.
This was Paisley's Disney World, the wonderland that had inspired him all his life. Now finally on the sacred field he was clearly in fine form. He joked with everyone and despite his advancing age, shook enough hands to banish all thoughts of his recent ill health.
Before the dignitaries arrived there were Ulster Scots and Irish Catholics mingling freely. All had set off from the nearby Newgrange site where the visitors had gathered for security checks before reaching the site about four miles outside Drogheda.
Orange collarettes were proudly worn. Some local entrepreneurs spoke about opening guest houses for the expected invasion of Protestant visitors when the Boyne attraction opens officially for tourists next year. "King Billy's Bed and Breakfast might go down well," said one local only half in jest.
The journalists waiting around were already bored by the time Big Ian arrived. When he and Ahern went to inspect a horse similar to the breed used on the battlefield that day someone whispered, "Ulster says neigh" to great amusement. History can be trivial, too.
The Irish government with great foresight a few years back bought the site of the 1690 battle that decided Europe's war among kings for generations when King William of Orange and the British conquered King James, the Irish and the French.
If the government hadn't bought the site it would have become a hotel and golf club, instead of the grand house and rolling green fields where the battle was fought that it is today.
It is hard to look over the site without recalling James' frantic retreat from the field. He ran from the battlefield so fast when his army folded that when he told a woman in the first town he got to that the "Irish can certainly run fast" she responded, "Not as fast as you my Lord. You are the first here."
He is known as "Seamus A Chaca," or James the S***, ever since.
William, on the other hand, was a brave fighter who was in the heat of the battle throughout even though he was a bad asthmatic. He survived numerous attempts to kill him before he declared himself victorious.
Little wonder did the Irish chieftain Patrick Sarsfield remark, "Change kings and we'll fight again."
Hillary's Irish Boost
THE news that Senator Hillary Rodham Clinton has been endorsed by both Congressman Richie Neal and Maryland Gover-nor Martin O'Malley is a welcome boost to her campaign.
With Senator Barack Obama targeting every member of the Congressional Democratic delegation as well as every Democrat in statewide office, the endorsement by O'Malley and Neal is a pretty good stroke.
Already, the telegenic O'Malley has been pressed into service as a Clinton surrogate in New Hampshire, the key first primary state.
Neal is likely to be her direct representative to Irish groups across the country too. The head of the Friends of Ireland has long enjoyed tremendous support among activist Irish organizations and no doubt will play on that.
You can expect a major struggle for other key Irish endorsements in the coming months. The jewel in the crown will be Senator Edward Kennedy, whose endorsement of John Kerry in Iowa last time helped him with his come from behind victory.
So far Kennedy has stayed above the fray, but it has not stopped all the campaigns reaching out to him.
Tennis Anyone?
QUICK - which new Northern Ireland minister once graced center court at Wimbledon? No, it is not Ian Paisley, who wouldn't quite look the part with short shorts and a racquet.
It is Catriona Ruane, the new Sinn Fein minister for education who is a former contestant at junior Wimbledon and an Irish tennis champion.
Ruane is actually from Mayo and is definitely part of the new breed in Sinn Fein. She is also a fluent Spanish speaker and led the campaign for the release of the Colombia Three. She spent months in Colombia pleading their case and was a major reason why they got their freedom.
Now she is education minister in the North, a meteoric rise in a short time and a further example of the Sinn Fein willingness to promote women.
An opinion poll last week in the Irish Republic showed that women still have major problems voting for Sinn Fein because of their links to the violence of the IRA. Little wonder that another woman, Mary Lou McDonald, has been front and center in the campaign in the south where she is attempting to win a seat in Bertie Ahern's constituency.
Arise Dr. Dunleavy
JOHN Dunleavy, the New York City St. Patrick's Day Parade chairman was granted an honorary doctorate by Quinnipiac College last Sunday.
Quinnipiac is headed by Dr. John Lahey, former grand marshal of the parade and a close ally of Dunleavy.
Also awarded was former Irish Consul General Tim O'Connor, who flew back from his new post as Secretary General to Irish President Mary McAleese for the day.
No mention of gays or New York City firefighters in the parade or any other unseemly topics like that on John's big day, we're sure.