"Out of the Wild Sky" Halloween parade to take to the streets of Galway and Dublin, packed full of love and magic!
"Out of the Wild Sky", the 2018 Macnas parade, will traverse through the streets of Galway and Dublin this Halloween celebrating the act of transformation being unleashed upon the City of Tribes, Galway. The wonderful Galway-based performance group will bring onlookers into a world that is hypnotic and intoxicating, glittering, mysterious and filled with shadow and nobility….and, of course, spooky just in time for Halloween.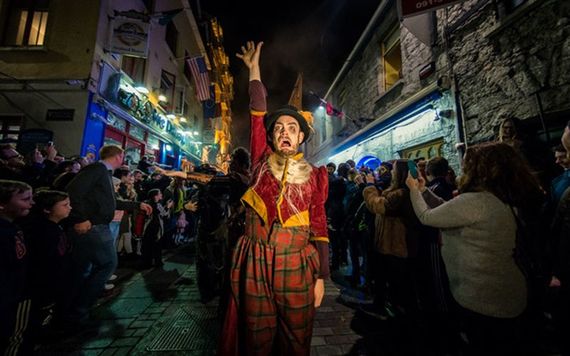 3
Macnas bring "Out of the Wild Sky" to the streets of Galway, packed full of love and magic, as they sculpt a new cosmos into being, where the language of birds and the stars take flight, bells ring out stitches of lightning burst forth as a new horizon lights up the deep and the wondrous and lifts up the sky.
Read more: Interesting Irish facts about Halloween
Always a gigantic undertaking, this year's parade will feature the signature Macnas giant creations and sculptural images, pyrotechnics, bespoke costumes, and epic performances to live and original music. Delivering this wondrous chaos are hundreds of performers from the Macnas Young Ensemble, Youth Ballet West, the Macnas Youth Drummers, the Public participation program, The Hit Machine and many more.
The parade, "Out of the Wild Sky", will traverse through the streets of Galway at 5.30pm on Sunday October 28, 2018. Beginning at its home on the NUI Galway campus the parade will weave its way through the heart of Galway, the Macnas Halloween Parade is the highlight of Ireland's cultural calendar. It is the largest free event in In Ireland for Halloween with over 54,000 people lining the streets every year to be awed and amazed by this epic scale of storytelling.
For the 5thyear in a row, Macnas then head to the capital on Monday October 29 and will close the Bram Stoker Festival with the hauntingly beautiful, wild and tempestuous parade on the streets of Dublin, the last waltz with shadow as we move towards the light.
3
The Macnas parade includes the work of the Macnas creative ensemble, comprised of 45 professional artists and 300 volunteers directed by CEO/Artistic Director Noeline Kavanagh. The creative wizards behind this year's inventions include Orla Clogher and Dave Young on design, Saileog O'Halloran on costume, Alma Kelleher on sound design, The Face on hair and Michelle Ruane is our makeup designer. Eimhin Craddock will head up the Macnas Youth Drummers and Miquel Barcelo is once again at the helm with the Young Ensemble.
Read more: Top ten Irish traditions for Halloween
What are you doing for Halloween? We're all about Samhain! Let us know your plans.