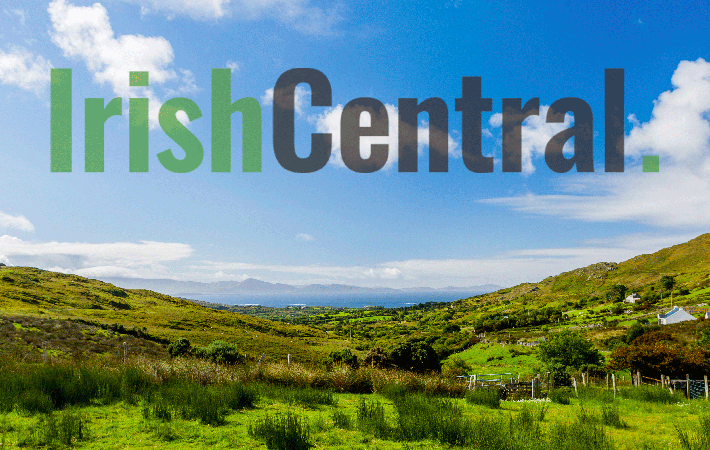 This year's Wee Craic Fest, the highly anticipated one-night-only-event that is the smaller but no less substantial sibling of the annual Craic Fest, is scheduled for September 22. Expect a night of brilliant short films, world-class musical performances, and more than a little Irish American mayhem in support of the Irish Lobby for Immigration Reform (ILIR). CAHIR O'DOHERTY hears about what to expect from festival manager Kadi Hughes.
KADI Hughes, Irish American girl about town, Princeton graduate and festival manager of the Wee Craic fest, is currently gearing up for the annual, increasingly ambitious one night only festival, and already the lineup represents the event's strongest ever showing.
Featuring a rostra of the most important emerging Irish music and filmmakers such as Laura Izibor and headline winners from this year's Galway Arts Festival, the Wee Craic Fest has become the premier American launch pad for new Irish talent. It's a place were contacts are made, new voices are discovered and careers begin.
This year the festival is making an important contribution to ILIR's cause by opening its doors for free (just make a recommended donation of $10 or more for a very good cause, and feel free to be as generous as possible).
Says Hughes, "We've been running the main three day Craic Festival every March for 10 years now and the Wee Craic Festival - which runs for one day in September - has been running for five years.
"The focus of the Wee Craic has always been short Irish films instead of feature films and the new music talent from Ireland. But this year is particularly special because we're moving the festival out of the pubs and the clubs and into the huge Powerhouse Arena in DUMBO (Down Under the Manhattan Bridge). It's a huge gallery exhibition space and we're filling it with a great line up."
Featuring award winning short films from this year's Galway Film Festival, which include both live action and animated features, Hughes has curated an eclectic show which will easily fill the cavernous, museum-like Powerhouse Area space.
Expect to see some curiously compelling short films like Ciaran Foy's award winning The Fairies of the Blackheath Wood which was a critical darling at film festivals in Galway and Cork, but also further afield in France at the Brest International Film Festival.
An eerie tale of what happens when Melissa, a young Irish girl is enchanted by some real Irish fairies, she follows them into Blackheath wood and never returns.
Other highlights include the ward winning Irish short film Teeth, which scooped the Best Irish Short Film prize at the Galway Film Fleadh in July, and will open in cinemas nationwide in Ireland in front of Billy Elliot star Jamie Bell's new feature Hallam Foe.
Directed by John Kennedy and Ruair O'Brien, Teeth is a short "last laugh' tale of two old friends, their teeth and a series of unfortunate events that leaves them lost for words.
To give an idea of the warm reception the film has met with, it is also due to be screened this autumn at the Palm Springs Film Festival, the Sapporo Short Film Festival in Japan, the Short Film Festival in Drama in Greece, and the Festival Du Cinma Quebec.
Director Cathal Gaffney's withering short animated feature Ding Dong Denny's History of Ireland will also feature. The set up is as simple as it is hilarious - a tourist walks into a Dublin pub looking for directions and encounters Ding Dong Denny O'Reilly at the bar who insists on telling him the "real" history of Ireland over countless pints.
In director Cian McGarrigle's Detached, we meet a young man who is not looking forward to a dreaded interdepartmental training course. He gets nervous around people and tends to say the wrong thing, repeatedly, and very quickly farce follows.
Says Hughes, "The short film format really frees some directors up to give full reign to their own creativity. You can take huge risks in the short film format that you really don't see very often in longer feature films. They're entertaining, they're ambitious and they're often laugh out loud hilarious.
"They're the ideal kind of film for an evening like this - if you don't like one film you'll probably love the one that follows - and since they're all shorts you won't have long to wait to see it. At this years Wee Craic Fest we anticipate that the film portion of the evening will last for about an hour and then we'll move on to the music."
Headlining the music portion of this year's festival is Laura Izibor from Dublin, who is a stunning new soul singer in the Nina Simone mold.
"We are definitely interested in expanding on what people think about Irish music and we want to promote the sounds of the new Celtic Tiger Ireland, which is a much more diverse proposition than what came before," says Hughes.
Izibor was born and raised in Dublin and her sound is unmistakably Irish and unmistakably part of the soul music tradition too. "We're thrilled to be able to introduce her to a wider Irish and American audience," says Hughes.
As in years past, the Craic Festival (both the March and September versions) will attract a large Irish and Irish American audience, but the demographic increasingly includes a notably diverse cross section of the New York public who are attracted to the Irish themes and culture.
"We have a an Irish and Irish American core audience in New York, but this festival is really for everyone, for all New Yorkers and that's our aim," says Hughes.
"Bands like Mr. North have shown they can appeal to both Irish and American audiences and we're delighted they'll play the festival this year. Other talents like Dan Donnelly and Brendan O'Shea, who are New York based Irish singers and songwriters will play their intimate acoustic indie-rock sets, too. It'll be a fascinating mix of Irish styles and themes."
This year the Wee Craic Festival will also feature actor, singer, poet, novelist, screen heartthrob and all around Renaissance man Mike McGlone, who has starred in multiple TV drams and in feature films alongside Ed Burns like The Brothers McMullan.
"As well as being an actor and writer, Mike is also a well established and critically acclaimed singer and it's a pleasure to be able to invite him to participate. There really isn't another Irish music and film night like it in the city. This year will be the best one ever," says Hughes.
New York City Council Speaker Christine Quinn and State Senator Marty Golden are scheduled to address the revelers, voicing their support for both the festival and ILIR, with appearances from Craic Festival board members Aidan Quinn and Kevin Dillon also lined up.
As if these weren't attractions in themselves, attendees at the festival will also have a chance to win a trip to Ireland. The event is free with donations at the door and will be held at the Powerhouse Arena, 37 Main Street in DUMBO.
Call 646-549-1349 for further details.