Irish actor Aidan Turner, who turned 40 in June, contemplates the next phase of his life and career.
In a recent in-depth interview with Independent.ie, the Dublin-native and former "Poldark" star revealed his initial thoughts on hitting the milestone and entering a new decade.
"I don't have a complex or feelings about it, really," Turner said. "I'll know how I feel when I'm into the forties more. It was the same when I turned 30 — it wasn't until I was 32 or 33 that I realized I wasn't in my twenties anymore."
However, he acknowledges wisdom and maturity come with age.
"Every year, you hope you're getting better at things and learning how to improve yourself all-round," he said. "I'm probably less impulsive than I used to be. There needs to be moments of just taking the breath to go, okay, whatever the thing is, it's probably not a big deal. It feels like it's a big deal in the moment, but you should just sleep on this and re-evaluate in the morning. Don't make the phone calls or send the emails, or get angry and annoyed. Let it sink in for a minute and tackle it the next day. 
"I think that's important, and it's something I wasn't so good at doing in my twenties. I was quite reactionary. Regretfully, you'd have conversations with people and then you'd have to go the next day, 'I don't feel that way about it anymore, I'm sorry.' That's good to do too, but it's important to not let things get to you so much.
"As Victoria Smurfit said, it's about not giving so much of a f**k. It's what she said to me: 'I don't give a f**k anymore. Do you give a f**k?' I said, 'Less so today.' That was my first day of being 40."
It's been four years since the end of the "Poldark" series and the role that made him a household name, and quite a lot has changed for Turner.  In 2020, he married actress Caitlin Fitzgerald ("Succession," "Inventing Anna"), and in 2022 the couple had their first child, a son.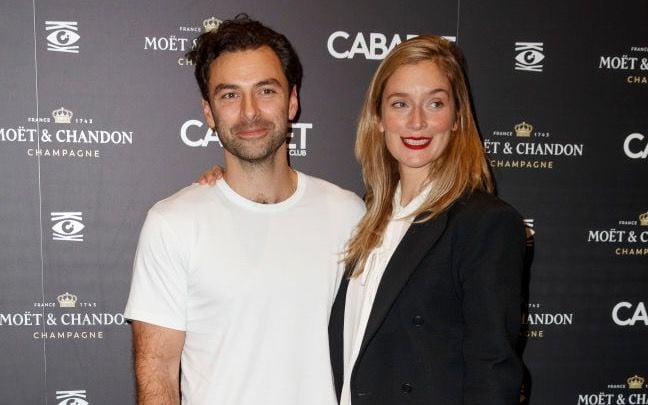 2
This new phase in his life means he's more careful about the acting roles he accepts, especially as a dad and father.
"We both want to work and continue doing the thing we love doing, but it's also that fine balance of getting to see your child and also taking the pressure off the other parent.
"It's become a little easier to work as he's got a little older, but juggling that life, it's hard. Life is definitely very different to what it was before."
He added: "I'm more careful about what I choose to do now that I have a family. Sometimes, you'd take a chance on something. You go, 'Okay, that's a job in Toronto for a few months, it might be fun' and you go over and work with some cool people. But all of that is off the table for the moment. It's a bigger commitment to drag a family over."
Since the end of "Poldark" in 2019, Turner's roles onscreen have included the title role in the television series "Leonardo", a semi-fictionalized biopic on the artist and inventor, and the suspect in the high-intensity drama "The Suspect."
His next project is the Amazon Prime Video series "Fifteen-Love," in which a former tennis prodigy (played by Carlow newcomer Ella Lily Hyland) makes an explosive allegation against her former coach (played by Turner).
"I don't think all of the time his moral compass is pointing in the direction that some of my other characters were possibly pointing in," said Turner of his "Fifteen-Love" character.  
"You know, the heroic protagonist who saves the day, makes a mistake, but then does the right thing," he adds, referring to Poldark in everything but name. 
Speaking of Poldark - and that infamous scything scene - Turner has talked of not being able to take his shirt off forever, as well as the gravitas that comes with entering an older and wiser age and with it, potentially "meatier" roles.
"There is that thing when you see an older actor in something — Anthony Hopkins or whoever you might insert there. They're a lot more believable," he says. "A kid in their twenties might be super-talented, but you tend to gravitate toward the older person. For an actor, that's an essential tool to have in your back pocket. So I think the parts will get better, and the work will get better hopefully."
"Fifteen-Love" will be released on Amazon Prime Video on Friday, July 21.