Patrick Swayze suffered physical abuse as a child, alleges a new documentary on the life of the late actor.
In the film I Am Patrick Swayze, Lisa Niemi Swayze, his widow, claims that Patrick's mother Patsy physically abused him as a child.
"She could be very violent," Lisa reveals in the documentary, airing on the Paramount Network on August 18.
The future Dirty Dancing star was born on August 18, 1952, the second of five children to Patsy and Jesse Swayze in Houston, Texas, reports the Daily Mail.
Read More: Patrick Swayze's widow, Lisa Niemi, has remarried
Patsy ran the Swayze School of Dance, where Patrick began taking dance lessons at an early age from his mother, according to Biography.
Lisa, who was married to Patrick from 1975 until his death in 2009, says that Patsy's perfectionism and high-expectations often turned into physical abuse.
In an interview with People magazine, she told Patrick's story of the day the abuse finally ended.
"Patrick privately recounted the story of his 18th birthday when Patsy was 'laying into him' before his father [Jesse] told his wife [Patsy] that he would divorce her if she touched their son again."
"She never hit him after that," Lisa told People.
In the documentary, Lisa says that it was exactly what happens in "families with a cycle of abuse." She went on to say that his mother "could be very violent, but it was nothing compared to what she endured growing up and the stories I heard about what she went through with her own mother."
Patrick's brother Don says in the film: "He always thought Mom was so strict and so hard on him. But the way I saw it she just used that to spur him on. He was everything to my mother."
Lisa said Patrick began to view Patsy more positively once he moved away from home.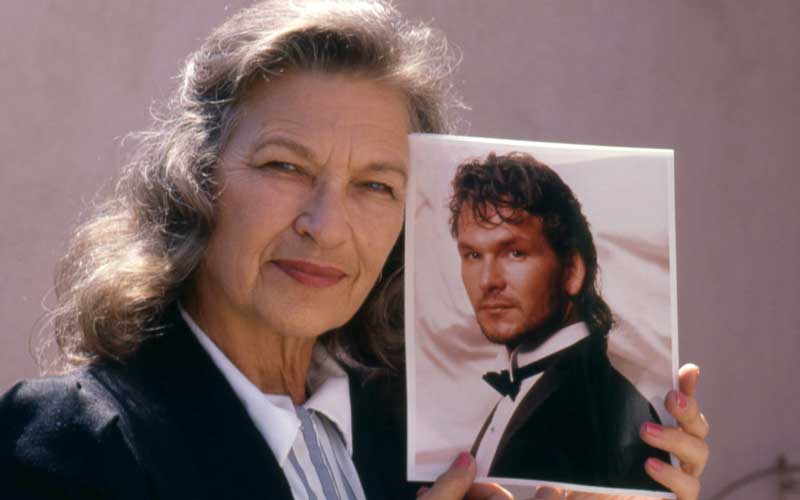 2
Patsy even followed Patrick and Lisa to Hollywood and began working as a choreographer in the film industry.
Lisa said, "He became very aware of the positive and the negative aspects of how he was raised...if somebody pushes you that hard, like his mom did, it could make some people cave, but it made him fight harder."
"She was a complicated woman, intense and an amazing life force," she said to People. "Patrick absolutely loved and respected her."
Read More: The Irish American star who inspired Quentin Tarantino's 'Once Upon a Time in Hollywood'
After Patrick's father Jessie died in 1982, Patsy became closer to Patrick and Lisa.
"Patsy could be extremely critical and negative. But she figured out that if she was going to be around us, she needed to be a little nicer, and that's what she did," said Lisa.
Patrick Swayze remained close to his mother until his death at 57 from pancreatic cancer in September 2009. Patsy died from stroke complication in September 2013 at 86.
Were you a big Patrick Swayze fan? What was your favorite movie he starred in? Let us know in the comments section below.