Groundbreaking work is taking place at Queen's University Belfast's Global Research Institutes.
Queen's University Belfast was recently named one of the top 200 universities in the whole world, and it isn't hard to see why.
With a diverse and talented student body of nearly 24,000, world-class faculty, and a comprehensive range of centers and schools, Queens' campus in the heart of Belfast's City Center more than lives up to its motto, Pro tanto quid retribuamus - For so much, what shall we give back?
4
One of the important ways Queen's University is giving back is through its Global Research Institutes (GRIs)  - flagships for interdisciplinary research in areas of major societal challenge.
The GRIs bring together a critical mass of excellent researchers from a wide range of disciplines in top-class facilities to tackle some of the greatest global issues of our age, including global food security; peace, security, and justice; technologies for a future digital society; and global health.
One of those GRIs is the Institute of Electronics, Communications and Information Technology. Within the Institute are three Centers: Center for Secure Information Technologies (CSIT), Center for Wireless Innovation (CWI) and the Center for Data Science and Scalable Computing (DSSC).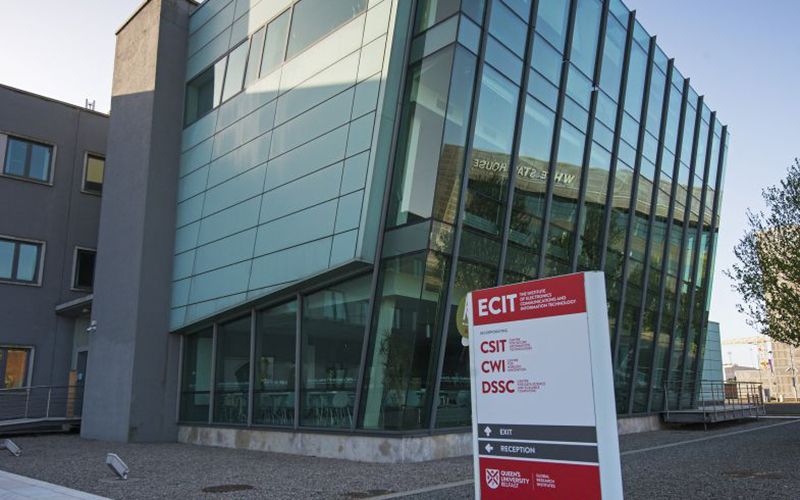 4
The University recently invested £500k ($650k) in a state-of-the-art cyber security range at CSIT. It is one of the first UK-wide research infrastructures providing an experimental environment for both academia and industry to collaborate, innovate and share equipment, tools, experiments, and data-sets.
Within CSIT is also the Research Institute in Secure Hardware and Embedded Systems (RISE) - a £5m ($6.5m) multi-university research institute to improve hardware security and reduce vulnerability to cyber threats.
Take the often devastating issue of insurance fraud, for example. In DSSC, scientists are researching the subject of fraud and commercial vulnerability. A Queen's University Belfast Ph.D. student from China, Jiawen Sun, recently developed software which could detect insurance fraud quickly. Three years in the making, the software has the potential to rapidly detect insurance fraud from sifting through an organization's data.
Over in CWI, 60 research scientists are producing underpinning technologies for mobile, medical and space applications. CWI is a global leader in physical layer wireless research, development and exploitation, and its researchers invent technologies that enable satellites, connected vehicles, implantable sensing medical devices, and smart cities to improve performance over the next decade.
One of the Center's scientists, Dr. Trung Duong from Vietnam, won the Newton Prize for creating a communication system that can battle through hurricanes, earthquakes, and tsunamis.
4
Professor Dimitrios Nikolopoulos, Director of the Institute of Electronics, Communications and Information Technology said: "Cyber technology is developing at an incredible pace and we are committed to being a world leader in this field – addressing vulnerabilities and using world-class research to create practical solutions to robustly equip individuals and organizations."
He added: "Cyber security and the economy are inextricably linked as the prosperity of many nations is based upon a growing digital technology sector. We are continuing to invest in state-of-the-art equipment and collaborate with industry to ensure we are future-ready and developing cutting-edge technology suitable for an increasingly digital age."
For further information visit the Queen's University Belfast website.