Half the fun of St. Patrick's Day for kids young and old is dressing up in as much green and shamrocks as possible. What other way would you let the world know that you are Irish on March 17 than by sporting all 40 shades of green at one time?
The IrishCentral shop has plenty of options to chose from that will get all kids into the spirit of things, whether they're taking part in a parade or just watching from the sidelines.
While our specific kids section has some great gift ideas for Christmas or for birthdays, here is a run-down of those kids outfits that would be perfectly suited to St. Patrick's Day: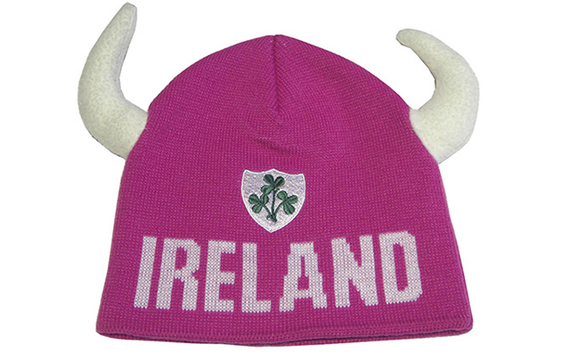 12
$13.99
This super-cute vibrant pink 'Ireland' beanie is specially designed for a fun-loving little one. The hat is knit from a soft and thick acrylic, with silly Viking horns sure to make kids giggle. You can also find it in green in case anybody's sibling is getting jealous.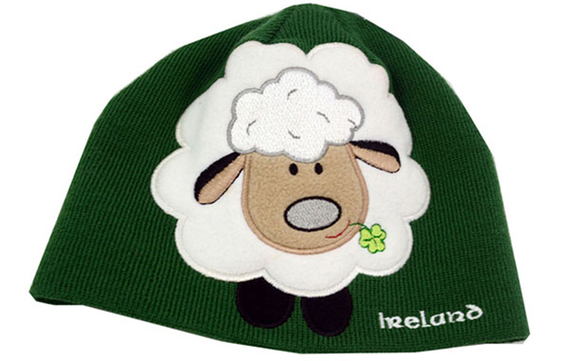 12
$17.99
This charming children's hat from Traditional Craft is made from a toasty warm acrylic and will keep little ears warm from the March winds. The hat comes in a rich green with a fluffy sheep eating a shamrock on the front.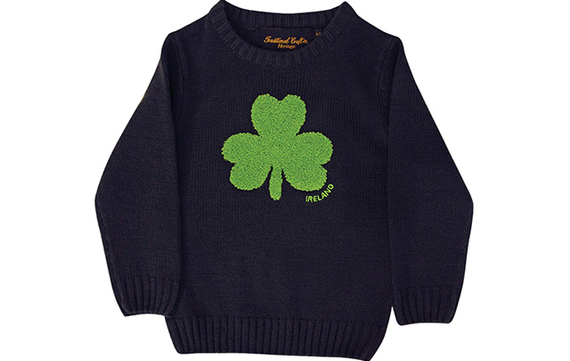 12
$36.99
This adorable children's sweater features a bright green shamrock that contrasts beautifully against a rich navy blue background. The acrylic knit feels thick, plush and warm, and will keep them happy about sporting their shamrock while you don't have to worry about them getting cold.
And you know what they say about the family that dresses identically? Neither do we but you can find out if you sport the matching adult versions.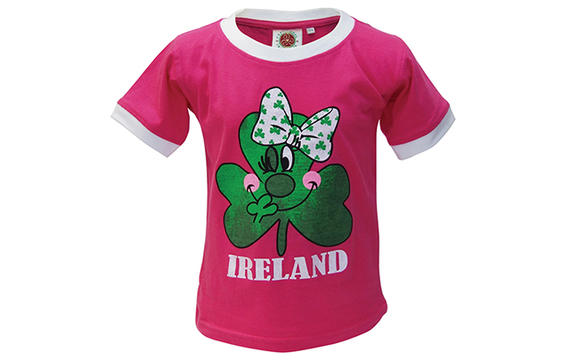 12
$14.99
This pretty fuschia pink girl's top features a charming green shamrock with a shamrock print hair bow and 'Ireland' underneath. Sure to brighten up any St. Patrick's Day outfit.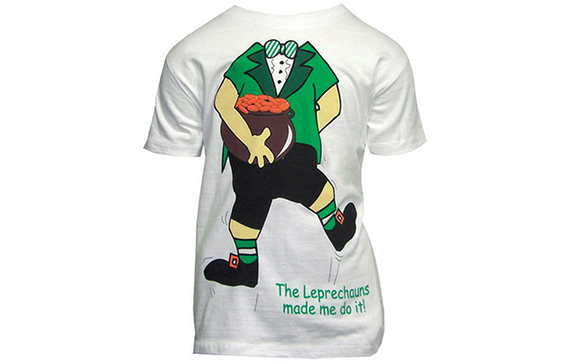 12
$15.99
This T-Shirt is a fun Irish kids Tee that features the wording "Leprechauns made me do it". As is the tradition in Ireland when St. Patrick's Day fell during Lent, many children were given the chance to break their lenten promise for just one day. Wearing this they can just blame it on the leprechaun! The shirt is available in many sizes from 1-year-old to 12-years-old.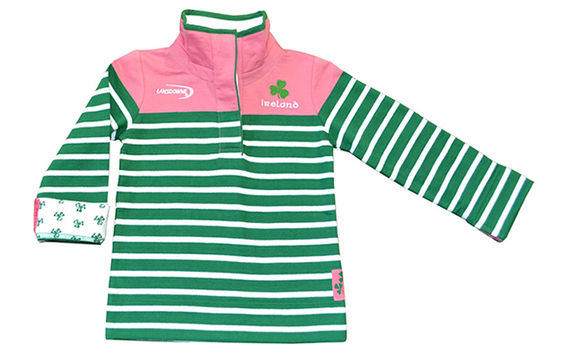 12
$35.99
This colorful and comfortable polo top is a fun gift for a little girl. Special details include an embroidered shamrock on the left chest and shamrock print lining to make sure that the country's favorite emblem is proudly on show.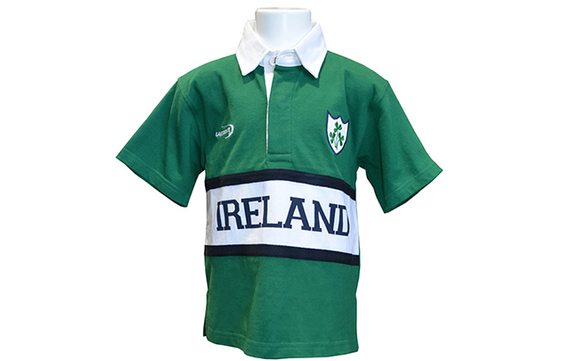 12
$32.99
Super-soft and super-cute, this kid's cotton polo shirt is a sure winner for all sports fans (just like the Irish rugby team)! A spiffy collar and embroidered shamrock badge are some of the charming Irish accents, as well as the rich green color.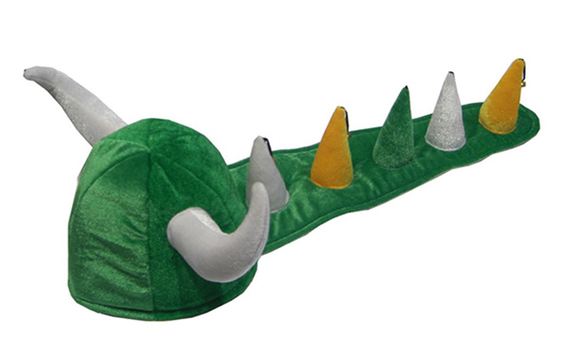 12
$16.99
For any kids that like to dress up as silly as possible, this has to be the best gift on the list. This cute and colorful hat combines two of children's very favorite things: spiky dragon tails and Viking horn hats. Made from a soft and thick polyester, the hat is well-crafted for maximum fun!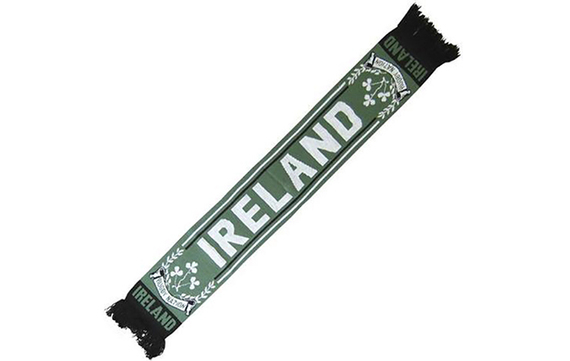 12
$18.99
Patriotic, thick, and cozy, this Ireland scarf ticks all the most important boxes and can be the crowning glory of any St. Patrick's Day outfit.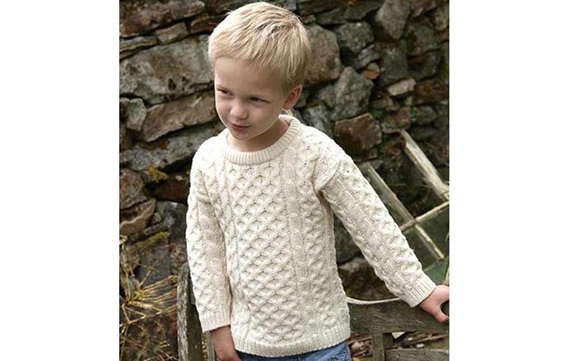 12
$44.95
If you're more concerned about keeping the kids warm this St. Patrick's Day, then maybe steering clear of the green is your best option and instead, making a choice that is still very distinctly Irish: An Aran sweater.
This Irish crew neck sweater is knit with a soft merino wool. Available in natural white, blue marl and oatmeal.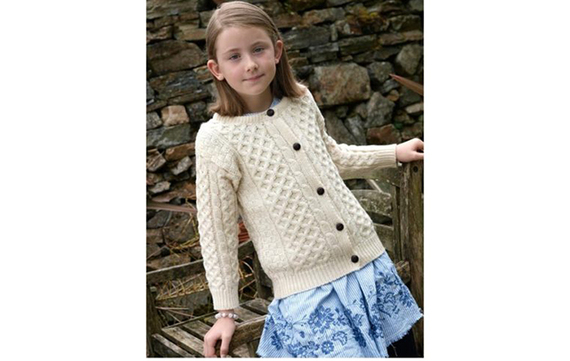 12
$62.99
Another Aran option that is equally adorable, this Irish button up cardigan is knit with a soft merino wool and comes with front buttons. Available in natural white and pink.