Irish artist's new body of work will be hosted at Heritage House from March 7 – 21.
Irish artist, Chára Nagle returns with a new body of work in March 2018. The Haystacks Series exhibition will be hosted by Merrion Private at Heritage House, 23 St. Stephen's Green, Dublin 2, running March 7th until March 21st, 2018. The exhibition will be open to the public from 10.00am to 4.00pm, Monday through Friday.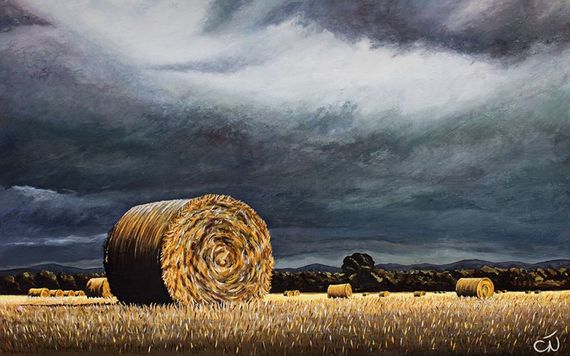 9
The superb 12-piece series, created using tempera grassa on large board, captures the essence of the Irish country landscape at harvest time, inspired by the Kildare farm of her mother's youth. Tightly rolled haystacks rise from scorched grounds, pushing upwards against heavy horizon lines. Dynamic cloudscapes and golden shafts of light in some, inky night time skies, shot through with floods of moonlight elsewhere. A remarkable, evocative collection of farmland scenes, Haystacks will awaken summertime memories of Ireland.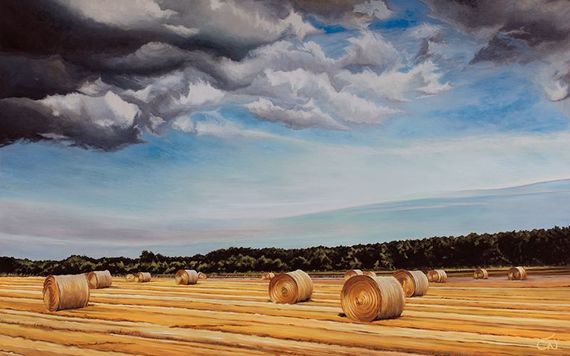 9
Chára Nagle is best known for her widely acclaimed Moments 1 collection, her flamboyant, sensuous figurative paintings, capturing the excesses of the Celtic Tiger, Chára becoming a portrait artist of the era.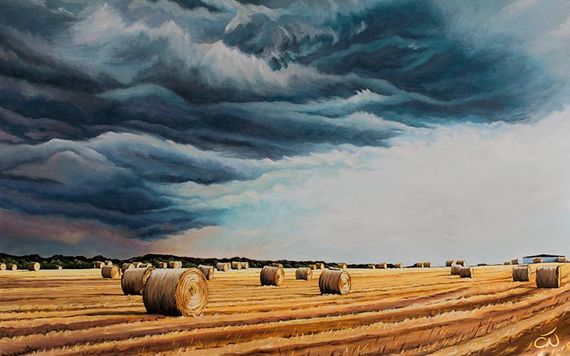 9
She later worked as Artist in Residence at The Curragh, where her dynamic equestrian and horse-racing scenes were in huge demand and now sit in public and private collections across the world. Originally from Cork, she graduated from NCAD in the mid-nineties and after stints in advertising in London and New York, she returned to Ireland to set up CN Design, one of Ireland's most successful creative agencies, working on experiential campaigns for premium brands including Jameson, BMW, Guinness and Coca Cola. She stepped away from the corporate design world in the early noughties to focus on her own work, which she describes as "Heightened realism in style, larger than life."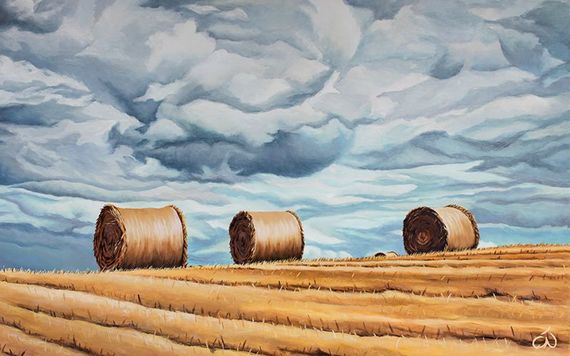 9
A return visit to Kildare, catching sight of the old family farmlands being harvested, triggered a memory for Chára. She recalled a time, just before graduation from the National College of Art and Design in Dublin, when as a young artist, she was commissioned to paint a riverbank scene by her late Aunt on the Kildare farm. At the time, eager for change and adventure, the work was a welcome means to an end, the opportunity to use her talents to pay for flights to London to start her career.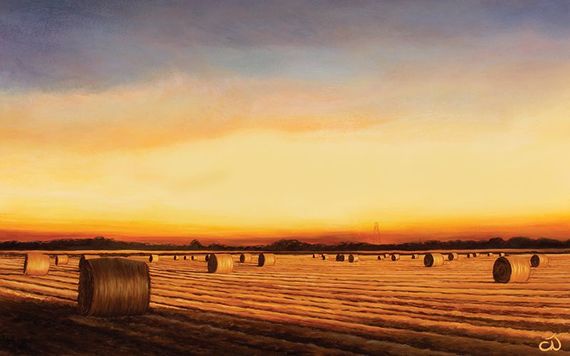 9
Twenty years later, the primal tug of the very same landscape would draw Chára back - memories of summertime on the farm, the excitement of baling season, the gathering of family and neighbors. The sights, sounds and smells of farming life, intrinsic childhood memories for so many Irish who grew up in the country. And so, the Haystacks series came to life.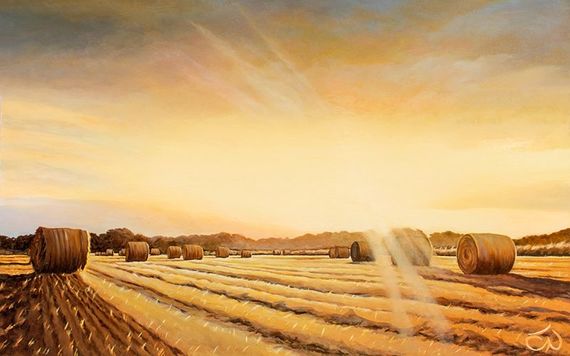 9
Haystacks captures the raw, scorched beauty of lands that have been stripped of their cover. Large, tightly wound hay bales are scattered across the landscape, their cylindrical form modern and industrial, the natural content barely contained, bursting from their binds. The ground is spiked and bruised. Each painting captures a different mood, with low horizon lines and animated cloud scapes, shafts of golden light and inky night time skies reflecting the mercurial nature of the Irish weather.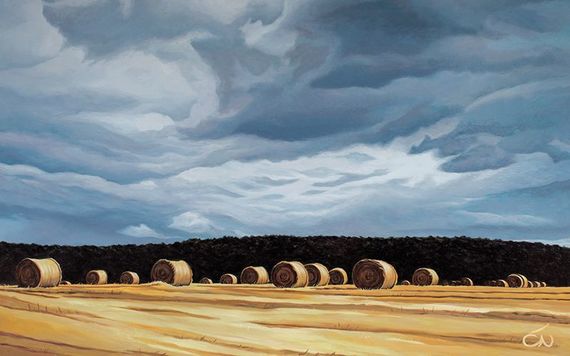 9
Known for her use of bright acrylic colors in her figurative works, Haystacks required a very different medium. Chára began researching traditional painting methods and following a visit to the Louvre, the Old Masters works in tempera provoked an interest. Mineral pigments from Magasin Sennelier in Paris were sourced, derived from natural materials. Chára mixes her paints daily, adding organic eggs, distilled water, stand oil and Damar varnish to each pigment to create tempera grassa. The purity of this paint reflects the clarity of the subject and the finished effect is transcending and durable. Chára describes using these materials as akin to "painting the source, with the source".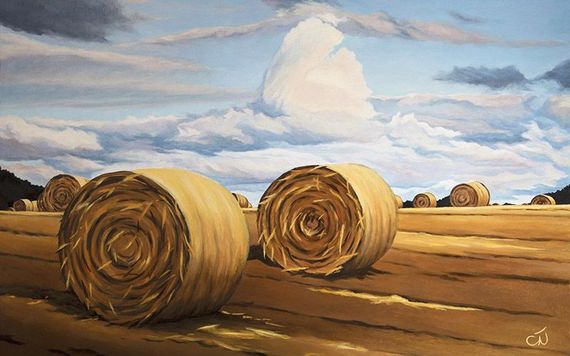 9
Haystacks are of course a subject which many artists have approached, from Monet's 1890's Haystack series, monumental, dominating the landscape, to Paul Henry's use of haystacks as one of many elements in the narrative of his stunning Achill scenes. Chára spent much time considering and observing how these great artists and many others tackled the material, to find her own response to the subject.
Chára Nagle's Haystacks series are familiar Irish moments captured in time, images that nudge at memories of harvest time on an Irish farm – the gathering of families and neighbors to bring in the hay.
The hypnotic chug and grind of tractors and combines, juxtaposed with the squeal and swoop of flocking birds as the bare ground is revealed. The loud bustle and sweet smells of farmhouse kitchens from dawn to dusk; the back and forth to fields, laden with bottles of thirst quenching lemonade, steaming flasks of sweet tea and baskets of fresh cooked food. The scratch of the hay, the deep sores of baling twine, the smell of the burnt earth, all against the dramatic backdrop of the everchanging Irish skies, looming clouds and spits of rain, giving way to scorching sun, before moonlit quiet descends.
For more visit www.charanagle.com or follow  Chára on Facebook, Twitter and Instagram.
* Chára is represented by Fergus O Mahony of the Warren Gallery in Castletownshend, Cork, where she regularly exhibits work alongside those of William Crozier, Sean Scully, Mary Swanzy, William Scott and many more. For more see www.warren-gallery.com.