Ann Dowd won an Emmy in 2017 for her chilling portrayal of the sadistic Aunt Lydia in The Handmaid's Tale. The show is now an international phenomenon, catapulting the Irish American actress from Massachusetts to a new level of fame.
On the same day I talk to Ann Dowd, who plays the fiercely fundamentalist Aunt Lydia on The Handmaid's Tale, the Attorney General of the United States Jeff Sessions announces the creation of a new and very Handmaid's Tale-sounding Religious Liberty Task Force.
Talk about timing. It's the perfect day to talk to Aunt Lydia, then. It's also a reminder why this show has become such an international phenomenon, because it's eerily prescient about our politics, in perfect pitch with our own times.
To some people The Handmaid's Tale still looks like a far fetched feminist parable, but to people who grew up in Ireland in the 1980s (and to many people living though the current Trump administration) it mostly looks like documentary.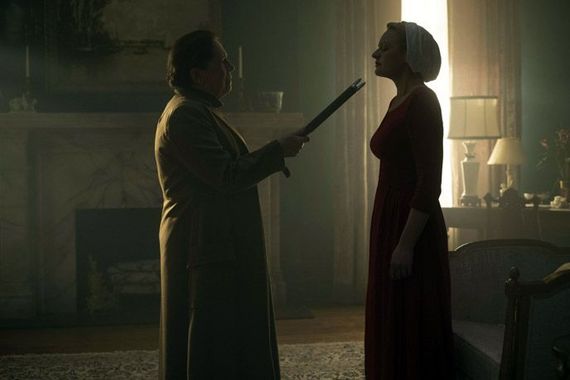 5
First there's the unquestioning deference paid to fundamentalist religious leaders, then there's the fact that everyone who holds significant power in the show is a man, then there's the brutal and unthinking persecution of every minority, and none of that looks like fiction to people who remember those times.
But how do you start to prepare to play a steely tyrant like Aunt Lydia? And how do you find a way to give her humanity, so that she's person instead of a monster?
"It starts with the writing, doesn't it?" Dowd, 62, tells IrishCentral. "First there's the classic novel by Margaret Atwood and then the adaptation. I'm familiar from my Irish American upbringing with prayer so that came naturally, the way its used in the show."
5
Dowd was educated in Massachusetts by Irish Catholic nuns, none of whom resembled Lydia in her cruelty or in her narrow and strict beliefs, she says.
"But I did take a few things from a Catholic education, one of which was full on commitment to the task at hand. Their message was you're not special. You have a job like everyone else and you have obligations and when they are fulfilled you can move on to the next thing."
Dowd says she ended up being grateful for that instruction, although she admits she despised some of the by the book nuns at the time. "The nuns commitment to the task at hand informed my character's commitment to the tasks of the show, whether the handmaid's like it or not. The stakes in our show is significantly higher. Aunt Lydia's belief is that she's doing exactly what is needed for these girls so they achieve some redemption and meaning in their lives. If she doesn't stick to the program she believes these girls haven't got a prayer. And quite honestly, in this world, she's right."
It was be easy to dismiss Aunt Lydia as a pantomime villain if Dowd was content to portray her as such. Instead though she allows us to glimpse her deep humanity, which makes her religious fundamentalism all the more unsettling.
"That is one of the huge goals I have with the character. If she's just a mean villain who cares? Instead she's a very complicated person. She's disciplined and entirely consumed with her work. I think she was present in the earliest meetings of Gilead (the name given to former United States of America once the Christian theocracy is established) planning and plotting in the church basement.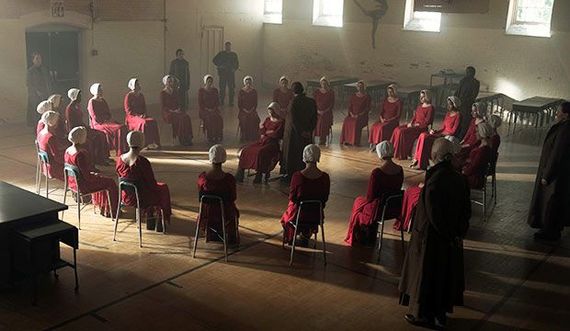 5
The show hints at Lydia's earlier life as a high school teacher and shows her deep disdain for the promiscuity of her students, the way they dress, their casual cursing, their taking of the lords name in vain, and most of all for the drop in child birth rates, to her the greatest crime. I don't think people come into the world saying it's this or nothing, I think certain events must have made her who she is."
Irish culture was hugely important to Dowd's family and their Catholic religion was too. "I had a very loving home for sure. But deferring to the church was very important , no question about it. My father was a very good person, in word and deed. But I remember saying to him once, what is this nonsense about premarital sex being a sin? That's just absurd. That means that after you get married its your first time to have sex, that's just a recipe for disaster! What if you're not compatible?"
At the time she watched her father struggle to find words to respond to her outburst. Finally he said, "I appreciate your questioning all this, but you can't hold that opinion. And I remember inside laughing. This was a very kind, loving, funny man and yet he had become utterly rigid in front of my eyes. It was like who got a hold of you? He just thought the rules were the rules. I myself never quite bought in. I have what I consider to be a very private and strong faith but it has nothing to do with the church."
5
What's shocking to Dowd now is how quickly laws are drawn up and enforced in the name of God that in fact oppress people. "Whatever happened to love and acceptance and do not judge? How do you get to a place where everything that is happening is the exact opposite of what Christianity is supposed to be about? That is baffling, baffling."
Irish families are notoriously conservative when it comes to professional career paths and when Dowd told her mother she was contemplating acting instead of her medical career as a doctor there were predictable complications.
"My dear mother is a very sensible person and it is not in her nature to push. She tried to assume the role of my father after he died when I was 18. She had seven of us to raise and I was the one who did well in school. I was going to be a doctor and I looked like one she wouldn't have to worry about."
Pre-med is terrifying, they set you up to fail, Dowd says. It was a life of anxiety, it was exhausting. Her one joy was her acting class, and doing full plays at night. "When I told my grandmother I was going to be an actor she said, "Well, that's a hobby dear, you don't want to do that as your life's work." But then she took a beat and said, "You're absolutely right, what was I thinking?" And that was the end of it. Her faith was the deepest in the world and she led by example."
Dowd then addresses the Sarah Sanders White House Correspondents Dinner night when Michelle Wolf famously compared the Trump administration's chief spokesperson with Aunt Lydia. Dowd says she can't understand any of it, why Sanders has taken the role as Trump's mouthpiece or why Wolf attacked her in such a personal way.
"I'm not in the business of personal comments. You can say Sanders why are you in that job, but you can stop short of personally insulting someone. What does it accomplish? Nothing."
The Handmaids Tale is now streaming on Hulu.