Many people know the story of the Skibbereen Eagle boldly declaring in 1898 that it would be "keeping an eye on Russia." Well, so great are the changes around the West Cork beauty spot that it would not be much of a surprise if those roles had been reversed. After all, if Vladimir Putin was casting a glance at Skibbereen these days, he'd have plenty to gawp at.
There were the O'Donovan brothers, Gary and Paul, and their blistering silver medal finish at the Rio Olympics, followed up by their unique interview patter which charmed the world. Before that pair came on the scene we had the various 1916 commemorations in the home town of revolutionary Jeremiah O'Donovan Rossa.
And now there's the development which has really propelled Skibbereen from a glorious past into a hyper-speed future – the Ludgate Digital Hub.
The converted Field's bakery has been transformed into a 1 Gigabit Digital Hub, pitching this corner of West Cork into the international big leagues when it comes to broadband connectivity. Ireland's first Gigabit Town has followed the example of 'Field of Dreams': "If you build it, they will come."
The 75 hotwired desks have now become home to a returning diaspora and, it seems, talent from Silicon Valley. The bakery was donated by board member John Field, whose family has been centrally involved in business in the town for decades. Its lollipop colors are now drawing in digital entrepreneurs like children into a sweet shop.
For Ludgate Hub's CEO, Grainne Dwyer, the plan is beguilingly simple: "It's a world in which people living in rural Ireland have the same access and opportunity as urban communities. It's a world where young people have the option to study or work from home, where older people can stay living in their homes longer, where farms are more efficient, environmentally sustainable and profitable and where businesses can compete in a global marketplace no matter where they are located."
And it's all happening in a town conveniently located just off the Wild Atlantic Way, a short drive away from eye-popping locations like Baltimore and Glandore, and within striking distance of Cork city. However, it's that element of distance – of not having to be within a commuter belt – that is part of the attraction for those now pitching up with ideas and dreams in the Ludgate Hub.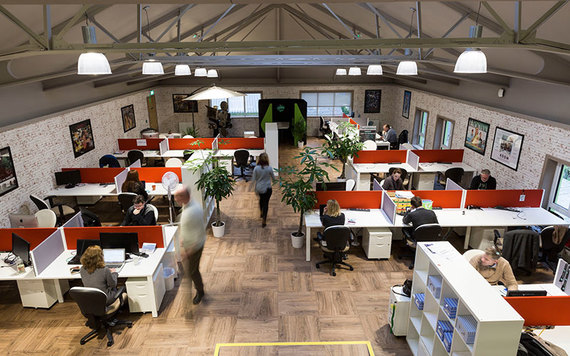 7
Take Mike and Carina Collins, a husband-and-wife team who run the Your Irish Heritage website from the brightly-colored building, itself named after Skibbereen native Percy Ludgate, a visionary who more than 100 years ago designed a forerunner to the modern computer.
"It is great that people have done it for themselves down here, rather than wait for any agencies to pick up and do it," Mike says. The pair moved their business from just outside Cork city and the choice was simple, according to Mike.
Their neighbors in Ludgate include Bryan Hurley and Oliver Smith, two young graduates who have launched their own start-up. They moved to Skibbereen from Waterford and Dublin.
7
According to Hurley: "Skibbereen's Ludgate Digital Hub provides us with everything we need, from high-speed connectivity to mentorship, in an exciting start-up environment – and is a unique opportunity for a small tech company like Digedu to participate in a truly unique and inspiring initiative."
Christopher Mason, who moved his family from Los Angeles to Skibbereen, has his own reasons for the switch.
"I moved to West Cork for a change of pace; to be around incredibly warm people in a landscape that is beautiful beyond words," he says. "This rural setting generally lacks high-speed internet connectivity, however, a necessity for what I do professionally. The Ludgate Hub solved that problem with their innovative office space. Since making the move from Los Angeles, my family and I are happier than we've ever been."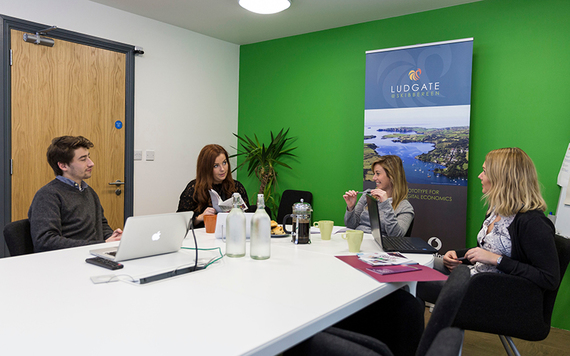 7
The appeal of wild and rugged West Cork is also attracting big hitters from more established tech centers elsewhere, such as James Long of OurValliance, who relocated from Silicon Valley. According to Grainne Dwyer and board member Leonard Donnelly, the joy of superfast connectivity has meant that the advantages of living in a place like Skibbereen – the more relaxed pace of life, the fresh air, the pull of the great outdoors, the activities and cost of living – are now outweighed by any need to live among the hustle and bustle of a big city. You can work as you want and live a lifestyle to complement it.
For Sean O'Driscoll, President of the Glen Dimplex Group and Ludgate board member, the aspirations go even farther. "We also want it to become the blueprint for job creation in rural Ireland," he says. "We want to reach out now to those who emigrated and might be open to coming back to work in such an exciting environment."
7
Leo Clancy, Head of Technology, Consumer and Business Services at the IDA, says the Ludgate is leading the way in marrying high tech with homespun charm.
"Projects like the Ludgate Hub and events like Digital Week really help put rural areas in Ireland on the map for job creation," he says. "The ambition of the people of Skibbereen in creating an award-winning Gigabit town and offering state of the art facilities and nearly €500,000 in seed capital funding at Ludgate has created an excellent environment for business. It is a place I feel comfortable both diaspora returning home and people new to Ireland could see as a great home for developing an international tech company. Living in spectacular West Cork would just be the icing on the cake."
Alongside the Ludgate's gleaming facilities and creative working environment, there comes financial clout and serious behind-the-scenes expertise. Recently Skibbereen hosted the second National Digital Week, playing host to a range of big name speakers across three days and drawing 1,600 delegates. It is in the midst of dispensing €450,000 from a Seed Capital Fund, and its board comprises, among others, Ronan Harris, Vice President of Sales and Operations and Head of EMEA in Google, Anne O'Leary, CEO of Vodafone Ireland, Anne Philips, former Associate General Counsel at HSBC, and the recently appointed Director General of RTE, Dee Forbes.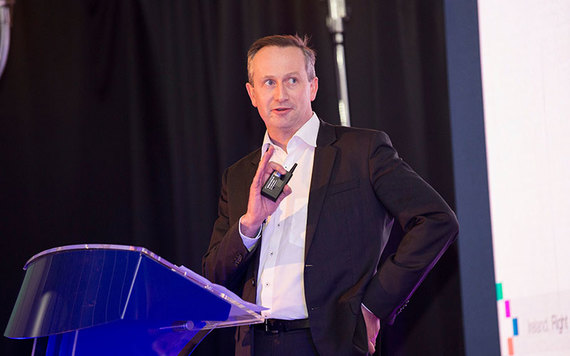 7
The drive to forge a new pathway for rural Ireland has also led to the innovative eStreet initiative. Skibbereen has always been popular with tourists; now the same shops that delight the intrepid visitor can sell its wares to anyone around the world, courtesy of Ireland's first rural digital main street. Some 11 retailers are now trading online, selling Irishmade crafts and goods from www.estreet.ie. It was launched by Skibbereen resident and Oscar-winning film producer David Puttnam, also a Ludgate board member, who these days is also drumming up business globally as Ireland's government-appointed Digital Champion.
It all leads back to 10,000 sq ft digital workspace at the Ludgate, itself just a stone's throw from another reimagined structure, the town's new Uillinn West Cork Arts Centre (Skibbereen and West Cork have the highest number of artists per capita in Ireland). Little wonder the town has lured home so many returning Irish emigrants, including Skibbereen native David Carroll who returned from Marbella with his wife and two children, or that it has attracted people from abroad, including Jane and Evan Sims from Chicago and Christopher Mason from Los Angeles. It's all very cosmopolitan in a place that for so long was synonymous, from Famine times, with people moving away, often never to return.
7
It seems those days are gone for good. In a little under two years the Ludgate Hub has transformed perceptions of what rural areas can achieve – or as Grainne Dwyer puts it, "It's death to 'small town syndrome.'" She believes that connectivity is essentially the electricity of the 21st century.  "Looking ahead 30MBs is not enough for rural areas a 1GB to 10GB vision is needed," Grainne says. "Key opportunities lie ahead – by 2020, 80% of large corporations will offer agile working. We need to give young people the opportunity to help shape their home communities. We need to support co-working spaces, give opportunities for smaller businesses to become digitally enabled and give an opportunity for the incubation of companies in rural areas."
Little wonder that other areas, such as Dingle and Galway, want to follow where the Ludgate has led and draft a new vision of rural Ireland. It was 1898 when the Skibbereen Eagle declared that it was monitoring the actions of the Tsar and "keeping an eye on Russia." It doesn't seem quite so far-fetched now for a town that has found itself at the vanguard of a brave new world, even if it still has all the charm of the old one.
As Paul O'Donovan surveyed the thousands of people who attended their homecoming after their Olympic heroics, he came out with another classic: "Just a standard Monday night in Skibbereen." Who knew?