You'd be hard-pressed to find someone more passionate about Ireland and knowledgeable about every aspect of its travel industry than Elizabeth Crabill, CEO of CIE Tours, Ireland's longest-running tour operator.
"The creativity and the ability to value the past but also invest in the future is an amazing thing about Ireland, and I think anyone who goes will see that pretty quickly," she enthused in a recent interview with IrishCentral.
Crabill has helmed the 85-year-old company for just over a year, taking over from Brian Stack, who led CIE Tours for a quarter of a century. It's a fascinating and important time for the company, the central question being how a travel industry institution like CIE that has excelled for so long offering its core range of bus tours and other packages can adapt and expand to capture the business of today's increasingly independent travelers.
"When you do look at a company that's been around this long, you need to make sure that customers and consumers understand that we're not an old company in the sense of product," Crabill explains. "My plan is to cherish that brand and the reputation that it has, but to add additional opportunities for Ireland travel, different types of travel, and also invest in marketing and data and everything that goes along with that, so we can know who else wants to go to Ireland and invite them in."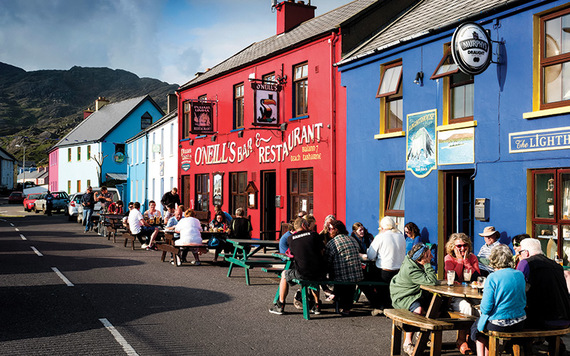 7
CIE really took off during that time in the 1950s and '60s when travel became accessible to a wider demographic, and in particular appealed to Irish Americans and the Irish diaspora living in the US who wanted to go back and see their homeland from the perspective of a tourist, or share it with their American-born family members. Now, however, while the company continues to market to the 34 million Americans with Irish heritage, the customer base has shifted to become a 60/40 split of non-diaspora to diaspora, Crabill tells me.
"Everybody sees Ireland and says 'I want to go there.' The question is, how do we make it as easy as possible for them to get there."
CIE Tours sends 45,000 people to Ireland each year, with an average age that skews a few years lower than the mid-60s baby boomer base of other long-standing tour companies. This, she tells me, allows them to both continue with their traditional offerings and experiment with new trips and options for customization.
In some cases, that might mean their classic Taste of Ireland seven-day tour that brings visitors to all the major sites like Dublin, Galway, Dingle and the Cliffs of Moher. In others, it could be getting acquainted with Ireland on a four-day tour and then breaking off independently with either a private driver or in a rental car, both of which CIE can facilitate, in addition to a variety of other add-ons.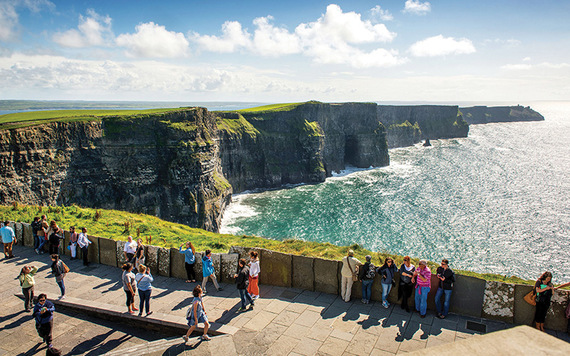 7
"As of today, we are the biggest company that's sending leisure tours to Ireland, with an average customer satisfaction rating of 95%. What I want to do is expand our capabilities into digital – to start to reach out to new markets, and make sure that we're being as smart as we can be about telling the Ireland story to anybody and everybody who wants to travel to Ireland and helping them find the type of trip that they want to take."
Crabill is well positioned to do this, with a wide range of experience in the travel industry. She was most recently president of Travel Bound and GTA North America, served as the Vice President of Sales and Marketing at adventure travel company Lindblad Expeditions, and previously led the marketing team at Travel Impressions.
What's more, Crabill herself is actually a prime example of the kind of customer CIE Tours is seeing more of. She has no Irish ancestry, but she has simply loved Ireland since the first time she visited, shortly after college, and returned six more times before she was even a glimmer in the eye of CIE Tours.
"I got to know Ireland purely by being a traveler," she says. "I knew there was definitely something there when I found myself going for the fifth time. I thought 'Okay, I really love this place!'"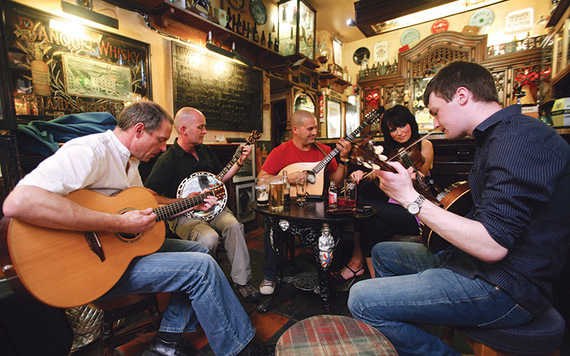 7
What kept her coming back? "There was always something different," she replies immediately. "That's what I think is the secret of Ireland. There's a trajectory when you first go to Ireland – I did it, our travelers do, it's what people do when they're researching it, it doesn't matter what age you are – there are certain highlights you want to see. You want to see Dublin, you want to see the Cliffs of Moher, you want to see the Ring of Kerry, you want to go to the Rock of Cashel, and so on. And those things are amazing, great experiences. But the key is that when you see those highlights, you also see a lot on the way and you realize there are so many other things that you're not able to fully experience on your first trip, how much variety there is.
"It's a complex place in a compact geography. Once you understand what's there you realize that you can have a different vacation or a different travel experience every time."
Hearing Crabill's perspectives help me to better understand all of the behind-the-scenes thought and work that went into a trip I took with CIE Tours back in 2012, with IrishCentral's sister publication Irish America. Having spent every summer of my childhood in Ireland with family, it was my first time there strictly as a tourist, and it was both delightful and eye-opening to watch the other people in my tour group fall in love with Ireland as the days flew by.
Crabill asks what I remember most fondly about the trip and isn't surprised in the slightest when I reply that it was the tour guide/bus driver who ferried us through Ireland and its history. I even surprise myself by summoning his name without having to think about it – a rarity for someone I met once five years ago and haven't seen since.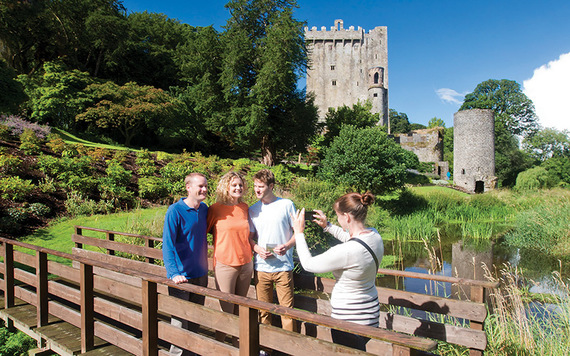 7
"By the end, they really feel like family!" she exclaims. "It's the culture of Ireland, first of all, but it's also a testament to the tourism industry there. When I step back as an industry person, I have worked in a lot of destinations. I've sold travel to the Caribbean and Mexico and Europe, I've sold trips to adventure destinations like Antarctica and the Galapagos. With Ireland – it's the people. The people who work in tourism in Ireland are some of the best in the world. A lot of them have 20, 30 years of experience and they wouldn't do any other job. They love it and they love taking care of people, it's part of the host culture. In the way that you remember your driver and guide so well – that's, I think, part of the magic of CIE Tours and Ireland in general."
In addition to promoting that magic, Crabill also seems determined to protect it. Brexit stands to impact Ireland in a myriad of serious ways, and the tourism industry will be a big part of that. But instead of merely bracing for change, Crabill and other industry leaders are now fierce advocates, particularly when it comes to the border with Northern Ireland.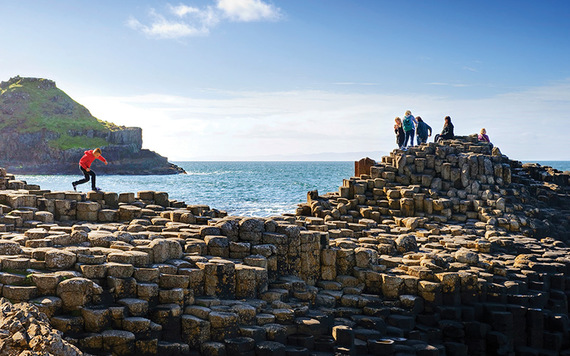 7
"I need to make sure that the lobbying groups and the tourism industry associations are very active in supporting conversations with the governments and with the powers that be in making sure that Ireland the Republic and Northern Ireland are both coming together with a united front to say an open border is critical," she says, pointing to both the CIE employees who travel from Northern Ireland for work everyday (CIE is an Irish-owned company) and of the thousands of tourists CIE brings to Northern Ireland, England and Scotland every year.
This is especially vital as Northern Ireland becomes even greater of a draw for tourists, with many of their itineraries including trips to Belfast or to see the Giants Causeway and beyond. 'Game of Thrones,' too, has proved to be a massive travel interest, and CIE now offers two 'Game of Thrones' themed tours: The Quest for the Throne, which includes visits to locations and sets used in the series (not to mention an archery lesson from 'Jon Snow'), and the slightly shorter Winter is Near tour, one of CIE's new winter season offerings.
The six new winter tours, which include a range of Ireland, Northern Ireland and Scotland itineraries, were born from direct requests from CIE Tours customers. The main reason Crabill cites is the desire to travel Ireland at a time when there are fewer fellow tourists and it's slightly less expensive.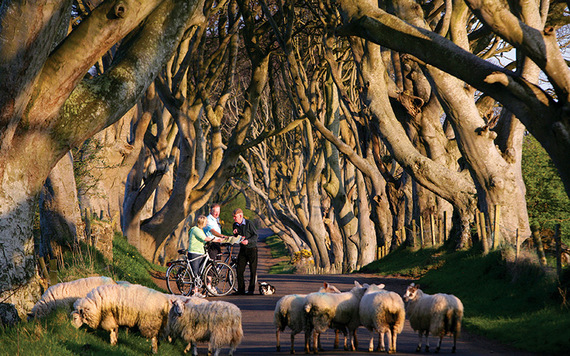 7
"June, July and August are the biggest months in Ireland, it remains that way," she says. "But over the last number of years the season has stretched so that high season isn't just June, July and August anymore, it's not even May to September, it's actually now starting to be April to October."
The winter collection centers around Christmas and New Years, which Crabill describes magical times in Ireland. "Domestically, Irish citizens will spend a lot of time traveling locally around the holidays, but these experiences are things I don't think travelers from the US are aware of, so we wanted to put this together."
And that demand for off-season travel is a further indication of Crabill's point that the American travel market is on the upswing, and CIE Tours is determined to capture more of that growth for Ireland. "Americans will never stop traveling," Crabill says. "The question is just where are they going to travel, and for me, Ireland is the place to go now. The experience has gotten to the point where anybody who's not getting the chance to go to Ireland is really missing out."