Mixed Martial Arts superstar Conor McGregor has been listed by Forbes magazine among their top 30 Under 30 European Entertainment stars. The reigning UFC Lightweight Champion and former UFC Featherweight Champion from Crumlin in Dublin is described by the magazine as being "known for his aggressive fighting style."
"This versatile mixed martial arts fighter has both lightweight and featherweight championships under his belt," the blurb reads.
"And The Notorious, as he's known, is making money with every punch: A single fight in August earned him a $3m purse."
This is not the first time the Crumlin man, whom people seem to either love or hate, has appeared on one of Forbes magazine's lists. He also achieved a place on their 30 Under 30 Social Stars list for Europe this year, a tribute to his talent in attracting the attention of those who may have had no previous interest in UFC. Last year he was number 85 on Forbes' 'World's Highest Paid Athletes' list.
Forbes writer Matt Connelly applauds McGregor's tenacity, which he has shown throughout 2016, particularly when he rose to the challenge of overcoming defeat early in 2016.
"An upset loss to Nate Diaz in March threatened the featherweight champion's meteoric rise, but McGregor faced the adversity with flying colors, winning a five-round war in their August rematch before dominating lightweight champion Eddie Alvarez in November to capture his second UFC championship," Connelly writes.
"But as impressive as his feats were inside the Octagon, McGregor's ability to entertain outside of it might have been even better. In 2016, "Mystic Mac" stood up to the mighty UFC brass not once, but twice, before demanding an equity stake from the company's new owners.
"He stole the show at every press conference he took part in, fueled endless buzz involving Floyd Mayweather and the WWE, and even got the last laugh going up against the sport's notoriously corrupt commission."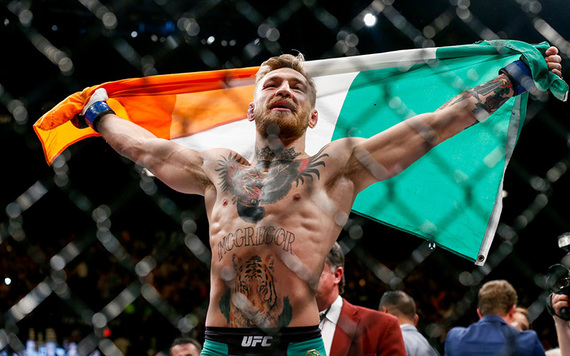 2
McGregor is continuing to set his sights on world domination and not just inside the octagon. Recently he filed a trademark in the US for his name and for "The Notorious" nickname. The claims were filed through his company, McGregor Sports and Entertainment, with the U.S. Patent and Trademark Office. They state that McGregor intends to use the trademarks to further his brand with products such as aftershave, video games, books, clothing, restaurants, barbershops and health clubs.
Read more: 9 surprising stories behind Conor McGregor's incredible success
The MMA fighter and his prospective future opponent Floyd Mayweather were also offered $25 million apiece to fight by UFC President Dana White earlier this year, an offer that Mayweather quickly scoffed at.
There were nine other Irish people in total namechecked on 'Forbes 30 Under 30 lists, including transgender rights campaigner Sam Blanckensee, co-founder of Foodcloud Iseult Ward, and Patrick Carton, a designer with McLaren Automotive.
John and Patrick Collison were also named in the "all-star alumni" category for their fast-growing online payments firm Stripe, which was founded in 2009. Offering payment processing services for online and mobile transactions, Stripe supports credit card payments in more than 130 different currencies, bank transfers, Bitcoin and Alipay, and was recently valued at $9 billion (€8.48 billion).
They all joined Irish actress Saoirse Rónan and Web Summit co-founder Daire Hickey who appeared on last year's list, the first of its kind.
Forbes' 30 Under 30 Europe is a list that includes almost 300 names young innovators, entrepreneurs and leaders in Europe who are seen as transforming their industry. They are divided into 10 different categories including business, technology, finance, media, healthcare, science, policy, social entrepreneurship, retail and the arts and entertainment.
"The Forbes 30 Under 30 Europe list is the ultimate honor roll of the young entrepreneurs reshaping Europe for the better," said Forbes' editor Randall Lane.
"For our second annual list, we scoured the continent for the people revamping every industry and recruited an all-star judging panel to help us determine the best of the best. The result is 300 superstars, across 10 fields, who will impact Europe for the next 50 years."
H/T: Irish Independent