Christopher Moriarty travels west and north, and through magic of Burren in co. Clare.
Even the smallest map of Ireland shows two great indentations on the west. One is Shannon Estuary, other is Galway Bay and the coast between them is that of County Clare. One of the most wonderful coastlines in world, it displays some of the finest cliff scenery together with a fantastic lunar landscape – to say nothing of a great variety of more commonplace but totally entrancing countryside. A trip of just 43 miles (69 km) of it can be comfortably accomplished on a summer's day, though it would be more satisfying to spend a great deal longer.
We begin our journey at Spanish Point – where a charming sculpture in pale grey limestone of a 16th-century galleon commemorates visit in 1986 of King and Queen of Spain. The reason that they came was to remember the fate of some the of ships of the Spanish Armada which had been wrecked close to the shore four hundred years previously. The coast remains as dangerous as ever, with hidden reefs abounding. But today its long sandy beach and splendid surf have made it a haven for water sports and it is the home of one of a number of surfing schools in vicinity. In common with other villages which we will visit, Spanish Point is well supplied with all sorts of accommodation and good food.
The road northwards keeps close to coast, giving a view of a great expanse of Atlantic Ocean to left and rolling countryside of Clare on right. The green fields with their stone walls make a very pleasing patchwork pattern but, by Irish standards, it has a very unusual appearance because trees and hedges are virtually absent from this landscape. Eight miles of this road bring you to Lehinch, a small town immortalised by comic genius Percy French in his song on ways of West Clare Railway. The railroad has long departed, but the seaside resort that it helped to create remains, even with its delightful main street of 19th century shops and houses. A mile of golden strand provides both safe bathing for ordinary people and fantastic surf. Two golf links lie in shelter of sand dunes. And there is plenty to do there if it rains.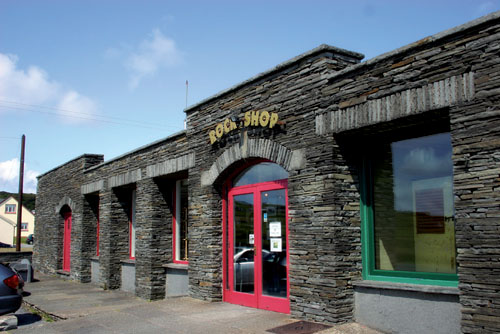 5
The road from Lehinch crosses the estuary of Inagh River and proceeds to Liscannor, an old fishing village and an even older citadel, as marked by tall remnant of an ancient castle that stands out above houses. At the harbor, you may see specimens of traditional fishing boats of west of Ireland, black-painted cloth-covered curraghs, vessels which combine exceptional seaworthiness with enough portability to allow crew to carry them up beach out of reach of breakers. The same harbor has superb modern power boats which wait to take visitors to Aran Islands or for trips around corner to view the great Cliffs of Moher from sea.
Liscannor is famed as source of paving stones which are used far and wide throughout Ireland. They have a corrugated surface created by wanderings of marine worms five hundred million years ago when much of Ireland lay beneath a warm, tropical sea. As you leave town, towards west, you pass an emporium which celebrates love of stones. The Rock Shop stocks stones and a wealth of objects made from them from all over world, a truly amazing collection of color, arts and crafts – and they have a café, too.
On the hillside three miles (5 km) farther on, a large car park on right announces that you have reached the Cliffs of Moher and some of grandest scenery on earth. Forming a bastion five miles (8 km) long and rising to seven hundred and one feet (214 meters) above the ocean, the cliffs drop sheer to boiling surf below. Many thousands of seabirds nest on the ledges and thousands of visitors come to walk the cliff paths. Moher has welcomed visitors for centuries – but it was made even more welcoming in first decade of 21st when the superb visitor center was created, mostly underground and incorporating all the best technology in an eco-friendly building. Take a walk around center and enjoy, in particular, the exquisite photographs of cliffs – then go outside and have your breath taken by their grandeur.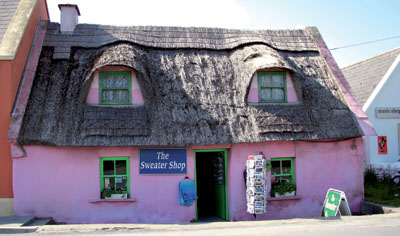 5
North of Moher, next village is fabled Doolin, in a little seaside valley, with a narrow main street and a harbor which is not much more than a cleft in rock. While the nearby cliffs have a sense of rugged austerity, Doolin is a place of warmth and welcome. One of the great centers of traditional music, it is inhabited not only by musicians but by quite a collection of artists in other disciplines. There are hostels and B&Bs, numerous pubs and small local craft shops. No fewer than three ferry companies provide daytrips to nearby Aran Islands. The ferries are about the most modern entities in Doolin, the rest is as naturally oldworld and simple as can be found anywhere in Ireland.
A little to north of Doolin you may visit a particularly fine show cave, presenting some of the very best stalactites to be seen anywhere. Just beyond it Ballynalacken Castle perches dramatically on a hilltop, surrounded by a small forest – just about only one in west Clare. A comfortable hotel stands nearby. The road runs between green fields and into wood and comes out the other side to a total change of scenery.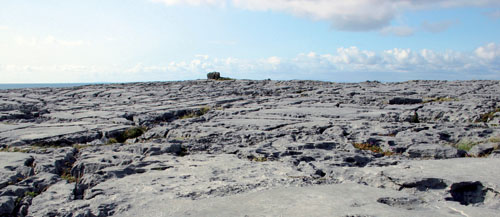 5
You are entering an extraordinary region of karstic limestone, not just tree-less but almost grass-less, too. The land rises to north and east, while the ocean beats on shore to west. Over most of Ireland the landscape is green, or maybe brown in the moorland. But here it is a pale grey, bare rock forming flat pavements in some places, cliffs in others. That is very far from being the whole of it. All around are little patches of green turf and wild flowers, white, yellow and purple. The month of May is the best time to see them – but the Burren is bright any time of year. The flowers are an extraordinary assemblage, many of them confined to high mountains or arctic wastes – except here, where they live by seaside.
You drive northwards for ten miles (16 km) through this wonderful wilderness until a little lighthouse appears on left below road. It marks point of Black Head where Galway Bay begins and you turn towards east. The seaside village of Ballyvaughan – with plenty of good food available – marks the end of our coastal trip. From there you have the choice of turning south for Ennis, capital of County Clare, or heading eastwards to Galway, both of them less than an hour's drive away, through fabulous scenery. But much better to settle for a few days in more remote parts with their plethora of comfortable dwellings in all conceivable shapes and sizes.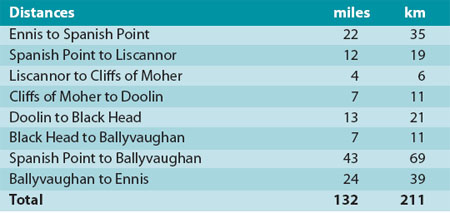 5