The title is made up of three prompts: "Wild," "Atlantic" and "Way."
But which "Way"?
Or, more's the point, which way first?
The Wild Atlantic Way, as both concept and literal (and littoral) terrain has been with us for a while now.
And while it invites the traveler to Ireland's wild and beautiful western reaches, it also poses a question: where does one start the journey?
The answer to that will, in turn, answer the question about the journey's end.
But first things first.
The actual starting point in Ireland for an exploration of the up, down and indented 1,500 hundred miles or so of the Wild Atlantic Way will be an airport: Dublin, Shannon, Cork.
From any one of these arrival points there are roads, not so indented, leading to the West Cork town of Kinsale, famous for that Battle of Yore; famous in more recent times for top cuisine that is un-matched anywhere in the world.
On the basis that any good exploration begins with good victualing, Kinsale is a compelling first port of call on a Wild Atlantic Way drive, even if the Atlantic proper is a little down the road, and around the corner.
But off we go, well satiated and looking forward to an adventure that will be bookended by the kind of utterly civilized hospitality that even the remoter corners of Ireland offer the visitor.        
When you look at a map of Ireland set against Europe and the other continents you can see that it's not one of the larger landmasses, far from it.
But Ireland is actually the 20th largest island in the world, and when you draw a line in and out of every indent, and then stretch it out, at least in the imagination, you are talking about thousands of kilometers.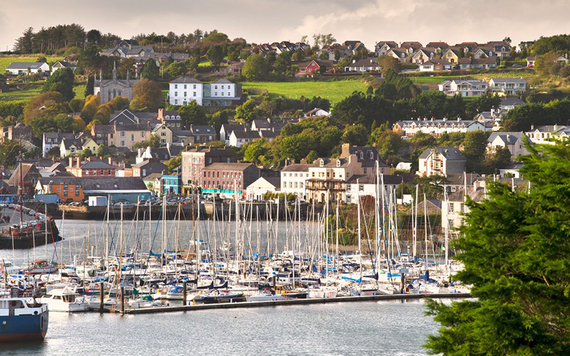 11
The idea of a road trip of such length is positively, well, American.
But to comfort those who take fright at such things the "Way" has been divided into five suggested sections, one of them with Kinsale as the southern starting point for a journey that will end at its northern terminal, the very wild Inishowen Peninsula in County Donegal.
"This is the wild, magnificent Ireland of your dreams," proclaimed an ad for the Wild Atlantic Way when it was first unveiled to the world by Tourism Ireland in 2014.
As luck would have it, I had long before visited many of the dreamy locales along the WAW as a young reporter with one of the Irish national newspapers, a stable of publications which had a fondness for stories from beyond Dublin for its Sunday title.
So it was on the road with a photographer and heading for the edge, the far reaches, the wild shores of aforementioned Cork, Kerry, Limerick, Clare, Galway, Mayo, Sligo, Leitrim (a tiny sliver of it) and Donegal.
As a result of all these journalistic missions I had the Wild Atlantic Way firmly embedded in the mind's eye long before a clever marketing mind decided to turn it into a travel concept for the discerning visitor.
Sometimes, the mission would lure us to the offshore islands, such as Achill in Mayo, a place that is as raw and beautiful in the dead of winter as any place on earth, in any season.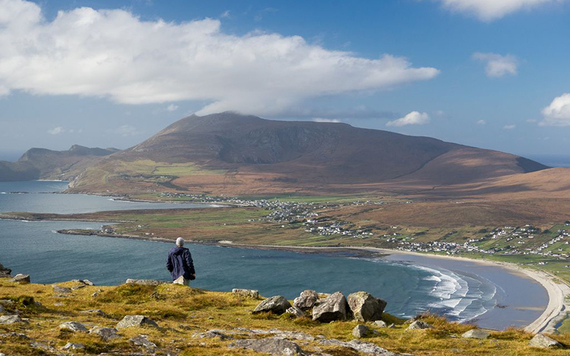 11
It was atop a cliff face on Achill that I first got a clue what the Atlantic could do if it was in a foul mood.
It wasn't waves, but swells, that were utterly astonishing to the eye. It was if the ocean had massive lungs and was exhaling and inhaling in great gulps.
It was atop the Cliffs of Moher, in a gale off the end of the Beaufort scale, that I laughed giddily as a squall blew in from the Aran Islands - below me! It rained upwards and hit me under the chin.
Rivulets flowing over the edge of the cliff were being hurled upwards and backwards in great arcs. It was like walking under an overhead, reverse-flowing, waterfall.
This was meteorology trumping physics.
But back to Kinsale, or perhaps a few miles down the road from it. The visitor is now heading for what many Irish people, and Cork folk for sure, describe as the Irish Riviera.
West Cork is a destination all by itself, the village of Baltimore being a personal favorite.
The Beara Peninsula, a little more along the road, is a Wild Atlantic Way in relative miniature.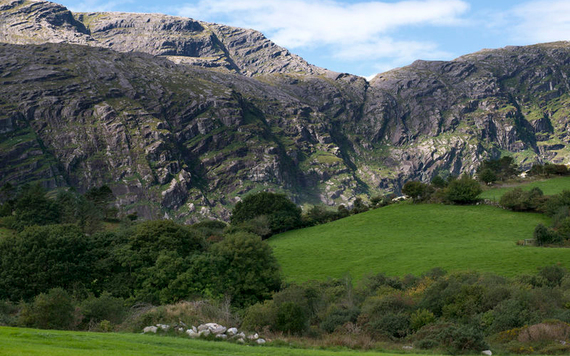 11
And then there is Glengarriff, home for so many years to the late, great, Maureen O'Hara.
And after all this: Kerry.
What else can be said of Kerry? If the inhabitants of Cork speak passionately about their county, the people of Kerry can match them word for word. And word.
Kerry, of course, has its very own way, its "Ring." And it has another famous favorite, the Dingle Peninsula.
It wasn't on a news mission, but actually a holiday.
The memory is standing on a cluster of rocks somewhere on the Dingle Peninsula, fishing rod in hand, the temperature in the mid-80s, the water an emerald blue, or plain emerald, and my having flashbacks to a one-time holiday on the Greek island of Rhodes.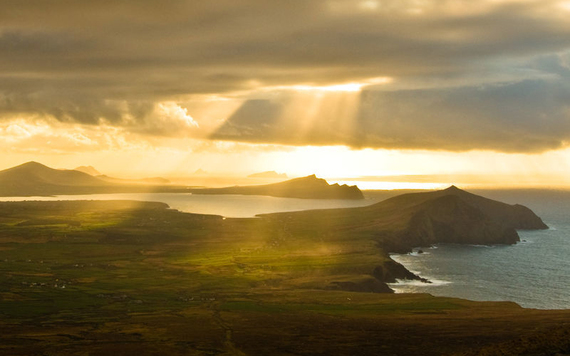 11
But this was Kerry, wasn't it?
And yes, the weather in Kerry can be foul or fair; and sometimes Mediterranean.
Back in 1969, when "Ryan's Daughter" was being filmed on the peninsula the weather was so stunningly beautiful that the entire film crew had to ship out to the far end of Africa, near Cape Town, to find conditions to match the scripted storm scene.
Next, an arrival in County Limerick and a sojourn in, take your pick!
Try picture postcard Adare.
11
Then a left turn into County Clare, a musical Mecca and home of those great geological ramparts, the mighty Moher cliffs, and that great geological blanket, the Burren.
Onwards and northwards into Galway, to the City of Tribes abutting its famous bay, and out to Connemara, that other-worldly place where, in certain lights and moods, time not only stands still, but seems to turn backwards.
And northward again, into County Mayo where mountains, lakes and upland bogland wrap themselves around inviting havens such as Westport, Castlebar and Ballina.
All the coastal counties have their bays.
Mayo has Clew Bay where, they will tell you, there is an island, or islet, for every day of the year. You can leave the car, or bicycles, behind and try to count them from the summit of Croagh Patrick.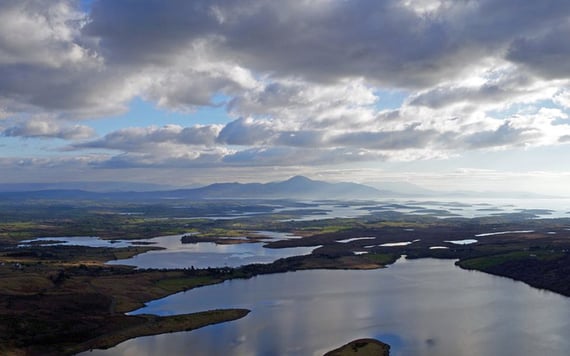 11
Around the corner and up from Mayo is Sligo, its Yeats Country, mighty Ben Bulben, offshore waves that lure surfers from around the world and, not so obviously, more Neolithic sites than you can count.
On one of those reporting missions I wrote a story about a newly discovered Neolithic site.  Big deal indeed said I to the archaeologist, my east coast prejudices seeping through.
I was thinking of Meath and its famous passage graves dating back over 5,000 years. Now Sligo had such an ancient site too.
Indeed, the archaeologist responded, as she smiled benevolently at the ignorant visitor. It was, she added, one of at least 1,300 known Neolithic sites in the county.
Suffice it to say, that went into the notebook.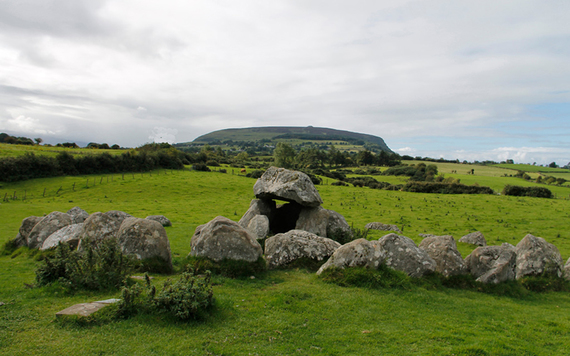 11
One of the county's prime ancient sites is Carrowmore, not far outside Sligo Town. It is one of the four major passage tomb complexes in Ireland, and also one of the largest complexes of tombs on the island. People were here close to 6,000 years ago when things were really, really wild.
Northward from Sligo is that sliver of Lovely Leitrim before arrival in County Donegal and the first port of call, the town of Bundoran.
Donegal has the feel of a place apart. It's psychological in a sense. The border bends and the funnel from Sligo, through Leitrim, and into the Republic's northernmost county, is rather narrow.
But once inside the county the landscape unfolds - and what a panorama!
11
Donegal has a wildness about it that is very particular. It's a place where, after a long absence, eagles again soar over peaks, valleys and lakes.
It has beaches to rival anywhere, and at its northerly summit, that aforementioned peninsula, the Inishowen, which has been a setting for "Star Wars."
If you are lucky you might here see the Northern Lights. And on a midsummer's night, perhaps at Malin Head, Ireland's most northerly point of land, you will see light on the northern horizon that is anything but the night.
Donegal is a place to tarry, to explore, a place to bring away with you in the mind's eye, and later return to.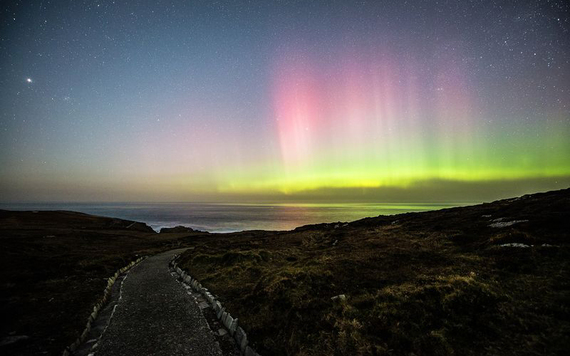 11
I can vouch for Donegal and the entire Wild Atlantic Way because work and pleasure took me to its parts, better and lesser known, many times in former years.
The interesting thing about the concept of a great "Way," one with a starting and ending point, is that invites/challenges you to finish what you started.
And with the Wild Atlantic Way what a start, what a finish, no matter which way you go about it.
More about the WAW and its five designated sections at www.ireland.com.            
---
Ray O'Hanlon is the Editor of the Irish Echo newspaper in New York.
This post is proudly produced in partnership with Tourism Ireland. Find out more on Ireland.com
11