Freshly carved roast meat, veg and lashings of gravy – visitors to Ireland...get on board
A list of pubs and hotels serving Ireland's best carvery dinners has been released. For many the carvery lunch is a weekend essential – freshly carved roast meat of your choosing, mountains of spuds and vegetables and lashings of gravy. We highly recommend you check out these top carvery dinners if you haven't already.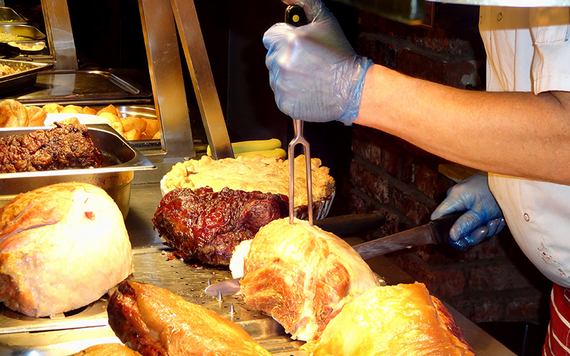 9
The Great Carvery competition 2017 has put a lot of hard work into uncovering the best of the best right throughout Ireland.
After an exhaustive search they've come up with a list of finalists – six in each of Ireland's four provinces.
Over the coming weeks each will receive a mystery diner from among the judges who will sample and compare their serving with those in other establishments.
The winners in the two categories of "the Great Carvery Pub of the Year" and "the Great Carvery Hotel of the Year" will be announced in October.
Pubs
Connacht:
The Trappers Inn, Castlegar, Galway
9
The Broken Jug, Ballina, Mayo
Mulroy's, Castlebar, Mayo
Munster:
Kirby's Brogue Inn, Tralee, Kerry
9
The Hi-Way Bar, Dooradoyle, Limerick
Leinster:
Red Cow Inn, Naas Road, Dublin
The 51 Bar, Haddington Road, Dublin
Beaumont House, Beaumont, Dublin
9
Ulster:
The Orchard Inn, Letterkenny, Donegal
9
The Market Yard, Limavady, Derry
Hotels
Connacht:
Galway Bay Hotel, Salthill, Galway
Shearwater Hotel, Ballinasloe, Galway
9
Ard Ri House Hotel, Tuam, Galway
Munster:
The Heights Hotel, Killarney, Kerry
9
Rochestown Park Hotel, Douglas, Cork
Rathkeale House Hotel, Rathkeale, Limerick
Leinster:
Radisson Blu Hotel, Dublin Airport
Bridge House Hotel, Tullamore, Offaly
Dinn Rí, Carlow
9
Ulster:
Killyhevlin Lakeside Hotel, Enniskillen, Fermanagh
Silver Tassie Hotel, Letterkenny, Donegal
Loughshore Hotel, Carrickfergus, Antrim
Have you eaten in any of the places above? Tell us in the comments below!
H/T: Hospitality Ireland