Adare Manor, Dromoland Castle, The Westbury, and Ballyfin all feature in the Condé Nast Traveler Readers' Choice Awards 2019.
Irish manors and castles are standing their own in the global hospitality industry with two Irish locations being named among the Condé Nast Traveler Readers' Choice Awards 2019 list for Best Resorts in the World. 
With fifth place going to Adare Manor and seventh place to Dromoland Castle hotel, the Irish resorts both rank in the top ten of the best in the world and we're not surprised. 
Two Irish hotels were also named among the Readers' Choice Awards 2019 Best Hotels in the World: The Westbury and Ballyfin.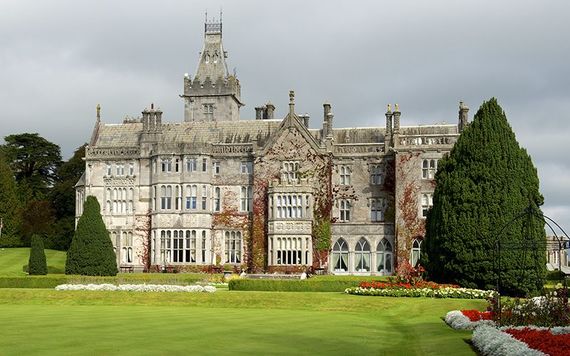 4
Of Adare Manor in fifth place for the world's best resorts of 2019, Condé Nast Traveler wrote: "Adare is a delicious mix of old and new. Barely 30 minutes from Ireland's Shannon Airport, it is one of the closest country manors to reach on seasonal, nonstop flights from the U.S. for romantic getaway (It's also an easy two-hour drive from Dublin in winter). 
"While retaining an old-school, aristocratic vibe, Adare's fanciful gargoyles, genuinely warm staff, grand and intimate spaces, and super-comfortable rooms make it somewhere uniquely and unabashedly the Ireland of right now—with golf and falconry to boot. 
"Also of note here: 365 leaded windows, 52 ornate chimneys, four towers, and seven stone pillars, symbolizing the days, weeks, and seasons in a year, and the number of days in a week."
Read more: How ancestral links brought one family to this dream Irish country house for sale near Adare
4
Seventh place Dromoland Castle Hotel & Country Estate was described as: "After a $23 million renovation, this historic Irish castle hotel has been upgraded for today's traveler without losing the charm that's helped make it such an iconic place to stay, particularly among American visitors. You'll feel like you're traveling back in time as you make the drive from the estate gates down a winding lane, past forest thickets and a vast lake, to catch the first glimpse of stone towers and turrets. 
"While the estate has been the ancestral home of the royal-blooded O'Brien family since the 16th century, the current castle dates back to the early 1800s and has been restored and expanded several times in that time before becoming a hotel in the 1960s. Guest rooms are traditional and comfortable (and most have both a shower and a tub)—but you're not just here to lounge about. 
"Make time to enjoy the 18-hole championship golf course, or a falconry walk, before you head off to explore the Cliffs and the Burren."
While coming further down the list of best hotels, the achievement for The Westbury in 47th place and Ballyfin in 48th place is still remarkable. 
Condé Nast Traveler writes of The Westbury: "From the second you walk into The Westbury in Dublin and up the grand, bifurcated staircase, it's hard not to be impressed. Settle into one of The Gallery's plush armchairs for afternoon tea, grab a seat in The Sidecar for a perfect martini, or book a table at WILDE, an impeccable restaurant with a luxurious 1930s feel, for a full meal. 
"Upstairs, the rooms and suites are light-filled and tranquil, with large bathtubs and Irish art. You'll feel a strong, welcoming vibe at every turn—the staff here is endearingly helpful."
4
Their description of Ballyfin also has us dying to stay there: "'Coûte que coûte' goes the punning family motto of Sir Charles Coote, for whom the opulent Ballyfin estate was conceived in the early 19th century. 'No matter the cost' is how this loosely translates, proving as apt an adage in the 21st century as it was then. Many millions of euros may have been lavished on this stately pile in Ireland's County Laois, both in its original construction and, more recently, its painstaking restoration. 
"For the architectural historian, the house is a head-turner—the culmination of Regency craftsmanship brought together in lusciously modeled plasterwork, scagliola in varying colors, stained glass, and staggeringly intricate parquetry. 
"For the sybarite, the house is a place of comfort and grandeur, not least in the Gold Drawing Room where walls are hung with lustrous silk and vast windows frame views of the 28-acre lake. 
"New this year is Ballyfin's 21st room and first standalone property: the tiny Gardener's Cottage (surely Ireland's ultimate love-nest), overlooking, to the rear, the walled gardens, which supply Ballyfin's kitchen with organic fruit and vegetables. The grounds are made for strolling in the complimentary wellies, with grottoes and rockeries, a folly and a fernery, a rose garden, and an aviary. 
"There is no finer Irish-country house experience."
Where is your favorite place to stay when you visit Ireland? Let us know in the comments section, below.