On the day Dáil Eireann assembled for the first time in 1919, across the Irish Sea four Irish men were escaping from a Welsh prison: Frank Shouldice, Joe McGrath, George Geraghty and Barney Mellows. 
Shouldice, a veteran of the 1916 Rising, was arrested in Roscommon reorganizing the Irish Volunteers in 1918 and sent to Usk Jail near Monmouth in south Wales.
Twenty-eight-year-old Joe McGrath and Herbert Mellows, better known as Barney, had been arrested as part of the German Plot in the Spring of 1918 - as was 40-year-old George Geraghty with his heavy, dark, mustache - and they were sent to serve time in Usk.
Upon arrival at Usk, the men were ordered to wear prison garb but they refused. The governor of Usk gave into their stance but in a sneaky manner, the inmates were denied adequate food until parcels from home arrived weeks later.
Geraghty, McGrath, Shouldice and Mellows took on kitchen duties and one day they came upon a key which has been left in a door leading to the yard. McGrath calmly took it and thus put in motion a plan of escape.
Mellows requested soap and nail files while Shouldice asked for extra pencils and papers. The imprisoned rebels traced the shape of the key and fashioned their nail files into its shape. Spare keys would be essential in a prison escape.
Read more: Ireland's First Dail: How did it come about and what did it mean?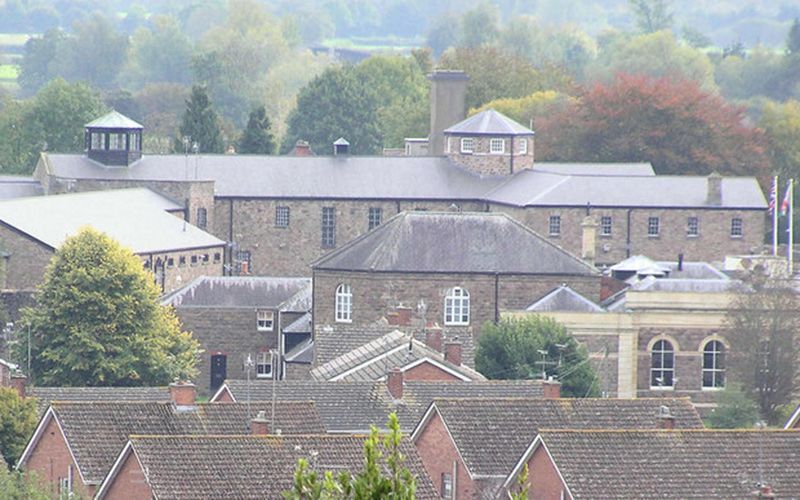 4
The prisoners got to know one of the warders very well, an ex-British soldier who served in Ireland and liked to talk horses and fishing. Through this friendly warder, they were able to get their uncensored letters out to their comrades, including a sketch of the key.
 A line of communication was established when a code was published in the lost-and-found section of the Irish Independent which was sent to the prisoners weekly.
Loaves of bread were sent into the prisoners in parcels from home and baked inside one was a key! Next on the escape checklist was a method of getting over the wall.
Geraghty, who was a mason before patriotic duties took him from his profession, had estimated the height of the wall. His calculation proved correct but they needed a ladder to get over the wall. 
Read more: "Irish Declaration of Independence Day" called for by NY Irish politicians
4
The prisoners easily made a rope ladder which was then hidden in a boot box until escape day. Iron bars which held up the curtains in the kitchen were removed and used as hooks.
Apart from the warders and high walls, one other thing stood in the way of escape: influenza! The Spanish Flu had swept across Britain and Ireland in 1918 and in Usk Jail it was creeping from cell to cell claiming one victim after another. 
At Christmas 1918, Geraghty was granted ten-days parole to visit his flu-stricken sister in Roscommon. Unfortunately, she succumbed to the deadly disease before he reached home but, upon his escorted return to Usk he had on his person two bottles of Jameson which he generously shared with his fellow inmates and it proved to work as their only form of protection from the dreaded flu.
McGrath and Mellows had been struck down by the flu but, after receiving some "uisce beatha" (whiskey) their strength returned, as did thoughts of escape! 
Because the Spanish Flu was sweeping through Usk, a decision was made to transfer all inmates to Gloucester Jail. The date of the transfer was penciled in for January 22, 1919.
 On January 21, 1919, Dáil Éireann (the Irish parliament) was established in Dublin through its inaugural meeting at the Mansion House but many of its elected members were absent because they were languishing in jails across the land, including Joe McGrath who had been elected a TD in Dublin.
Read more: What did Charlie Chaplin gift to the Irish hero James Larkin in Sing Sing?
On that day, McGrath along with Shouldice, Mellows and Geraghty decided to bust themselves out of jail.
As night fell on Usk Jail, the prisoners were able to freely move about to pack their belongings for their intended transfer to Gloucester the following morning.
McGrath, Mellows, Shouldice and Geraghty made their way out to the exercise yard where under the cover of darkness the escapees fixed the rope to the wall.
The atmosphere was so relaxed in the prison on the night that the escapees didn't even have to use a key as the door to the yard had been left unlocked! 
The four men quickly scaled up and over the wall where they ended up in the governor's cabbage patch on the other side. 
They calmly walked from the vicinity of the jail a little after 8 o'clock on that cold, dark January night and once out of the glare of the town of Usk they headed for Pilemile junction with the hope of catching the Fishguard Express.
When they reached their destination after a four-mile walk, they were left disappointed. The railway junction was locked up and in desperation, they enquired at a nearby hotel about alternative transport.
4
The escaped prisoners spoke in faux American accents, pretending to be lost tourists and they managed to get a hackney to drive them to Newport to catch a train to Shrewsbury. 
When the "American tourists" arrived at their destination a twist of faith saw them meet up with Tom O'Loughlin a Volunteer who had been sent by Michael Collins to Britain to study train times in connection with a big escape project - breaking De Valera out of Lincoln Jail!
O'Loughlin generously gave the escaped men some money to finish their journey to freedom and onwards to Liverpool they went. By 6 am the next morning they had arrived at Lime Station and from there they went to the safety of Murphy's pub on Clover street which had been pre-arranged through coded communications.
McGrath and Geraghty were the first to travel back over the Irish Sea and arrived, without raising suspicion, at the North Wall. From there the two men were brought to Billy Byrne's safe house on the North Circular Road where Billy greeted them with a much-needed bottle of whiskey. 
Mellows and Shouldice traveled home disguised as seamen and arrived to Billy Byrne's a few days later.
The escapees had arrived back to an Ireland which had its first taste of a new democratic parliament but a brutal struggle to maintain that self-determination would play out in the following years. 
And yet, the men who escaped Usk Jail on the same day Dáil Éireann was established would survive the fight against the Black and Tans and the brutality of the civil war.
This article was submitted to the IrishCentral contributors network by a member of the global Irish community. To become an IrishCentral contributor click here.