Available to read in English for the first time, the journals of the First President of Ireland, Douglas Hyde, reveal the remarkable contribution of Irish America to the survival of the Irish language. 
Next Tuesday, the Douglas Hyde Foundation and UCD Press will launch their stunning new edition of first President of Ireland, Douglas Hyde's, vivid account of his epic 1905/1906 visit to the United States in the Irish Consulate in New York.
Acting in his capacity as President of the Gaelic League (Conradh na Gaeilge), Hyde's main mission was to raise awareness and funds for the revival of the Irish language. The main organizer of the tour was the New York-based Irish-American lawyer John Quinn. 
4
Quinn's organizational talent was so prodigious that he arranged not one but two private lunches for Hyde with the President of the United States, Theodore Roosevelt, and sold out Carnegie Hall! The funds raised during the tour, during which Hyde traveled over 19,000 miles, visited over 60 cities and spoke to combined audiences of 100,000 people, made a decisive contribution to the survival of the Irish language.
Read more: Rivalry between Pádraig Pearse and Douglas Hyde came to a head 100 years ago
Hyde kept a journal in Irish to record his experiences, and his recollections were first published in 1937 as "Mo Thurus go hAmerice." Now, for the first time, an authorized English translation has been produced complete with a wealth of newly discovered archival material, which evokes the atmosphere of early 20th Century America, early 20th Century Irish-America, and the strength of the Irish-speaking community at that time.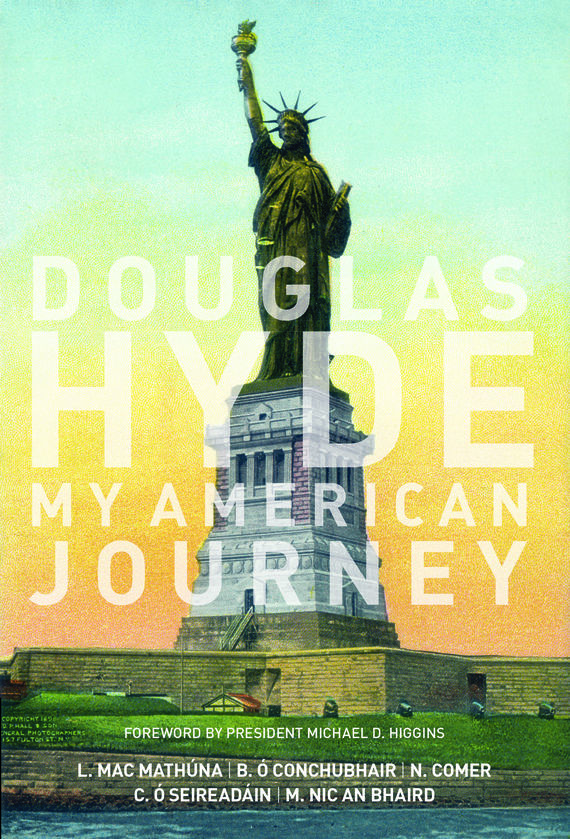 4
Complete with a foreword by President Michael D Higgins, "My American Journey" reveals the founding father of modern Ireland at the height of his powers, promoting a modern, confident vision of Ireland, and building alliances with influential figures as he travels. 
Hyde's journey is not without its risks, with the delicate railway infrastructure, underpowered automobiles, and poor roads leading to some close shaves. Journalists, too, cause challenges with inaccurate reporting, and Hyde's diplomatic skills are drafted in to save the day on more that one occasion!
4
Hyde's legacy will also be celebrated at the Douglas Hyde Inaugural Gala Dinner which will take place at the Manhattan Manor on November 21, 2019, at 7:30 p.m. The Douglas Hyde Foundation will honor Congressman Brendan Boyle, John Saunders (CEO of Fleishman Hillard), and Margaret Molloy (Global Chief Marketing Officer at Siegel+Gale and Founder of WearingIrish) at the Dinner. Musical entertainment will be provided by Kerry-born tenor Gavan Ring. 
The dinner is being organized to raise funds for the Douglas Hyde Foundation which was founded in 2016 to develop and support programs that realize Hyde's vision: to promote the revival and use of the Irish language in Ireland, the United States, and throughout the Irish Diaspora.
Tickets are available at hydegala.eventbrite.com.  
Read more: How the Gaelic League gave massive funds to San Francisco after 1906 quake