There have been many famous Irish people throughout history, and many more Irish living today who are revered and admired. But who is the best known Irish person of all time? We're taking a poll to find out.
We selected 10 of the most famous Irish people of all time, from literary giants like James Joyce and Oscar Wilde, to contemporary musical icons like Bono and Enya (might be something to this one name business after all), to rising stars like Conor McGregor.
Who's the most famous? That's going to be up to you! Vote in the poll, and if you're having a hard time deciding you can give yourself a little refresher by reading their bios, below. Have another candidate in mind for the most famous Irish person of all time? Tell us in the comment section.
11
On February 2, 1882, James Augustine Aloysius Joyce was born in the Dublin suburb of Rathgar. Of course, he became Ireland's national treasure, James Joyce.
Known for such classics such as "A Portrait of the Artist as a Young Man" and "Dubliners," he will forever be inextricably linked to his masterwork "Ulysses,"detailing the exploits of one Stephen Dedalus over the course of a day in Dublin. Joyce's life itself would make for a fascinating story as there is much about the author unknown even to his most ardent fans.
11
Bono, born Paul David Hewson, was born on May 10 1960, in Dublin. He joined U2 while he was still in secondary school (high school) but it was their six album, The Joshua Tree, that made the band international stars.
Over the years Bono has used his celebrity status to bring the world's attention to problems such as world poverty and AIDS. In 2005 he was named "Person of the Year" by TIME magazine and in 2007 Queen Elizabeth II made him an honorary knight for his service.
11
The famous and beloved redhead was born in Ranelagh, Dublin on August 17, 1920 and passed away October 24, 2015 in Boise, Idaho at 95 years of age. Maureen O'Hara was noted for playing fiercely passionate heroines with a highly sensible attitude, most famously in The Quiet Man, Miracle on 34th Street, Mclintock! and How Green Was My Valley. She often worked with director John Ford and longtime friend John Wayne. Her autobiography, "'Tis Herself", was published in 2004.
11
Born into the aristocratic Guinness family, Arthur's exact place of birth is unknown but is believed to have been in County Kildare. His exact year of birth is also unknown but the Guinness estate estimated it to be September 28, 1725.
Fortunate Guinness came into £100 when he was in his 30s on the death of the Archbishop of Cashel, Dr. Arthur Price in 1752, for whom his father acted as a land steward. Guinness established a lease on his first brewery in Leixlip three years later. He had immediate success and in 1756 he bought a long lease of an adjacent site as an investment property. Guinness then set his sights on the country's capital Dublin, coming across a dilapidated brewery he felt he could develop in the southwest area of the city center known as St. James's Gate Brewery. It was here that history was made. He signed a 9,000-year lease on the brewery for £45 a year. It is around this very spot that the Guinness world still revolves almost 300 years later. 
11
Michael Collins, born October 16, 1890, assassinated August 22, 1922 at Béal na Bláth in Co. Cork, was an Irish revolutionary, soldier and politician who was a leading figure in the early 20th century Irish struggle for independence. Collins fought in the Easter Rising and was imprisoned in the Frongoch internment camp but was released in December 1916.
Collins, known as "The Big Fella," was Ireland's Minister for Finance, one of the delegates to sign the Anglo-Irish Treaty, and Commander-in-chief of the National Army.
11
Conor McGregor is arguably one of the biggest sporting stars in the world today. The brash talking Irishman, known as "The Notorious," has not been shy at promoting himself and it has certainly paid dividends for him. Since signing with the Ultimate Fighting Championship (UFC) in 2013, McGregor has quickly risen to the top of the sport.
McGregor, from humble roots in Crumlin, Dublin, is the biggest pay-per-view draw in MMA and worth over $10 million. He's also known for his extravagant lifestyle, trash-talking, and his massive fan base. He and his long-time partner Dee Devlin have a son, Conor, Jr.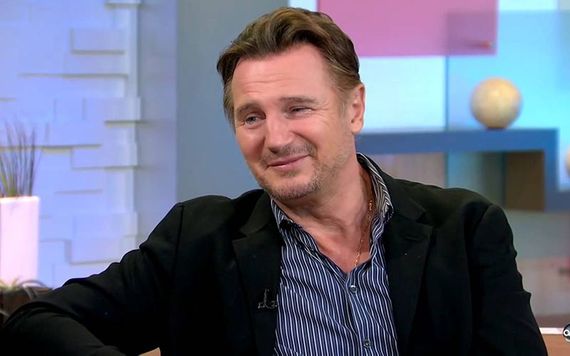 11
Born in Ballymena, Co. Antrim in 1952, Neeson began his climb to fame in the 1980's after being cast as Sir Gawain in the film 'Excalibur' about England in the reign of King Arthur.
He then went on to win an Oscar for his performance in 'Schindler's List' and is best known in Ireland for playing the part of celebrated Rebel hero Michael Collins in a movie of the same name. He's now one of the biggest (unexpected!) names in action films, thanks to the massive success of the Taken franchise, and other blockbuster roles. Neeson is a a supporter of peace-building initiatives in Northern Ireland. 
11
Mary Therese Winifred Robinson, born 1944 in Ballina, Co. Mayo, was Ireland's first female president and the seventh person to hold the title of President of Ireland. A renowned solicitor, Robinson won the 1990 Irish presidential election, defeating Fianna Fáil's Brian Lenihan and Fine Gael's Austin Currie as the first Independent candidate for president, nominated by the Labour Party, the Workers' Party and Independent Senators.
After her seven years in office, she served as the United Nations Commissioner for Human Rights and has worked on a number of important initiatives such as the Mary Robinson Foundation for Climate Justice. 
Oscar Wilde
11
Born in Dublin on October 16, 1854, Wilde became perhaps one of the most famous writers in history – not just for his creative works, including "The Picture of Dorian Gray" and "The Importance of Being Earnest," but also for his witty criticisms and dandyism style. Wilde was one of the first people to be famous simply for being famous.
He studied classics and philosophy at Trinity College Dublin and was a figurehead of literary aestheticism. The Victorian novelist, poet, playwright and later gay icon faced worlds of scrutiny throughout his life of 46 years, which ended in imprisonment and exile. 
11
Born in Gweedore, County Donegal on May 17, 1961, the amazing musician, famous for shying away from the public, still managed to come out on top as the highest earning female music artist in Britain and Ireland. 
She is best known for her albums Watermark and A Day Without Rain, which featured the single "Only Time" – the proceeds of which she donated to the FDNY families who lost loved ones in 9/11. Enya began her music career when she joined her family's famous band Clannad in 1980 on keyboards and backing vocals. She left in 1982 to pursue a solo career and developed her unique and soothing sound, which would win her seven World Music Awards, for Grammys, and see her nominated for an Academy Award and a Golden Globe for "May it Be," the song she wrote for the Lord of the Rings.