Jackie Kennedy Onassis spent the last years of her life as a book editor, a new book inspired by her life reveals.
The Editor, by Steven Rowley, is a fictionalized account of the latter years of the iconic 20th-century figure.
Following the death of her wealthy husband Aristotle Onassis in 1975, Jackie joined Viking publishers as a consulting editor, and wanted no special treatment, despite inheriting $26 million from her husband.
4
In The Editor, the fictionalized Jackie states that her office was "a regular size and stacked high with manuscripts. I get my own coffee and wait in line to use the copier, same as anyone else."
Read More: Want to dress to impress like Jackie Kennedy? Her personal packing lists revealed
Historian William Kuhn, author of Reading Jackie: Her autobiography in books, says Rowley got it exactly right in his novel.
"She tried hard to blend in. Her office was small, with just one window. She answered her own phone. She didn't want to be seen as a grande dame," he told The New York Post.
Kuhn said Jackie returned to editing because she was "bored."
4
Jackie had previously been a columnist for the Washing Times-Herald and wrote and edited her first book in 1962, The White House: An Historic Guide, a room-by-room photographic tour of the historic residence.
In 1975, after returning to editing, she told Newsweek that she couldn't understand why the public was so fascinated with her career.
"It's not as if I've never done anything interesting. I've been a reporter myself, and I've lived through important parts of American history. I'm not the worst choice for this position," she said.
Two years after working at Viking, she left the company upon learning they were publishing a novel about the assassination of her brother-in-law Robert Kennedy. Jackie and moved to Doubleday as an associate editor, where her salary rose from $200-a-week to $100,000-a-year, the Daily Mail reports.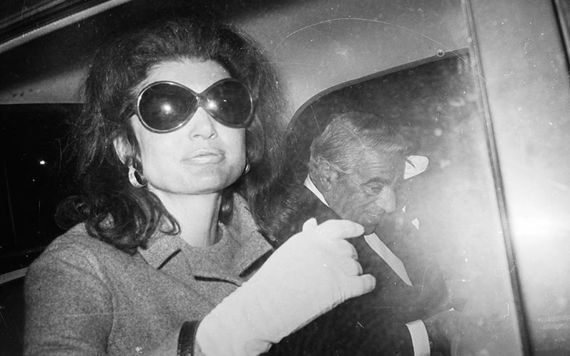 4
At Doubleday, Jackie secured a range of publications. One of her most notable successes was landing the Michael Jackson autobiography, Moonwalk.
The Editor, although fictionalized, sheds new light on Jackie.
"It's not only counter to how we remember her, but it's also counter-intuitive to our own instincts," says Rowley.
Read More: Pics: Jackie Kennedy's 1962 trip to India - 22 outfits in 9 days
"We all stare out the office window, daydreaming about floating away on a yacht. But Jackie was on the yacht, daydreaming about the office.
"The very things that we find so oppressive about working in an office, those were the experiences that finally set her free."
During her career, which lasted longer than her two famous marriages, Jackie helped to bring more than 100 books to publication. She continued to mark up manuscripts in her Fifth Avenue apartment up to her death in 1994 at the age of 64.