Ireland has produced its very own version of Donald Trump, according to observers, in the person of Peter Casey, who surged into second place in the country's presidential election on the strength of his populist views. He was formerly based in Atlanta.
Just a few weeks back Casey, an Irish American millionaire, rated at just 1% but then he began a Trump-like charge expressing populist and highly controversial views on social welfare and minorities. He shot up to 21% according to the exit poll after the election, an incredible rise.
Higgins retained the presidency according to the exit poll with 56% , some 15 points lower than the polls.
There was never any doubt as to who was going to come first in the presidential race: from the moment nominations closed, and even before that, incumbent Michael D Higgins was an odds-on certainty to keep his job as head of state for a second seven-year term.
Read More: Exit polls show President Michael D. Higgins will be re-elected
Though virtually everyone knew in advance that Higgins was going to win, the support Peter Casey garnered with his populist comments constitutes a profound change in the atmosphere surrounding mainstream Irish politics. He said what was up to now considered unsayable.
It is clear, however, that his views are shared by a significant minority of the population and his approach is likely to be copied by other politicians seeking to win votes from that sector. Analysts would say the episode reflects the growth of right-wing sentiment in Britain and other parts of Europe in recent years. There is reason to believe that Irish politics will never be quite the same again.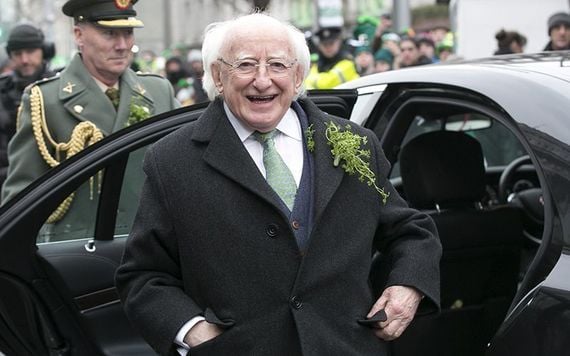 3
In opinion polls published ahead of Election Day, President Higgins ranged between 65% and 70%; Gallagher scored from 11% to 15%; Ní Riada was between 5% and 11%; Duffy, 4% to 10% and Independent Senator Joan Freeman, 3% to 6%.
But Casey's situation looked the most hopeless of the lot at 1% to 2%.
Why anyone chose to stand against such a popular politician is a mystery to many people. However, five other candidates challenged Higgins at the ballot-box, although none of them had a serious chance of beating him.
The fact that the election was such a foregone conclusion was the main reason the turn-out was so low. A lot of people did not bother to vote in a contest where the final result was so obvious right from the start.
The real story, however, turned out to be the performance of Peter Casey.
Born in the northern city of Derry on October 9th, 1957, he emigrated in his early twenties to Sydney, Australia, where he built a successful career as a sales executive and went on establish his own company.
He later moved to Atlanta, Georgia, where he set up Network Resources, later known as Claddagh Resources, which recruits senior executives for major companies on an international basis. In 2007, Irish America magazine listed him as one of the leading entrepreneurs in the US with an Irish background.
He became a participant in an Irish version of the TV series Dragon's Den, similar to the US-based Shark Tank. Along with other panelists he considered presentations by guests on the show who were seeking investors to back their particular business project.
In 2016, Casey moved back to Ireland and now lives at Greencastle, in the north-western county of Donegal. Having expressed an interest in becoming a politician, he ran for Seanad Éireann, the Irish Senate, in the 2016 general election, but secured only a tiny handful of votes.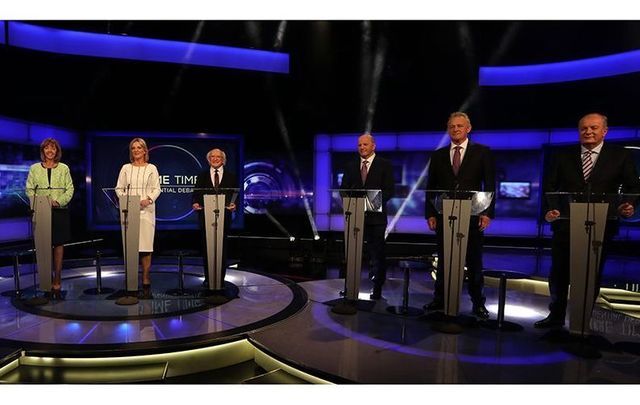 3
With the first term of Michael D. Higgins as Ireland's head of state coming to an end, a presidential election was called for October 26th. Candidates had to be nominated by at least 20 members of the Irish parliament, Dáíl Éireann, or a minimum of four county or city councils (Higgins, as the incumbent, was entitled to nominate himself.)
Liadh Ní Riada of Sinn Féin, a Member of the European Parliament and a daughter of the famed composer Seán Ó Riada, was nominated by her party's representatives in the Dáil and Seanad. Casey was one of four others – none of them affiliated to any party – who got sufficient support from the councils to join the race, making a total of six candidates.
In a bizarre coincidence, two of the other contenders besides Casey – Seán Gallagher and Gavin Duffy – have also been panelists in the Dragon's Den TV series.The last of these polls was published on October 16th and, the following day, Casey made the headlines with some highly-controversial remarks on The Floating Voter, a podcast produced by the Irish Independent newspaper.
He said Tipperary County Council had offered "six beautiful houses" at a cost of €1.7m ($1.94m) to Traveller families but that these remained unoccupied because stables had not been provided for horses. "I don't believe that Travellers should be given special status," he added (Irish Travellers were officially recognised as an ethnic minority by the Government in 2017).
Casey visited the housing development himself next day where he was faced with demonstrations. He said he would consider whether to withdraw from the presidential race but later announced he would continue to campaign for the position. He came out with another Trump-like statement by declaring that Ireland was now a "welfare-dependent state" and a "sense of entitlement" had developed which was no longer affordable.
Read More: Racist Irish Traveller comments have heated up dull Irish presidential campaign
The political outcome of this approach became evident in the exit polls published by state broadcaster RTÉ and The Irish Times newspaper on Election Day, October 26th. The RedC/RTÉ survey showed Higgins as certain of victory at 58.1% but with Casey soaring into second place at 20.7%, leaving the others trailing: Ní Riada was at 7.4% (a disappointment for Sinn Féin); Freeman, 6.3%; Gallagher 5.5% and Duffy, 2%. The Ipsos MRBI/Irish Times figures were broadly similar.
Higgins was the big winner but Peter Casey was the big story.
Deaglan De Breadun is a former political correspondent for The Irish Times