A Scottish comedian's tweet caused uproar online among Irish who protest that "it will be nice for the Irish to watch a British famine."
It was October 15 when Scottish comedian Frankie Boyle, famous for his edgy touch, decided to tell a Brexit/Irish Famine joke.
What could go wrong right?
Boyle tweeted "Brexit has many downsides but I think it will be nice for the Irish to watch a British famine."
The tweet had a major reaction online retweeted over 10,000 times and liked by more than 35,000 people.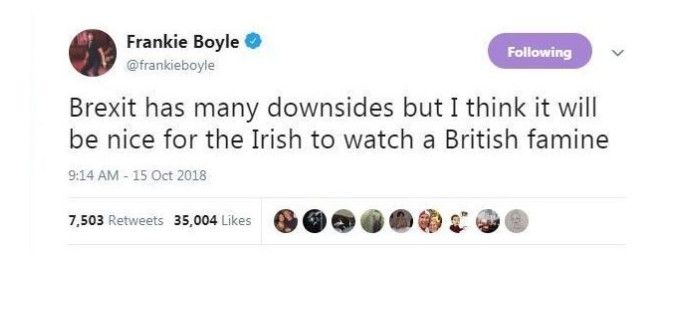 2
But many were unable to see the funny side and slammed him for making light of the famous tragedy.
Boyle's tweet was criticized by Irish online.
Irishman Caleb Murphy said:
"What would it say about us if we found that 'nice'? I'd like to think most of us would be happy to share our spuds with our British friends if such a horrible and thankfully unlikely, catastrophe ever were to occur.[sic]"
Another tweet read: "Thankfully I believe modern Irish people would rush to help our neighbors out of an innate sense of decency."
John Collins said, "In all fairness, Frankie, the Irish would not wish that on their worst enemy."
Irish living in England were also upset.
Audrey Lilywhite said: "I appreciate you make your living by making tasteless jokes but as an Irish woman living in Britain I don't find this at all funny. That kind of 'schadenfreude' is not in our make-up. We would prefer our British friends to see the error of their ways before it comes to famine."
Mary Roberts added: "The Irish people are better than that Frankie."
What do you think of Frankie Boyle's tweet? Let us know in the comments section below.