In Ireland, there was a nightclub in Dublin in the '70s called Zhivago's, the tagline of which was "where love stories begin." It also claimed to be the number one nightspot in Europe, a claim that seasoned wags said was as difficult to swallow as the wine served at the club.
Over on the west coast in Clare is the Lisdoonvarna Matchmaking Festival, which is said to be the world's largest offline dating festival held every September. It now attracts some 80,000 people for the music, dancing and "craic" and perhaps romance. Founded in 1857, the mineral waters in the area originally attracted gentry, particularly young ladies, from all over Ireland during the month of September. September was also the month the harvest was in and so bachelor farmers scrubbed up and descended on the town in droves hoping to find love and matrimony.
So while certain parts of Ireland are well documented and known for their romance, its airports have yet to claim any such romance – that is until now.
American student Ashley had just finished grad school at the London School of Economics in 2016. Having grown up abroad, Ashley had considered herself somewhat of a nomad, both traveling and studying across the world. She also had Irish ancestors and was very keen to visit her ancestral homeland and persuaded Suzie, her childhood best friend, to accompany her on the trip.
They flew into Dublin and then made their way across to the West to spend time in Galway. It was only two days, but the impact was to make life-changing impacts on her life.
As Ashley recalls: "We had the best two days ever. We didn't want to go home but had a flight booked back to London. We begged the Ryanair desk to see if we could change our flights but they were fully booked for the next couple of days and so we had to leave as planned."
So, Ashley and her friend went upstairs in the airport to wait for their flight. The airport was very busy upstairs and Ashley's friend picked a table right next to a group of very handsome Americans in uniform. They didn't know it, but one uniformed fighter pilot was going to turn Ashley's life upside down.
As they approached the empty table, a young fighter pilot called Eric turned to the two girls and invited them to join his group to play cards, to wile away the time until their flights were due.
"I remember there was no food left in the café except for one rather sad-looking sandwich. And there was only one type of beer available.
"The guys were kinda making fun of us in a goofy way. At that stage, I learnt they were on their way overseas but somehow Eric managed to get me to give him my email, from which he was able to add me on Facebook."
Ashley was prepared to entertain a long-distance relationship. Shortly afterward, she was to work as a volunteer in a refugee camp in Greece supporting people who were fleeing Afghanistan and Syria and by chance, Eric was posted to the neighbouring island.
"It was then that he asked me to be his girlfriend and I said yes."
Long-distance relationships are not easy, but Ashley traveled to see Eric in his different stations including South Korea and New Mexico. The latter was to cement their relationship.
"I traveled to New Mexico for what was supposed to be a short visit, but then Covid hit in early March 2020. Everything got shut down and so I got stuck living with him. Well not stuck but together."
Their living together during the pandemic lasted eight months. Towards the end of the stay, Eric proposed before he was moved to Morocco. Ashley said yes!
"We planned the wedding in Morocco. Up until a month before the wedding we didn't know how many people we could have, if we could have a live band and there was lots of uncertainty."
And where did they choose to get married? Ireland, of course, in the beautiful Barberstown Castle in County Kildare.
"I have to do a big shout-out to all the Irish suppliers – we were all working to uncertain rules due to Covid and they were fabulous. Sarah at Barberstown Castle is an absolute joy to work with and made sure our wedding day went smoothly.
"Hairstylist Leanne from vow2wowbridal hair and makeup artist Dee Buckley are both talented and really accommodating, while photographers Susan & John from Susan Jefferies Photography and videographer David Coyle from DCmedia are excellent artists and so easy to work with. Harpist Sinead Walshe blew us all away with her beautiful music, and we had a great time dancing with Celtic Rhythm and the Bentley Boys. All our suppliers went above and beyond what I could have wanted."
As with her fabulous love story, there were bound to be other twists and turns. The weekend of the wedding coincided with a violent storm, Storm Eunice. Getting good wedding shots took bravery, timing, and the odd shot of whiskey to withstand the winds – but they managed to get some stunning shots despite the weather.
All in all, some 69 guests braved the storm to get to Dublin for the wedding. Afterward, the happy couple flew to Amsterdam for a two-day honeymoon only to be quarantined for three weeks as they had contracted Covid after the wedding– a quarantine neither objected to.
"We were married on February 20, 2022 – which when written in digits is a palindrome – and since I am interested in numerology is important to me.
"From a brief encounter in Shannon Airport to getting married two years later is certainly something that I believe was no accident. We were meant to meet."
Today, they live in Maryland in the US with their dog.
"I had no idea that the chance meeting in the airport would have changed my life – I'm just glad I wore mascara to the airport that day!"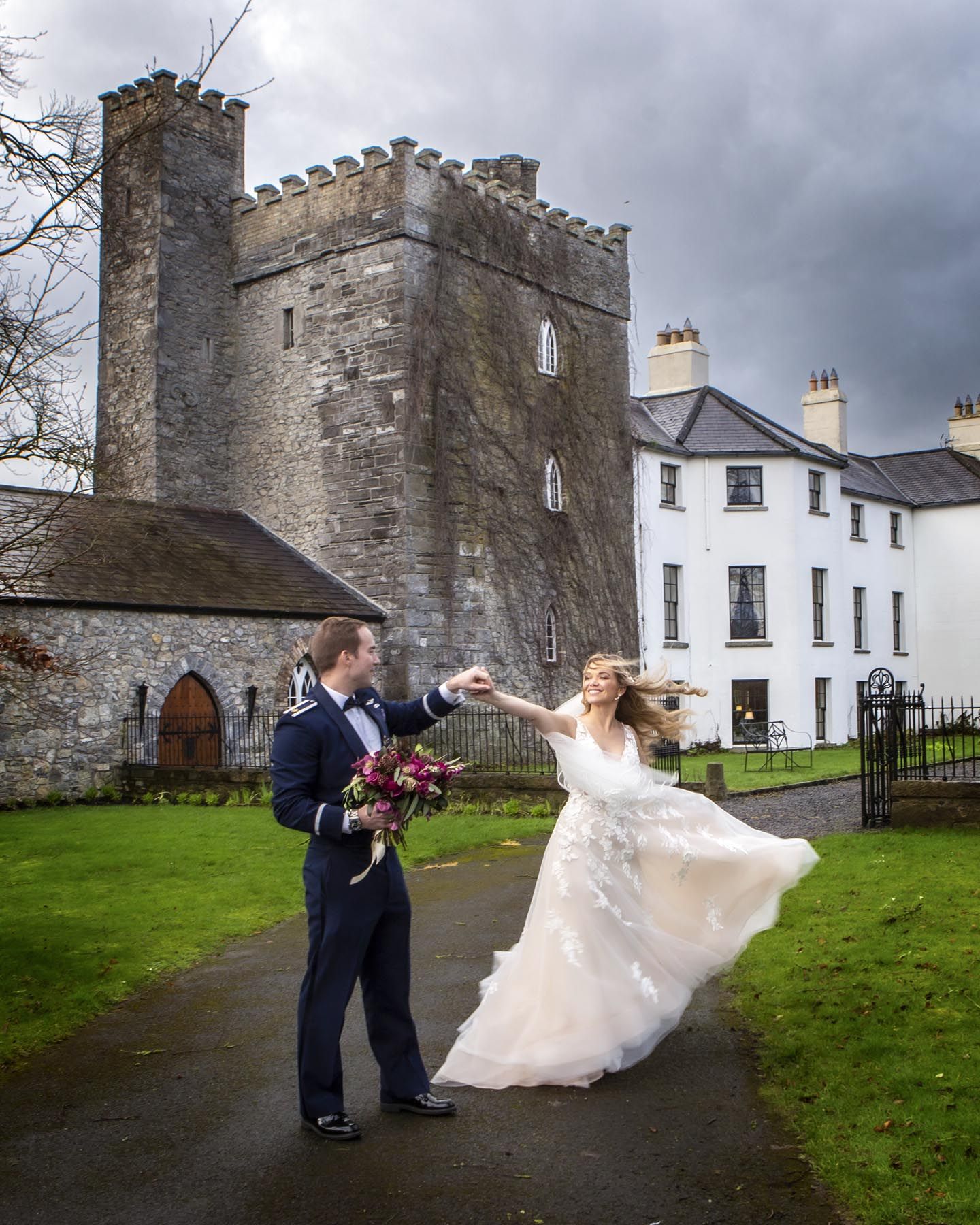 2
This article was submitted to the IrishCentral contributors network by a member of the global Irish community. To become an IrishCentral contributor click here.