We emigrants all feel it once we leave Ireland behind, but it is unspoken. It is that email or phone call in the night, bad news hammering at your door or knocking at your window. The old folks heard the banshee. You hope it never happens.
It did to me and my hands started shaking. Tears welled up in my eyes. Sitting on the edge of my bed in Melbourne, the news broke. 12,000 miles away my beloved grandmother had passed.
My sister was crying down the other side of the phone but there was no way I could reach out, no hug. No physical contact. Just a voice and then the tears and an immense loneliness.
I paced my sitting room. Unable to think clearly, a Scottish housemate offered some consoling words but nothing could comfort me that far away from home.
Read More: Big surge in streaming funerals of loved ones for Irish undocumented in the US
Bettystown, Co. Meath, where my grandmother and grandfather happily resided in their seaside abode for a loving 59 years, just a stone's throw from the beach would never be the same, that safe harbor, a repository of dreams, unqualified love. Dick and Eileen. She died on his birthday, no doubt to surprise him.
5
That night was the worst. The tossing.The turning. The more than one cigarette. Getting up. Lying back down. Not knowing whether I was coming or going. Parents called me and expressed the fact that it was not expected for me to come home and that the decision was entirely mine.
Growing up, my grandparent's tales filtered my upbringing. They became part of my identity. Living in Tanzania, East Africa for two and a half years as a baby they came on Safari with me, visited the Masai Mara and the photographs and memories called to mind. I also lived with them for a period of time in my Leaving Certificate year.
5
My cousins and I were very fortunate to experience trips around Ireland and Europe with them. Aside from that their own tales of travels to Egypt and getting robbed or the Great Wall of China inspired me throughout my life and gave me the courage to explore. They were rooted to the ground but their dreams took flight on such trips.
Read More: Irish funeral blessings, prayers, and toasts for the dead
When I expressed my anxiety over moving to Australia, my grandmother looked me very clearly in the eye and said 'Just Go, it's only a plane journey away'.
As I walked out her front door the night before I left, her home as always the first and last call on my list before traveling and returning home, she looked at me and said 'you will come back and see me soon won't you?' and firmly I said 'Yes'. Now I never would.
That conversation replayed in my head all night and the next, but my decision was made.
I could feel it deep within me. I wanted to feel the rain and the wind right out on Bettystown beach, on the rugged Irish coastline. I wanted to cradle a warm cup of tea. I wanted to be surrounded by family and friends, talk the old talk, tell the old stories, listen to the stories about Eileen. We are storytellers we Irish, never better when discussing those who have left us.
But what I wanted most was my last goodbye.
5
A school friend in Sydney explained her sisters had gone through a similar experience while there and had let off balloons on the beach because they could not get home.
Read More: How the Irish teach us to live, love, and die
I'm sure with so many Irish emigrants in Australia, I am not the only one to experience such loss while overseas. I'm just thankful I was in a position to be able to travel back. I know this is not always the case.
Flights booked, I packed my bag hastily up. Not knowing when I would be back. I put my room up for temporary short-term rental in a rush and my Irish housemate helped me call a taxi to the airport.
That first flight to Abu Dhabi, I listened to Enya non – stop and the Celtic fusions in her work made me know I was on the right journey. I'm listening to her now as I write this. A Syrian woman sat next to me on that first plane journey back home and told me about how she was going to Lebanon and trying to get into Syria to see her parents as she doesn't know when will be the last time. The rawness and reality of her situation and words hit me. I broke down. I cried. She cried. We clasped each other.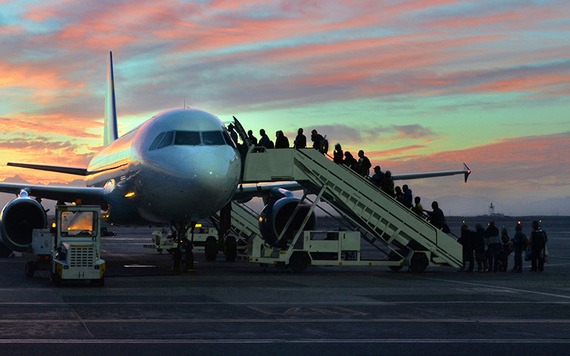 5
Two random people next to each other on a plane.
Throughout the long flights, memories were flooding out of me and I composed a poem. I would pick a moment to show it.
A cousin from Clare came to meet me at the airport with her boyfriend and immediately everything felt better. Not only was a physical weight lifted as they took my bags and put them in the car but an emotional one, too. The warm embrace and the comfort was there as we made that journey back to Bettystown. It had been a long journey home.
I knew I made the right decision once we reached the house. She gave me the strength to be who I am today and the courage to dream big. I belonged here with her spirit.
Read More: Beautiful poem for the departed, adapted by Irish monks 
I thought my voice would choke as I was going to share my poem as the coffin went into the ground but my younger cousin linked me strongly by the arm. I felt safe. Just before I started to speak the sun rose over the gravestone glinting on the words for my Grandma.
The words I wrote spilled out. I felt they were listening. I was in the right place and this was goodbye as it should be.
Grandma ,
From West Clare to Donegal
There is nowhere with us cousins
You didn't go.
And just like your husband you have
Left us with many lines we have all come to know.
"Life is for the living"  and "Out into the world you must go."
Sitting in Bettystown, out by the sea, news on TV,  The Independent newspaper on knee
Quick-witted, relevant, timely and smart
As I recall you now you were your own work of art 
In the words of Old Shakespeare ,
We are all merely players and life is but a stage,
I think you came to understand this with wisdom and age.
Codail go samh – Sleep well.
In the Swahili language you introduced me to - Nakupenda, I love you.